If you haven't already heard about the film "To Leslie," you probably won't stop hearing about it for the next few months. The indie drama is kind of the movie equivalent of "The Little Engine That Could," and it's making major waves after a modest start.
One of the film's stars, Andrea Riseborough, scored a best actress Oscar nomination for her role as the film's namesake, Leslie. On top of that, celebrities can't stop gushing about the moving film.
Still, given the amount of talent competing for the five spots in the best actress category, Riseborough said she was shocked to see her name among the nominees.
"I'm astounded," she told Deadline after the awards were announced. "It's such an unexpected ray of light. It was so hard to believe it might ever happen because we really hadn't been in the running for anything else. Even though we had a lot of support, the idea it might actually happen seemed so far away."
Ready to find out what all the fuss is about? Here's everything you need to know about how "To Leslie" went from a word of mouth phenomenon to an Oscar nominee.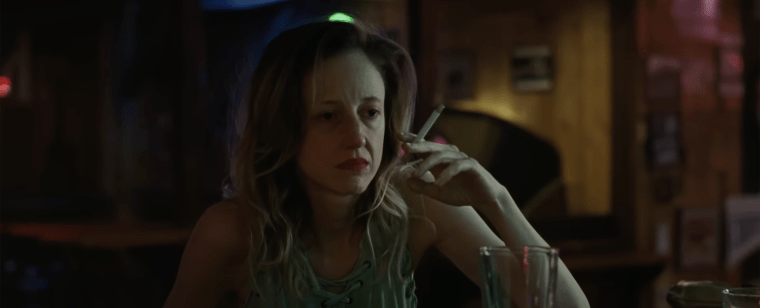 What is the movie about?
"To Leslie" was inspired by true events drawn from screenwriter Ryan Bianco's mother's life.
It follows a West Texas single mother (played by Riseborough) who wins $190,000 in the lottery. But the money isn't the gift it seems: Leslie quickly goes through the cash, damaging her relationship with her son in the process.
According to the film description on IMDB, Leslie then "fights to rebuild her life and find redemption" years later.
Per Rotten Tomatoes, Leslie has nowhere to go, is "forced to return home to her former friends" and is "unwelcome and unwanted by those she wronged." Then, a motel clerk takes a chance on her, and a sliver of hope emerges.
Alongside Riseborough, the film's stars include Allison Janney, Stephen Root, James Landry Hébert, Matt Lauria and Marc Maron.
The low budget movie started off as 'under the radar'
"To Leslie" was originally released in March 2022 at the South by Southwest Film Festival and was began streaming in the U.S. in October 2022.
Despite being available on the internet, "To Leslie" went largely unnoticed in the public eye until now, according to director Michael Morris.
"We can't even afford an ad. We live or die by people's reactions to the film," he told The Hollywood Reporter earlier this month. "We've been so under the radar and our only strategy has been to get people to see the film. I don't want it to become another title in the library. I want it to be seen."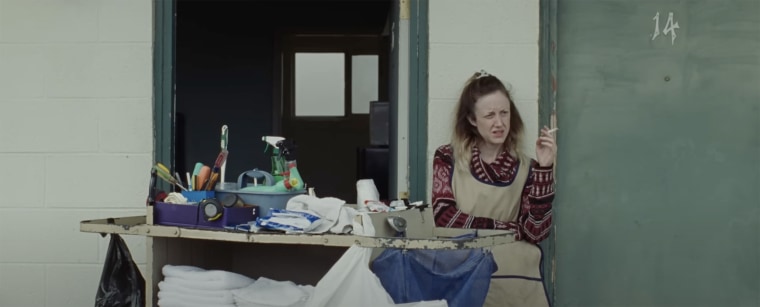 What have people said about the film?
"To Leslie" wasn't under-the-radar for long, thanks, in part, to a slew of A-list talent praising the movie and Riseborough's performance in particular.
Earlier this month, Gwyneth Paltrow posted about it on her Instagram page, calling the film "a masterpiece."
"I am stunned by all of the performances. Andrea should win every award there is and all the ones that haven't been invented yet," she wrote.
Edward Norton said that Riseborough's performance "knocked (him) sideways," calling it "the most fully committed, emotionally deep, physically harrowing performance" that he's seen "in a while."
In a recent Instagram post about the film, Jane Fonda said she was "bowled over" by Riseborough's "brave and unsparing" portrayal of Leslie.
"It was shot with almost no budget in 19 days yet director, Michael Morris, was able to create a nuanced, engaging film with Riseborough's breakout performance … along with fine performances from always remarkable Allison Janney and the surprising Marc Maron," she wrote.
New Zealand actor Melanie Lynskey shared the following compliment for Riseborough on Twitter, writing, "I've always worshipped her, but even for her this is next level. I was weeping."
Aside from all the celebrity support, "To Leslie" also got the seal of approval of critics, scoring a 98 percent on Rotten Tomatoes' Tomatometer and an audience score of 85 percent. 
The Wrap named it one of "the 10 best movies you may have missed of 2022" and Film Inquiry described the stars as "a phenomenal cast of hall-of-fame acting talent."
Where can you watch 'To Leslie'?
You can watch "To Leslie" on the following streaming services: