Ryan Reynolds is celebrating Sandra Bullock's 59th birthday by reminiscing about one of the funniest and steamiest scenes from their movie, "The Proposal." 
On July 26, the 46-year-old actor posted a tribute to the Oscar-winner on Instagram and included a clip from their iconic 2009 romantic comedy.
In the hilarious scene,  Bullock and Reynolds' characters, Margaret and Andrew, who are both completely naked, accidentally run into each other and fall on the floor.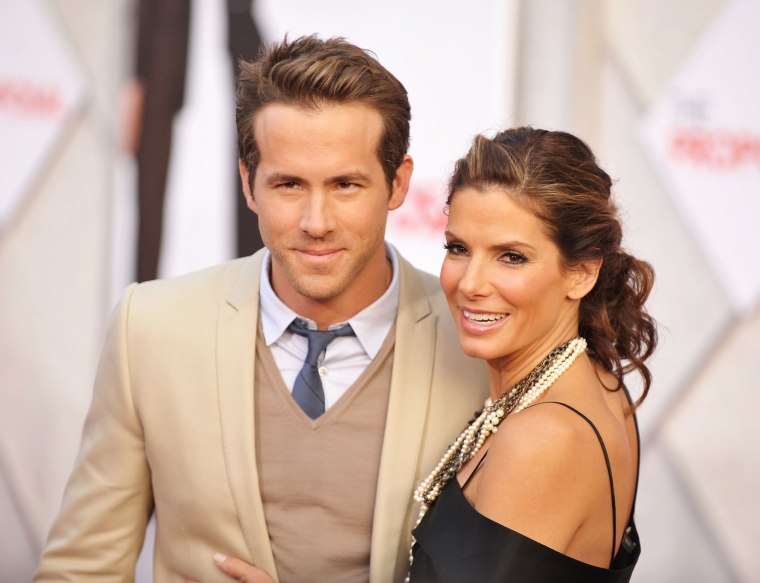 They both scream in shock and embarrassment before the clip ends. 
"Happy Birthday to the inimitable and stunning Sandra Bullock!" Reynolds wrote in the caption.
The jokester added, "For your birthday this year, I got us both intimacy coordinators. And an HR department. And clothing?"
Bullock and Reynolds' beloved rom-com was a huge box office success that led to a lasting friendship with the late Betty White, who also starred in the movie. "The Proposal" follows Canadian Margaret, an intimidating executive at a book publishing company, who convinces her assistant, Andrew, to marry her so she can keep her job and stay in the country. 
The two slowly fall for each other while visiting Andrew's family in Alaska, naturally, and the film is often celebrated as one of the best rom-coms of the 2000s. 
Celebrity friends and fans wished the "Miss Congeniality" star a happy birthday and gushed about the movie in the comments. 
Jennie Garth quoted the scene, writing, "My favorite scene of all time. Why are you wet?!"
One Instagram user joked, "The horror when Sandra Bullock sees this for a birthday wishing post." 
Another requested a sequel where fans could catch up with Margaret and Andrew to see if they are still happily in love. 
Others posted gifs of their favorite scenes in "The Proposal." Many seemed to love the moment when Margaret and Grandma Annie, White's character, chant and sing along to "Get Low" in the woods. 
Bullock and Reynolds had been friends for years before they were cast in the movie. 
She opened up about their friendship and filming the nude scene with Reynolds on the "About Last Night" podcast in December 2021. 
"Ryan and I have known each other since we were prepubescent," she shared. "I mean, like, we go way, way, way back."
She recalled having a "closed set" for the intimate moment and said she trusted Reynolds "comedically and safety wise." They choreographed the funny interaction beforehand. 
"Ryan and I have these flesh-colored things stuck to our privates, my hair is strategically over the nipples, and Ryan's little — not little at all! It's just whatever's there, and I don't know because I didn't see it, didn't look!" she explained, laughing.