What would happen if the first son of the United States fell in love with a British prince?
On Aug. 11, viewers can witness the romantic international scandal that ensues with Prime Video's upcoming film "Red, White, & Royal Blue."
Based on the TikTok-beloved bestselling book by Casey McQuiston, the film centers on Alex, the son of the U.S. President, and Henry, a prince in England. After initially maintaining an icy relationship, often pitted against other as rival leading men for tabloid fodder, the two are forced to fake a friendship, eventually leading to real feelings.
"They're not beating the rivals-to-lovers allegations," an official Twitter account for the upcoming film captioned the movie's official trailer.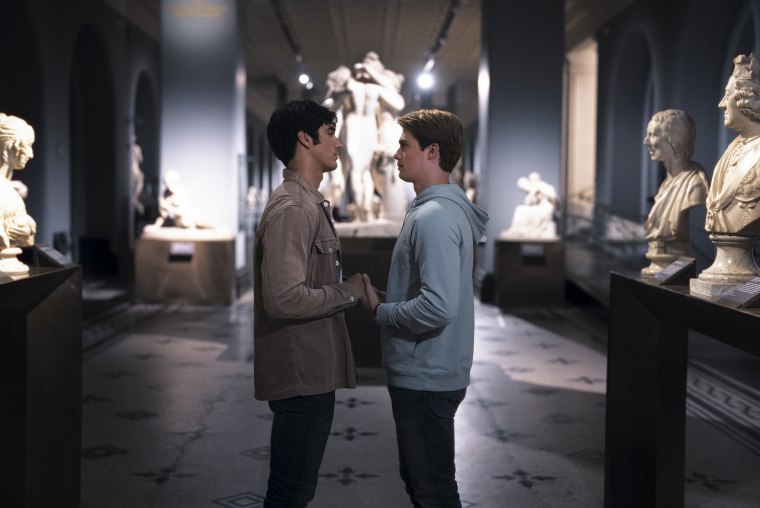 Here's everything we know about the film:
Sparks fly in the official 'Red, White & Royal Blue' trailer
Prime Video released the official trailer for "Red, White & Royal Blue" on July 6.
The video promises a close alignment to the plot of the original 2019 book, starting with the "international incident" that changes everything for Alex and Henry.
In the clip, Alex attends a royal wedding in England and receives a brush off from Henry. The two later get into a scuffle and wind up on the floor, covered in the remains of a tiered buttercream confection.
"You've done some pretty stupid things in your day, but this —," Alex's mom, President Ellen Claremont, says in the trailer.
"Takes the cake?" Alex suggests.
For damage control, the White House and the palace release a joint statement, claiming the two are good friends. While their first few events together kick off a rocky relationship – "My NDA is bigger than yours," Alex threatens while smiling for the camera — their friendship turns genuine.
But their relationship takes a turn though when Henry attends Alex's New Year's Eve party. Henry steals away outside and, after Alex follows, asks him, "Do you ever wonder who you'd be if you were an anonymous person in the world?"
After Alex reacts with confusion, Henry whips around, muttering, "You're as thick as it gets" before kissing him.
The rest of the trailer, set to Lil Nas X's "That's What I Want," hints at an adorable but secret relationship between the two. Their clandestine hookups, which earned the film an R rating, continue until one of the president's top staff members, Zahra, catches them.
"We are in a hotel crawling with reporters, if anyone sees you leave this hotel, I will Brexit your head from your body," she threatens Henry.
The trailer takes an emotional turn as they figure out how much they are willing to risk to be together as the threat of an international sex scandal looms over them.
"When matters of the heart become matters of state," the trailer reads.
Soon, they start to fall in love. But can their relationship survive their duty to their countries?
The plot of the book
After "Red, White & Royal Blue" came out in May 2019, it became a fan-favorite romance read on BookTok for both its LGBTQ representation and the butterflies Alex and Henry's love story gave readers.
The trailer promises a pretty faithful adaptation of the BookTok staple read.
"You better act like the sun shines out of his ass and you have a Vitamin D deficiency," Zahra, played by Sarah Shahi, threatens in the trailer, a riff on a direct quote from McQuiston's book.
Fans of the book may also immediately recognize the infamous cake scene, their New Years Eve kiss, constant texts and of course, the steamy sex scenes from the trailer.
The "Red, White & Royal Blue" twitter account even reshared a thread comparing scenes from the book to the scenes featured in the preview, identifying more than 20 direct references to the novel.
Guide to the cast
The casting announcement for the two leads for "Red, White & Royal Blue" came out in June last year. Taylor Zakhar Perez stars as Alex and Nicholas Galitzine plays Henry. Uma Thurman and Sarah Shahi also play supporting roles.
Here's what else there is to know about the cast:
Taylor Zakhar Perez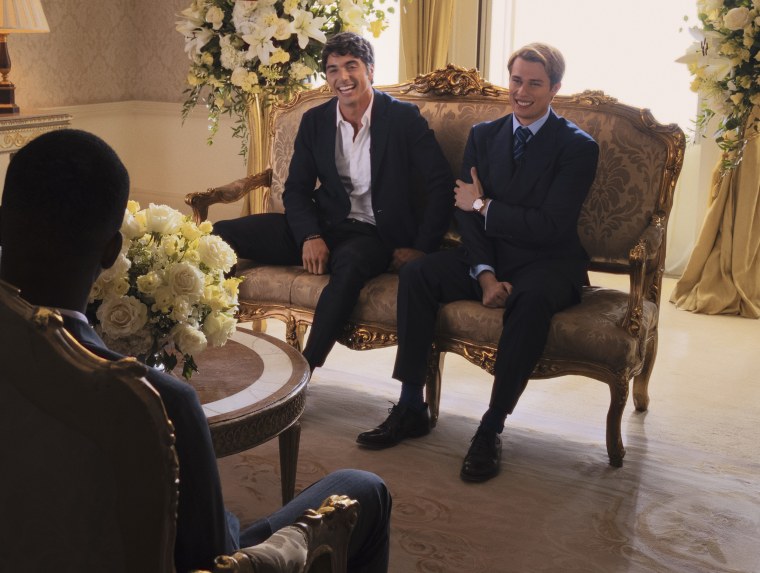 Zakhar Perez, 31, plays Alex Claremont-Diaz, the 21-year-old son of the United States' first woman president, Ellen Claremont, and Senator Oscar Diaz.
Zakhar Perez also starred as Marco in "The Kissing Booth 2" and "The Kissing Booth 3," a young adult book-to-screen adaptation on Netflix.
In the book, Alex is a brazen undergraduate student at Georgetown University with aspirations to be one of the youngest members elected to Congress. He is sarcastic, outspoken and dreams of turning his home state of Texas blue.
Nicholas Galitzine
Nicholas Galitzine stars as the shy and sheltered Prince Henry. Before he meets Alex, Henry maintains a close inner circle, which primarily includes his best friend, Percy Okonjo, played by Malcolm Atobrah, and his sister, Princess Bea, played by Ellie Bamber.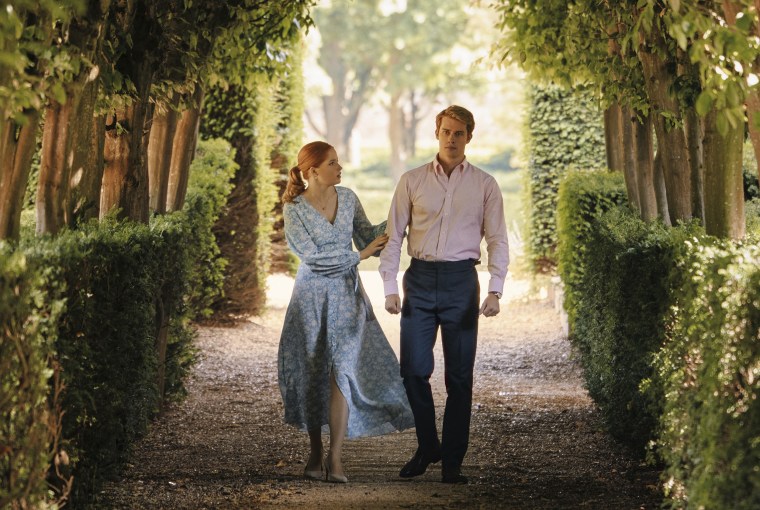 It isn't Galitzine's first time playing a royal.
Galitzine, 28, notably acted opposite Camila Cabello in Prime Video's adaptation of "Cinderella" as Prince Robert.
Galitzine also starred in "Purple Hearts," a Netflix movie about a Marine who marries a liberal musician named Cassie, played by Sofia Carson, so she can get health insurance.
Galitzine jumped from filming "Purple Hearts" to New Orleans for the upcoming 2023 comedy "Bottoms," starring Rachel Sennott and Ayo Edebiri, then to London for "Red, White & Royal Blue," a role he called "extremely gratifying."
"For the first time in my career, it was a very interesting thing of having to sort of juggle a few characters because obviously you're doing prep for these other movies while you're shooting something else," Galitzine told TODAY in September 2022. "So you kind of have this weird juggling act of personalities in your head."
"Red, White & Royal Blue" also marked a step outside of his comfort zone, he said.
"You're a lot closer to the script than you are on a comedy, where it's so loose and improvised," Galitzine said.
Uma Thurman
Uma Thurman stars as Ellen and plays double duty in "Red, White & Royal Blue" as Alex's mom as well as the first woman president of the U.S.
In the book, Ellen is finishing up her first term and starting the campaign trail for reelection. Originally from Texas, Thurman acts with a heavy Southern drawl and is both exasperated and charmed by her son.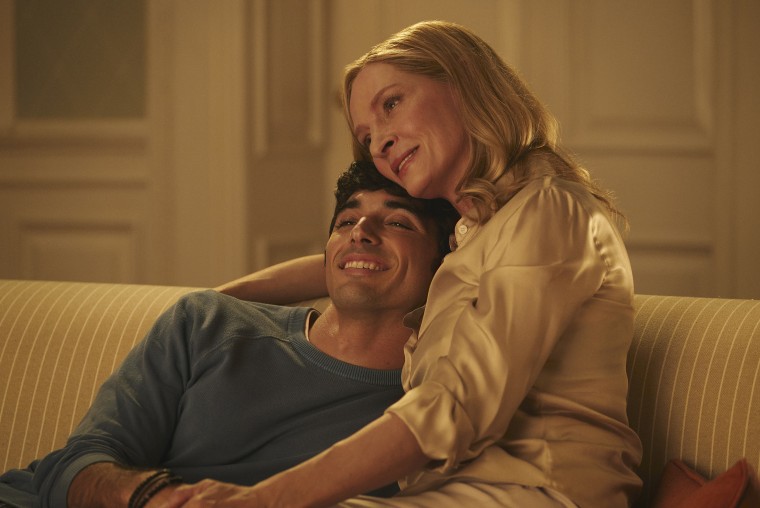 Ellen has to consider the optics of her position, warning Alex at one point in the trailer, "hopefully we'll get through tonight without any more scandals." But once she learns of the depths of her son's feelings for Henry, she transitions into mom mode, hugging her son and advising him, "You need to figure out if you feel forever about him."
Thurman, known for her starring roles in the Quentin Tarantino films "Kill Bill" and "Pulp Fiction" has three children herself: "Stranger Things" actor Maya Hawke, 24, Levon Hawke, 21, and 10-year-old daughter Luna.
Sarah Shahi
Sarah Shahi stars as Zahra Bankston, President Claremont's trusted deputy chief of staff.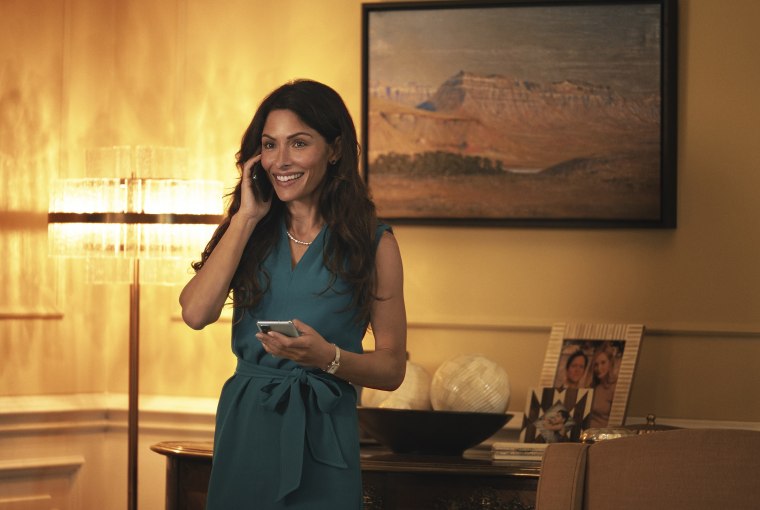 Zahra, a no-nonsense professional, often finds herself the unofficial wrangler of Alex and his group of friends, including Nora Holleran, played by Rachel Hilson. Nora is the granddaughter of President Claremont's vice president.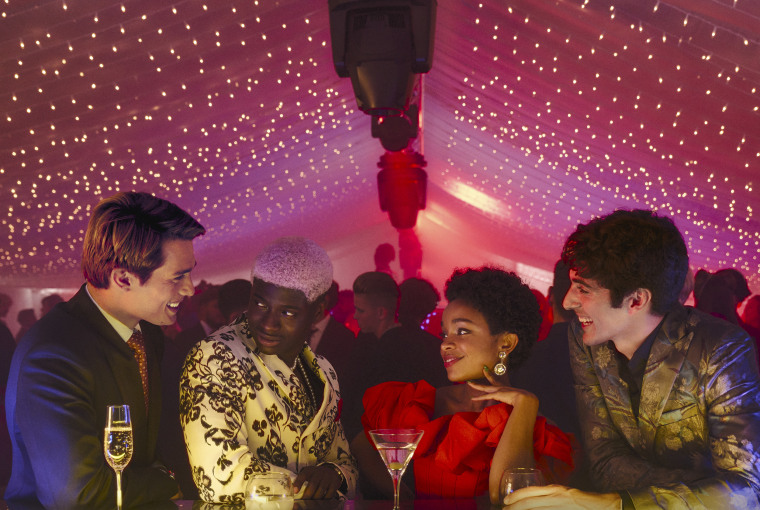 Shahi notably starred in Netflix's "Sex/Life," which was canceled after Season Two.