Rachel Zegler is the latest DC Universe star to fight back against critics, as the "Shazam! Fury of the Gods" actor took to Twitter to defend the superhero sequel against "unnecessary" hate.
"Hey our film is actually really good!" Zegler wrote on Twitter. "But mostly I just absolutely loved making it and the people I met whilst doing so. Go see it! Give it a chance. We have an 85% audience score for a reason."
Zegler continued, "Some people out there (are) just being… senselessly mean. And it's unnecessary. And I know, I know, 'If you can't handle the heat…' and all that nonsense, and you're right. But our film is actually very good. It's just cool to hate on fun nowadays. That's okay. We're good."
Zegler attached four behind-the-scenes photos from the set of "Shazam! Fury of the Gods," which include her fellow Daughters of Atlas, Helen Mirren (who plays Hespera) and Lucy Liu (who plays Kalypso). Zegler plays Anthea, the youngest Daughter who helps fight to regain power they believe was stolen by Shazam (Zachary Levi).
"Shazam! Fury of the Gods" opened March 17 and took home $30 million in its opening weekend, a disappointing number that failed to reach its predecessor's opening haul of $53.5 million in 2019.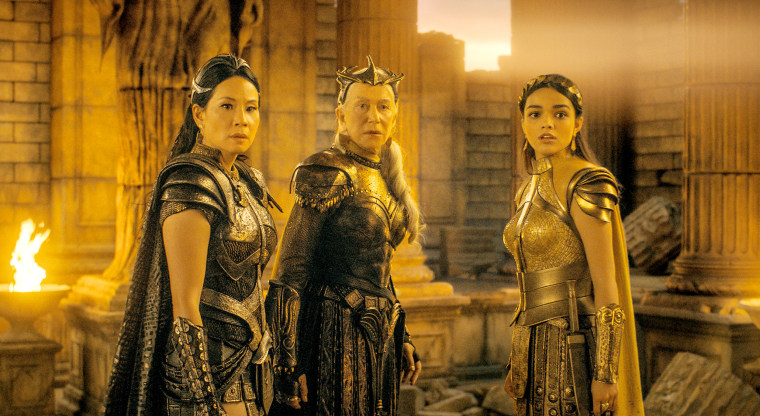 Zegler is not the only DC Universe actor to tout her film's audience score against critics. On the Oscars carpet, Dwayne Johnson defended his superhero outing "Black Adam," telling Variety, "All that I can do, and all that we could do when we were making 'Black Adam,' was to put our best foot forward and surround ourselves with the best people and deliver the best movie we could. Our audience score was in the 90s. Critics took a couple shots, but that's just the business of it."
Zegler, whose breakout role was in Steven Spielberg's "West Side Story," will next star in the "Hunger Games" spinoff "The Ballad of Songbirds and Snakes" and Disney's live-action "Snow White."