Chlöe Bailey didn't have to dig too deep to find a connection to her "Praise This" character Sam, a spirited young singer who moves to Atlanta and ends up joining her cousin's struggling praise team.
"I grew up in the church," Bailey tells TODAY.com of her connection to the gospel scene. "I grew singing in the church, (in) my nana's church in South Carolina with my sister."
The "In Pieces" singer, who was formerly in the R&B duo Chloe x Halle with her sister Halle Bailey, says she has a strong relationship with her faith, noting that she's "always really, really loved God."
"It's really been like a spiritual, personal-based relationship, more so than religious," she explains. "And I'm never shy of talking about God, because I wouldn't be here without Him. So when I even got wind of this project, when I made myself tape, I was like, 'Wow, my favorite things: God, music and acting!'"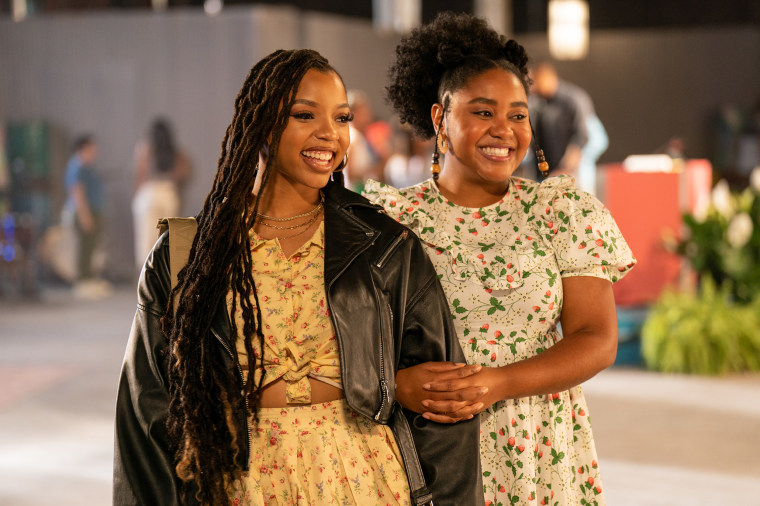 In the film, Bailey's Sam is forced to moved to Atlanta to live with her extended family after her father, played by Philip Fornah, worries that she is hanging out with a dangerous crowd. There, she lives with her good-girl cousin Jess, played by Anjelika Washington, who gets her to join their church's gospel choir ahead of a national competition.
The "Grown-ish" star says aside from the church girl connection, she and Sam share an unwavering love for the same art.
"My connection to Sam is definitely her heart, and how much love and passion she has for her music," she says. "You know, she writes, she produces and she's willing to do whatever to make her dreams pop off, and she's so creative."
But, that's likely where their similarities end. The "Have Mercy" singer says she's doesn't share the same "fireball" attitude as Sam, which is known to get her character "into some trouble."
"The thing where we don't relate is that she can be a bit harsh sometimes and she's very sassy — which is the opposite of me," Bailey says.
Even with that distinct difference, the "Praise This" star found a silver lining to playing such a cheeky character.
"It was fun to kind of use this role as an outlet to get any unsolved feelings," she laughs.
"Praise This," which also stars Tristan Mack Wilds and Quavo, is available to stream on Peacock.
("Praise This" is a Universal Pictures film. Universal Pictures is owned by TODAY.com's parent company, NBCUniversal.)