First-time acting nominee Paul Mescal may not win the Academy Award for best actor, but he'd definitely be the shoe-in if there were an Oscar for best co-star.
All-around fun guy Mescal (and, please, pronounce his name correctly) surprised Frankie Corio, his 13-year-old co-star in "Aftersun," with a personalized birthday video message from singer Olivia Rodrigo while they were shooting the movie in Turkey. Corio's mother, Leona Corio, posted a video of the moment Twitter on March 9.
Corio's face beams as she realized the "Déjà Vu" singer is on Mescal's phone speaking to her.
"Hey, Frankie. It's Olivia," she said. "I heard it's your birthday."
At 17, Rodrigo had her own astronomical ascent with her album "Driver's License," which went on to sweep the Grammys.
"I hope you have the best day ever," she continued. "I hope you eat lots of cake and open lots of presents, and I hope I get to meet you real soon."
Mescal appeared to make an Olivia Rodrigo pun in the video, telling Corio, "Good for you," a possible nod to Rodrigo's "Good 4 U."
In the movie, which marks her first acting role, Corio plays Mescal's daughter. Mescal earned an Academy Award nomination for his role as a father who takes his daughter on a Turkish holiday. "Aftersun" is partially inspired by writer-director Charlotte Wells' life and a vacation she took with her father at a similar age as Frankie.
"She's insane," Mescal gushed about Corio when he appeared on "Jimmy Kimmel Live" earlier this month. "She's going take over the world."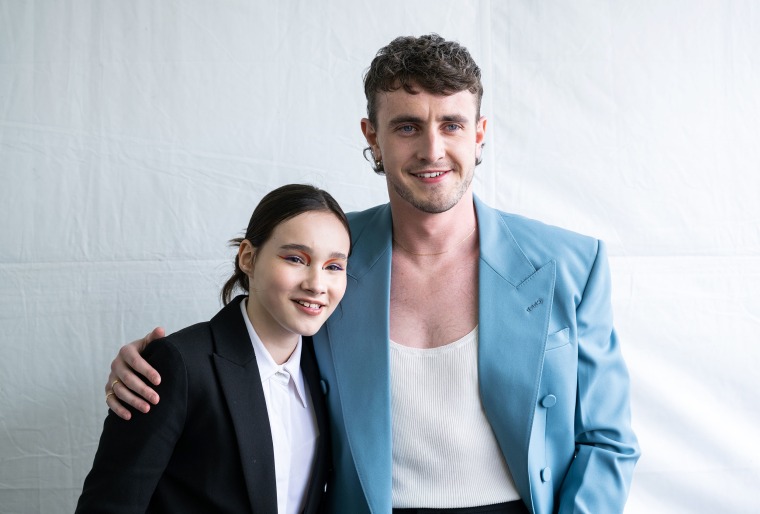 Mescal also said his Oscar nomination provided some relief for his family during a stressful period. He learned he was nominated the same day his sister tweeted their mother began chemotherapy.
"There's stuff going on at home that is difficult, and this has given my family a very welcome respite and something that I never thought that my job and something that I love very dearly could do," he told the BBC in February. "And, yeah, we're going to have a great time as a family."
Mescal will find out if he did indeed win the Oscar when the Academy Awards are held March 12 at 8 p.m. ET.