Actor Nia Vardalos revealed that more than a few tears were shed on the set of "My Big Fat Greek Wedding 3," to the surprise of no one.
On Saturday, Feb. 18, at the Art Directors Guild Awards in Los Angeles, Vardalos, 60, told People that filming the third installment of the hit movie franchise was so incredible it left her and co-star John Corbett in tears.
The emotional moment happened when the pair were filming a scene they waited so long to do.
"We actually have a scene where we're dancing on a dock in the most beautiful cobalt light that our incredible cinematographer, Barry Peterson, waited for and waited for and waited for," Vardalos said. "John and I are standing on a pier dancing together, and we were both in tears. It was incredible."
Vardalos said the view, which included the "blue of the light, the water," set the sentimental stage. During the scene, she said Corbett, 61, looked at her and said, "Baby, look where you brought us."
"Isn't that amazing?" Vardalos continued. "And then I said, 'Thank you for coming.'"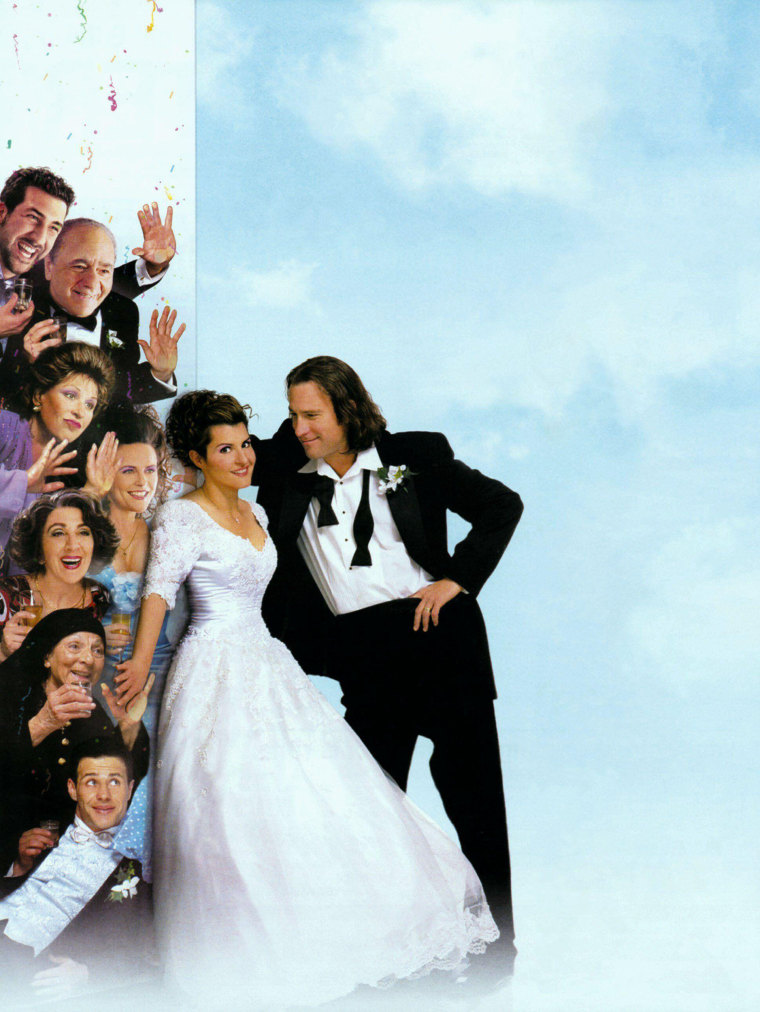 Vardalos shared that the movie was filmed in Greece for four-and-a-half months, adding that the entire experience was "incredible."
"It was hot and beautiful and the sun was shining," she told People. "It was just great."
On Feb. 17, Vardalos announced "My Big Fat Greek Wedding 3" was set to hit theaters on Sept. 8, 2023, via Instagram, to the joy of fans the world over. "Thassssssright!!! You are all invited to the big fat family reunion!!" Vardalos captioned her post.
"The original band is back together," she wrote, adding that she was "thrilled to get the opportunity to write this third installment of our franchise, and to direct it as well."
"See you at the movies!" she wrote. "Worldwide. Omg."
The first "My Big Fat Greek Wedding" movie, which came out in 2002, followed a single 30-year-old woman (Vardalos) who breaks family tradition when she falls in love and gets engaged to non-Greek Ian Miller (Corbett). The film was an instant hit and, to this day, remains the highest-grossing rom-com in North America, according to Entertainment Weekly.
"My Big Fat Greek Wedding 2" hit theaters in 2016, and introduced fans to the main characters' teenage daughter, Paris Miller (Elena Kampouris).
On Saturday, Vardalos also told People that the ongoing COVID-19 pandemic delayed plans to begin filming "My Big Fat Greek Wedding 3," adding that the "cast and crew were ready" to begin shooting.
"I had written the script and we were ready to go in 2020. This is an old story. Everyone was ready to go in 2020, right?" she explained. "But we went at the right time. We began filming in the summer."
Because Vardalos is directing the movie, she was able to "scout locations" to film, adding that picking the perfect location was "the most difficult things to choose."
"I ended up getting the rights to film at the most beautiful locations," she said. "I have never been more grateful for Greek school because I think the fact that I'm fluent (in Greek) and I could go and ask for it, I got what I wanted. And nobody said no. And then when they didn't say no, I kept asking for more."
In addition to the perk of scouting locations, Vardalos shared that as director she was able to "hire as many women as I can constantly," including not only the cast but the behind-the-scenes crew.
In a May 2016 interview with Variety, when discussing "My Big Fat Greek Wedding 2," Vardalos talked about the importance of highlighting women both on screen and behind the camera.
"The dearth of female roles is disgusting. Instead of whining about it, I wrote the female roles with a lot of strength and depth," she said at the time. "Women have to write for each other; we have to hire each other."
Related video: