Jennifer Aniston and Adam Sandler have another mystery to solve.
Netflix dropped the trailer for their new movie, "Murder Mystery 2," on Jan. 30, reprising their roles as Nick and Audrey, respectively, from 2019's original "Murder Mystery" flick. This time around, the couple find themselves in the thick of a kidnapping.
The trailer opens with a car slamming into a restaurant, with the couple inside the vehicle.
"Bonjour," Nick casually says.
The setup for the film then falls into place, with Nick getting a phone call from the Maharajah (Adeel Akhtar, who also reprises his role from the first movie), telling him he's getting married on his private island and he wants him to be there.
"Do you remember what happened the last time we were on a getaway?" Audrey asks Nick.
"Yeah, some people died," he replies.
"Not some. A lot of people," she fires back.
"You think five people dying's a lot?" he asks an exasperated Audrey.
Nick and Audrey do indeed show up at the wedding and things seem to be going fine until the groom is introduced, only for everyone to discover his body has been replaced by someone else — who is dead.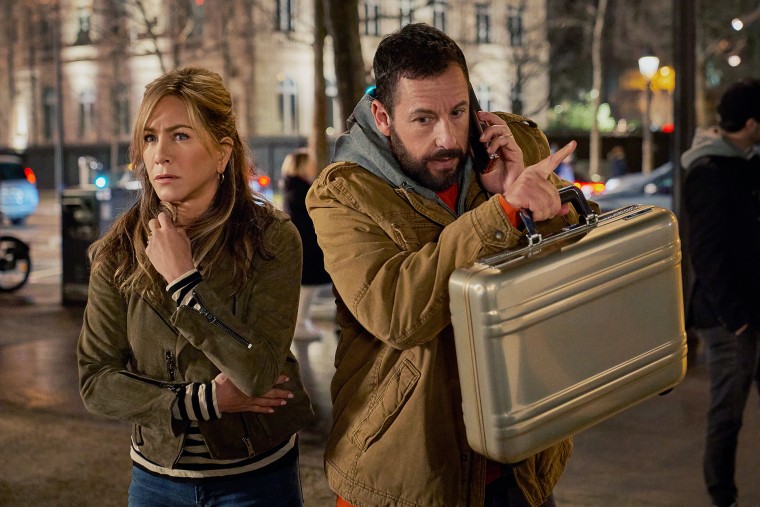 Nick realizes changing the body is a way to distract people from finding the bad guys, who he believes have escaped and have kidnapped the Maharajah.
"We're not going to be invited anywhere ever again," Audrey laments.
Real detectives arrive on the scene and put the couple in their place.
"Your reputations precede you," one says to Nick and Audrey.
"Not in a positive way, I'm afraid," he adds.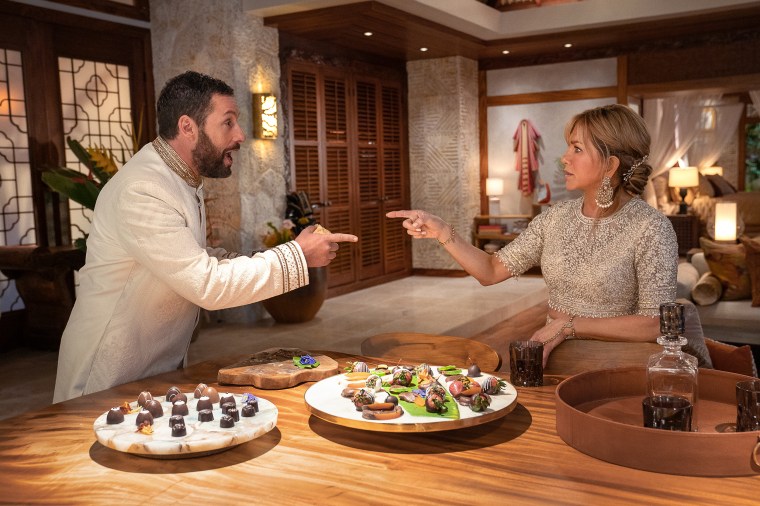 The trailer then shows Nick and Audrey being told to deliver money to the Arc de Triomphe in Paris or else the Maharajah dies.
Then, the action ramps up even further, with the couple ending up in a van with some goons, one of which Audrey appears to kill with an ax when her hand falls backward after the driver slams on the brakes. There's also a man who walks through fire after a car goes up in flames ... only to be run over by a truck.
"Murder Mystery 2," which also stars Mark Strong, Mélanie Laurent and Tony Goldwyn, will be available to stream on March 31. This marks the third film Aniston, who also shared the trailer on her Instagram page, has made with Sandler. In addition to the original movie, they also co-starred in 2011's "Just Go With It."