Keeping it in the family!
The upcoming Michael Jackson biopic, "Michael," has found its star — and it turns out, he's also a member of the famous Jackson family.
The movie's director, Antoine Fuqua, announced Jan. 30 on Instagram that the late King of Pop's nephew, Jaafar Jackson, 26, has been tapped to play the music legend.
Fuqua posted a pic of Jaafar Jackson, whose dad is Jermaine Jackson, Michael Jackson's older brother and former Jackson 5 bandmate, to reveal the news. "
Jaafar Jackson's mom is Alejandra Oaziaza, who also shares two children with Jermaine's younger brother Randy Jackson.
In Fuqua's pic, which was shot by Jaafar Jackson's younger brother Jourdynn Jackson, the young performer strikes a dance step that's right out of his uncle's repertoire. His familiar-looking ensemble could have have been lifted from the late musician's closet: dark fedora, crisp white v-neck T-shirt, white socks and loafers.
"Proud to announce @jaafarjackson as Michael — the motion picture event that explores the journey of the man who became the King of Pop. Coming soon," Fuqua wrote in his caption.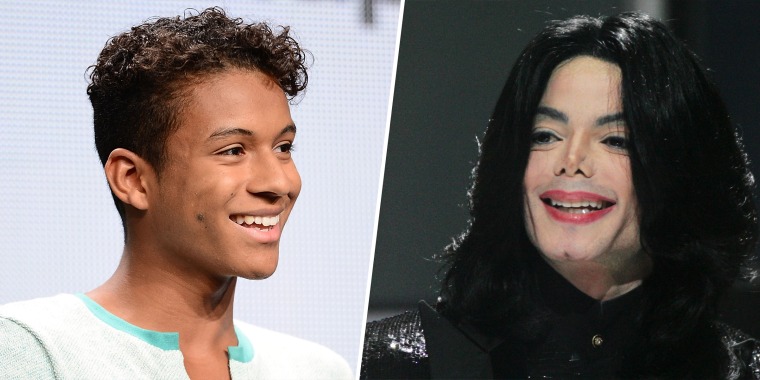 Jaafar Jackson shared the image on his own Instagram page, writing, "I'm humbled and honored to bring my Uncle Michael's story to life. To all the fans all over the world, I'll see you soon."
In a press release on Monday, Fuqua gushed about Jaafar Jackson's ability to channel his late uncle.
"It's incredibly exciting to watch Jaafar bring Michael to life," said Fuqua. "There was such a spiritual connection when I first met Jaafar, who has a natural ability to emulate Michael and such a great chemistry with the camera."
The younger Jackson not only brings the right genetics to the project, he also boasts real musical ability. A singer and dancer since childhood, Jackson has recorded solo music of his own. A 2019 video for his single "Got Me Singing" racked up more than 8 million views on YouTube.
According to Deadline, "Michael" will tell the story of Michael Jackson's rise to global stardom, first as a member of the Jackson 5 and later as a solo superstar, while not sidestepping "the controversies of Jackson's life," which included multiple child molestation charges for which Jackson was tried and acquitted. Jackson denied all allegations, and the Jackson estate continues to deny allegations. 
Michael Jackson died in 2009 at age 50 from acute propofol intoxication.
"Michael" is being co-produced by Graham King, who also produced the Oscar-winning 2018 Freddie Mercury biopic "Bohemian Rhapsody."
Michael Jackson's mother, Katherine Jackson, said in a press release, "Jaafar embodies my son. It's so wonderful to see him carry on the Jackson legacy of entertainers and performers."