Melissa McCarthy is opening up about a "hostile" production she worked on that brought her and multiple people on set to tears. 
The 52-year-old actor revealed surprising details about one of her past projects in an interview with The Observer published on May 22. During her chat with the British outlet, which is a sister publication of The Guardian, McCarthy spoke about standing up to a difficult person on set. 
"I did work for someone once who ran such a volatile, hostile set that it made me physically ill," she shared. "My eyes were swelling up, I was absorbing all of this nuttiness."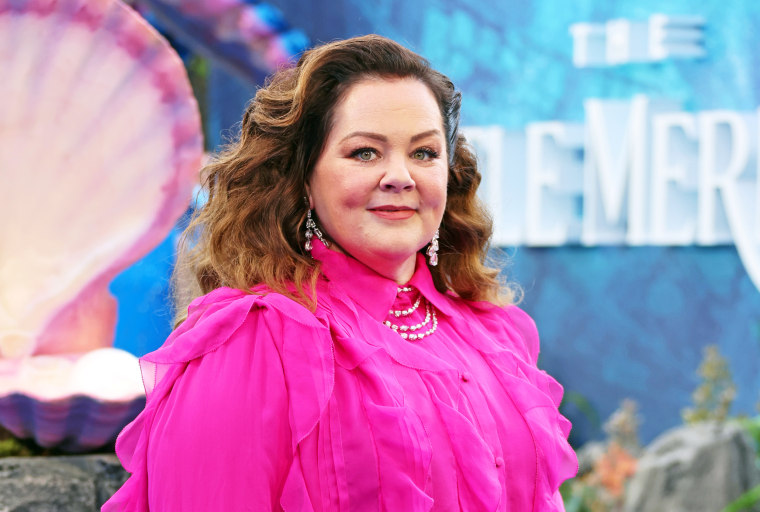 She recalled seeing others "weeping" because they were "visibly so upset by this one person." 
McCarthy pointed out that the unnamed creative used manipulative tactics that initially prevented her from speaking up. 
"I think that's why the manipulation worked, because to get to me, this person would fire people I loved, which kept me quiet. It was very effective," she explained. 
But, she finally reached a breaking point and decided to call out the questionable leader. 
"Then one day, I was like, 'It stops today!'" she said. "I just kept saying to them, 'It stops, it stops.'" 
That experience is ingrained in her memory and influences her behavior on set. 
"And I know now I'll never keep quiet again," she told the outlet.  
"The Little Mermaid" star and her husband, actor and comedian Ben Falcone, created their own production company, On the Day Productions, that they ensure is free of problematic people. On the Day films has produced some of McCarthy's biggest comedies like "Tammy," "The Boss" and "Life of the Party." 
When hiring someone to work on an On the Day movie, she said the couple do a "crazy check" because they "demand" kindness on their productions. 
Speaking about the significance of creating a welcoming environment on set, she shared, "You know, we were so astounded and grateful at getting to build our own little worlds, we were like, 'We have to build the one we've always talked about, where everybody gets to have an opinion and everyone is really nice.'"
She continued, "'It's going to run a lot better with no screamers or crazy egos bumbling around. Why would we risk destroying that?'"
Throughout the interview, the former "Gilmore Girls" star repeatedly stressed the importance of being a nice person and called out prejudice, as well. 
Her upcoming film, "The Little Mermaid," received racist backlash after Halle Bailey was cast as Ariel in Disney's live-action remake.  In February, Bailey told The Face that the hateful reaction was not surprising. 
"As a Black person, you just expect it and it's not really a shock anymore," she said at the time.  
McCarthy criticized those who share derogatory views during her conversation with the Observer. 
"I hate any kind of injustice," she said. "And people attacking someone for just trying to be who they truly are. What does it matter to them? Do no harm, be kind — if everyone just followed those two rules, we'd be fine." 
"Not, 'You can't read this book', 'You can't talk about certain histories,'" she added. "I don't have any patience for all that." 
Instead, she prioritizes kindness. She pointed out how "unbelievable" it would be to see everyone treat each other with respect. 
Being respectful and looking to uplift others, not tear them down, is one reason why McCarthy has become known for her hit comedies, like "Bridesmaids," "The Heat" and "Spy."
She praised the genre for allowing fans "to sit next to somebody whose ideas don't match up. And maybe you come out a little closer."
McCarthy acknowledged that making fans laugh won't solve all the world's problems.  
"But I can hopefully give someone who's had a bad day an hour and a half to go into a different world where bills or illness isn't the top thing on their brain," she said. 
She concluded, "That's the only skill set I really have. So I have to keep trying."