Meg Ryan is making a return to the genre that made her a star.
The actor is directing and starring in "What Happens Later," a rom-com, which she also co-wrote, about two ex-lovers who get stranded at an airport together at night.
However, fans of the actor will have to wait a couple weeks later to see the rom-com after Taylor Swift announced her concert film, "Taylor Swift | The Eras Tour," would be dropping the same day as Ryan's movie.
On Sept. 1, Bleeker Street, the company distributing the rom-com announced, announced that the film will now be released on Nov. 3, instead of Oct. 13.
"So we'll take our time...Are you ready for it? Meg Ryan ends her 14-year rom-com hiatus and the #Megaissance begins with #WhatHappensLater, now happening...later. Coming only to theaters November 3!" the company tweeted.
"What Happens Later" marks the second time Ryan is taking a seat in the director's chair after her directorial debut for the 2015 feature film "Ithaca." The drama was also the last movie in which Ryan appeared.
"What Happens Later" is set to be released this fall. Here is everything we know about Ryan's return to the rom-com world.
What is 'What Happens Later' about?
"What Happens Later" follows exes Willa (Ryan), a "magical thinker," and Bill (Duchovny), a "catastrophic one," who get snowed in at an airport overnight together.
Per the film's synopsis, during their delay and time together, they "find themselves just as attracted to and annoyed by one another as they did decades earlier."
As they unpack their muddled past and compare their lives to the dreams they once shared, "they begin to wonder if their reunion is mere coincidence, or something more enchanted."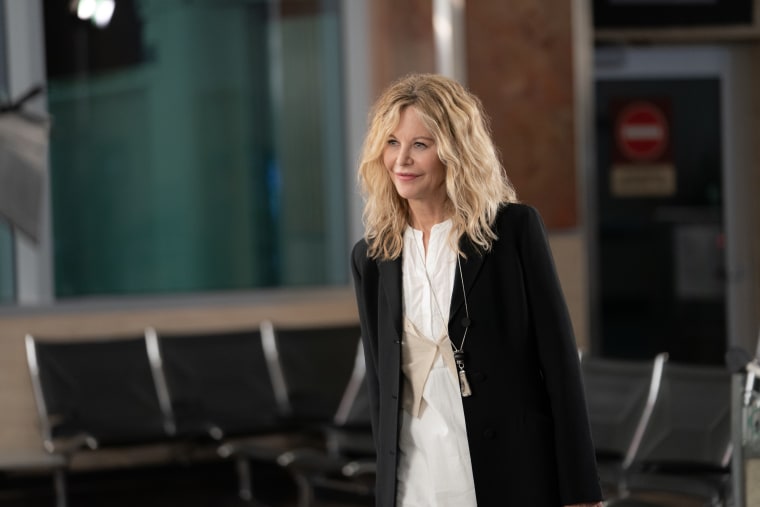 Is there a trailer for 'What Happens Later'?
The first trailer for the highly anticipated movie was released on Aug. 30, giving audiences a preview of Ryan's return to the big screen.
What was the inspiration for the film?
"What Happens Later" is based on the play "Shooting Star" by Steven Dietz. The rom-com is written by Dietz, Ryan, and Kirk Lynn.
In an interview with Entertainment Weekly, Ryan described the film as "about old people, and it's still romantic and sexy." She also said she was inspired by writer and filmmaker Nora Ephron, known for Ryan's popular films "Sleepless in Seattle," "You've Got Mail" and "When Harry Met Sally."
"It has a relationship to movies from the '40s, like 'Bringing Up Baby,' in terms of the banter and the rhythm of things and a lot of that era of filmmaking," Ryan said. "Nora Ephron used to say about rom-coms that they were really a secretly incredible delivery system to comment on the times, and we do that in this movie."
Ryan relates to her character
In that same interview, she shared that Duchovny isn't anything like his character but she is very much like Willa in "What Happens Later."
"These rom-coms really work when the two characters are somehow opposites and yet have a rhythm of intellect and humor and dialogue and banter that sort of indicates their compatibility," Ryan explained. "So, it's just been really fun to see David embrace this guy who I don't think is anything really like David."
She added, "Whereas the Willa thing I can really relate to. To see him dive into every single scene in the fullest way, he's funny, and he's smart, and he's dear, and irresistible."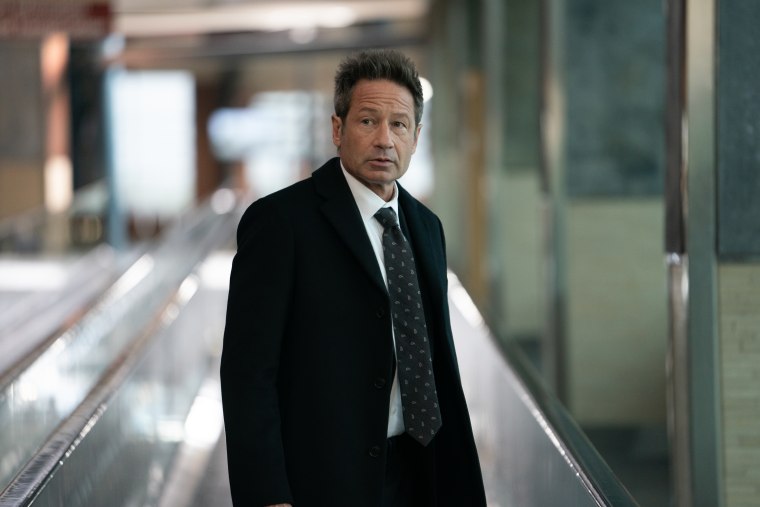 Who else stars in 'What Happens Later'
Per the Rated R film's IMDB and press release, Ryan and Duchovny are currently the only credited actors.
Ryan opens up about returning to acting
The 61-year-old opened up about making "What Happens Later" in an interview with fellow Hollywood icon Carol Burnett. Ryan and Burnett also chatted about the "Sleepless in Seattle" star's nearly decade-long break from acting in an Interview magazine article published on Aug. 31.
"Truly, the easiest part was acting in it," Ryan shared. "I hadn't done a role in a really long time, but it was fun with David."
She added that she looked forward to directing another film because being behind the camera allows her to see scenes from a different point of view, picking up on things she might have "missed."
And with two directing credits under her belt, the "When Harry Met Sally" star is already figuring out the type of set she wants to run.
When Burnett asked about the filming schedule for her latest romantic comedy, Ryan replied, "We shot over the course of 21 nights and we did maybe three or four takes. Neither of us wanted to be up past 9:30 a.m."
Ryan later shared that they were able to nail multiple scenes in just two shots.
"I'm proud of that," she said. "I set up everything beforehand so that once we were there, it was just David and I trying to tell the truth."
When does 'What Happens Later' come out?
"What Happens Later" was originally scheduled to be released in theaters on Oct. 13. However, due to Swift releasing her concert film titled "Taylor Swift | The Eras Tour" that day, the studio behind Ryan's film decided to change the date.
The film is now being released on Nov. 3.