Starring in "How to Lose a Guy in 10 Days" was written in the stars for Matthew McConaughey.
The actor, who played Ben in the film, says he was mulling over signing on to the 2003 romantic comedy when he got the unlikeliest of signs that he should.
"I remember considering whether I was going to do it or not one night while on a walk down Sunset Boulevard when suddenly, this guy comes up out of nowhere to me — he was a fortune teller guru (and) goes, 'Can I tell you your fortune real quick?'" McConaughey told Vanity Fair for an oral history of the movie.
"I was like, 'Yeah, man. Sure.' He immediately goes, 'There's a movie you're considering right now. It's a romantic comedy. You have to do this or it will be one of the biggest regrets of your life. It is going to be a blast, it is going to be an incredible experience and it is going to make a bunch of money.'"
McConaughey said while he questioned how this could've happened, the encounter did give him pause, and he ultimately agreed to star in the flick.
"I remember thinking, Did the studio hire this guy? I laughed at the thought, but I also remember taking a more serious consideration," he said. "I think I even accepted the offer the next day."
Co-star Kate Hudson, who played Andie in the movie, said McConaughey was a natural fit for the role because of the chemistry they had.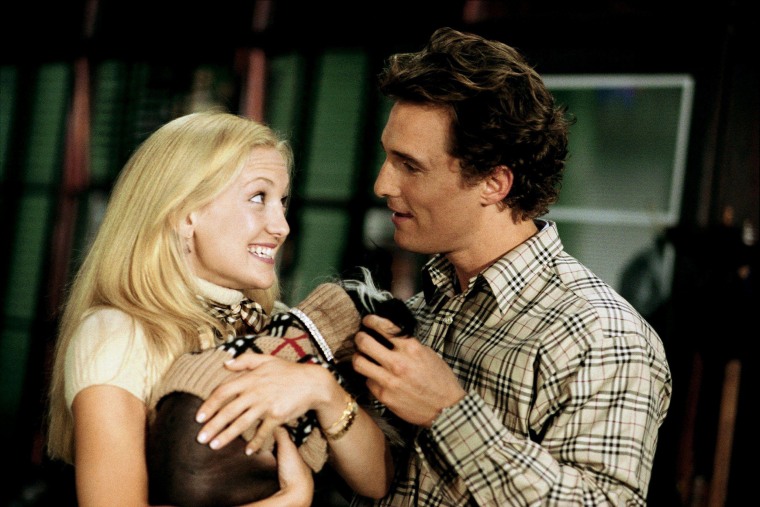 "We were looking at guys and kept going back and forth about who would be the right guy," she told Vanity Fair. "The guy for me was really important. Matthew came up in a meeting and I thought that was a great idea. I loved his energy. We immediately just got along."
That sentiment echoes comments Hudson had made about why she wanted McConaughey to land the role.
"We had an energy together, I wanted to play with him," Hudson said at the Life in Pictures talk at BAFTA in December. "It felt kinetic. We both have a competitive spirit, we're both super athletic. We like to push each other and I just love Matthew's commitment to everything; he's razor-focused. What you think he is, he is."
Hudson, who had previously been nominated for an Oscar for "Almost Famous," and McConaughey, who would go on to win one for "Dallas Buyers Club," were not just acclaimed acting ships passing in the night, either. The duo would reunite in 2008 in "Fool's Gold" and they have not ruled out a sequel to "How to Lose a Guy in 10 Days."
"Matthew and I always say, like, if there was a great story there, I think we would do it," Hudson said during the Life in Pictures talk.
"It's hard to make a good rom-com," she added. "I mean, I think people have this sort of conception that it's sort of easy. But to get a story right, to make it actually work, is challenging."
Hudson has also said she has thought about what happened to their characters and how a second film could work.
"I've always thought about what Matthew and I's characters would be now, if we were still together," she told Elle in 2020. "It's actually probably a good amount of time (that has passed) to make a movie about it. We probably would have gotten married with kids. We're probably miserable right now!"