It's not as wild as cutting school to take in a Cubs game and then hopping on a float to lead a citywide singalong after crashing a parade, but Ferris Bueller and best buddy Cameron Frye are still going strong.
"Ferris Bueller's Day Off" co-stars Matthew Broderick and Alan Ruck reunited recently at the Season Four premiere party for Ruck's hit HBO series, "Succession." The pair posed for pictures in a photo booth that would make even Mr. Rooney smile.
"Life moves pretty fast," HBO Max captioned the short clip of the duo posing, referring to Bueller's famous line in the movie, "Life moves pretty fast. If you don't stop and look around once in a while, you could miss it."
Broderick, of course, played the lovably mischievous title character in "Ferris Bueller's Day Off," while Ruck portrayed his uptight best friend, who is swayed to join him on a series of adventures when they cut school.
Decades after its release, the movie remains popular, and a spinoff is in development. "Sam and Victor's Day Off" will focus on the two valets who took Cameron's dad's Ferrari for a joyride. The movie will be produced by the creators of "Cobra Kai," which itself is a spinoff of another beloved '80s property, the "Karate Kid" franchise.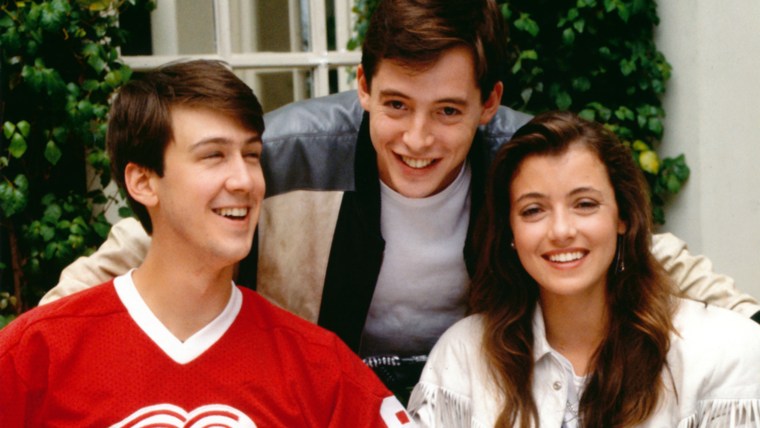 Ruck himself has not shied away from possibly doing another movie with Ferris and Cameron.
"There are always little rumors, and different writers will come up to (me) at parties or awards shows or whatever and say, 'I've got a great idea,' and then you never hear anything more about it," Ruck told PeopleTV in 2020.
"Back in the day, (director) John Hughes talked to Matthew briefly about maybe having Ferris go to college. I always thought they should wait until Matthew and I are in our 70s. Cameron's in a nursing home, and then Ferris comes and breaks him out!"
While there is no word about a project like that, you can catch Ruck in the final season of "Succession" when it premieres March 26 on HBO.