There's one movie Marcia Gay Harden still remembers fondly — and for many reasons.
The "So Help Me Todd" actor did not hold back when she revealed who was her best on-screen kiss in a new interview with Entertainment Tonight shared on May 18.
"Ed Harris in 'Pollock'. Bar none," Harden said of her former co-star and film's director.
The 2000 biopic was directed by and starred Harris as American painter Jackson Pollock. Harden portrayed his longtime wife, Lee Krasner.
"I was like, 'Please don't say cut, Ed, please,'" Harden added. (Then he said), 'Cut,' (and I was like), 'OK.'"
Harris, meanwhile, has been married to wife Amy Madigan since 1983. The couple share 30-year-old daughter Lily. Madigan was also a part of "Pollock" along with Jennifer Connelly and Val Kilmer.
After working with Harris and his wife, Harden told the outlet that she "loves" and "worships" Madigan. 
And aside from getting a good smooch from the now-72-year-old actor, the role of Lee proved to be fruitful for Harden. The actor won the Oscar for best actress in a supporting role.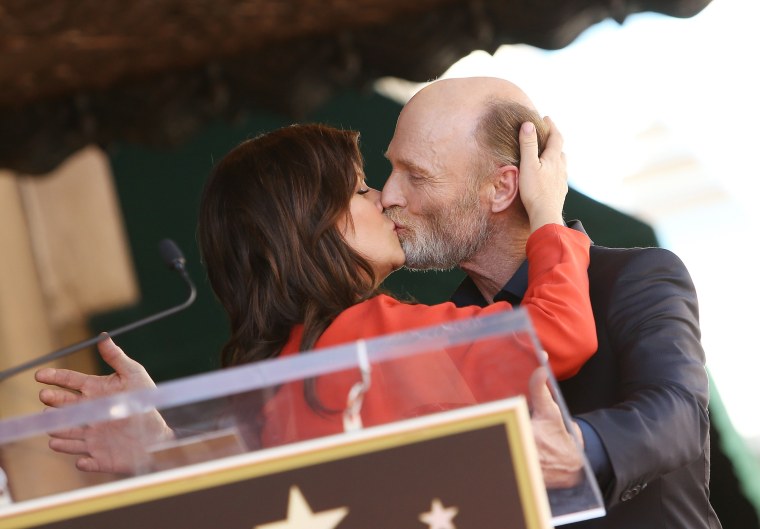 Years later, Harden would once again get to kiss her former on-screen husband.
The "Mona Lisa Smile" actor gave a speech when Harris received his star on the Hollywood Walk of Fame on March 13, 2015. After sharing kind words about her former co-star and friend, she planted a kiss on his lips. Madigan was also in attendance and appeared to let the playful kiss slide.
Back in 2016, Harris chatted with TODAY about meeting his wife doing a play in 1981 and working with her on several projects.
"It's great working together because we get to share what we're doing together," he said, calling her "a great actress."
He also shared that his pick-up line when meeting Madigan was, "I like your socks" because she was wearing a bright color pair.
Harden, meanwhile, was previously married to director Thaddaeus Scheel from 1996 to 2012. They share three children together.