Only archeologist Indiana Jones could've unearthed this kind of blast from the past.
Newly minted Oscar winner Ke Huy Quan, who co-starred alongside Harrison Ford as Indiana Jones' sidekick, Short Round, in "Indiana Jones and the Temple of Doom," said he was a nervous wreck before he reunited with Ford last September during Disney's D23 Expo in Anaheim, California.
"I was scheduled to attend the Disney D23 event. Harrison Ford was going to be there," Quan told W Magazine.
"I didn't know if I would get a chance to say hi to him. So, as I was waiting in the green room, somebody told me that Harrison Ford is right outside the green room, would I want to say hi. I'm thinking, 'Would I want to say hi? Of course I want to say hi!' I haven't seen the man in 38 years!"
The "Everything Everywhere All at Once" star was 12 when he made "Indiana Jones and the Temple of Doom," which was his first movie. He said he was very anxious in the moments before he once again came face to face with the acting legend.
"When I walked out, he was 10 feet away. My heart was pounding. I was so nervous," Quan said. "And the entire time I'm thinking, 'Is he going to recognize me?' because the last time he saw me, I was a little kid."
Quan, 51, envisioned the reunion going horribly wrong, but Ford quickly put him at ease.
"So when I approached him, he turned to me, and he has that famous grumpy Harrison Ford look on his face," he said. "And he lifts up his finger and he points at me and he stares at me like this. And I go, 'Oh, no. He's thinking I'm a fan. He's going to tell me to stay away.'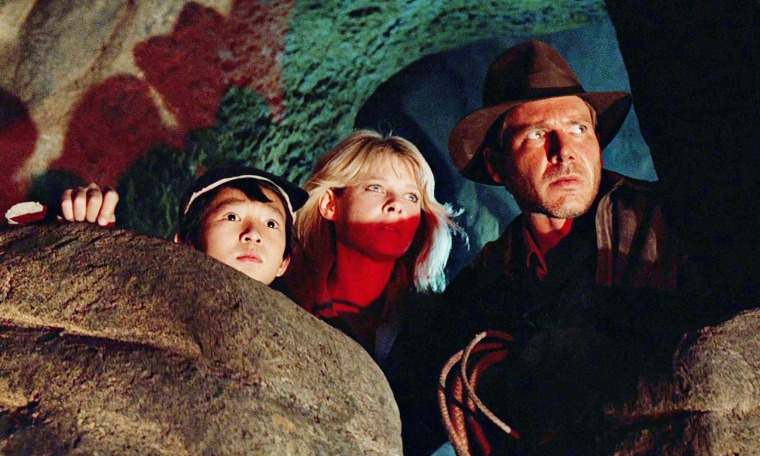 "But instead he looks at me, he says, 'Are you Short Round?' And I was immediately transported back to 1984, when I was a little kid, when I looked up to him. And I said, 'Yes, Indy.' And he says, 'Come here.' Pulled me close to him and gave me the biggest hug."
The duo reunited one more time, under even happier circumstances, during the 95th Academy Awards on March 12. Ford announced "Everything Everywhere All at Once" as the best picture winner, sending the cast to the stage, where he and Quan exchanged a hug.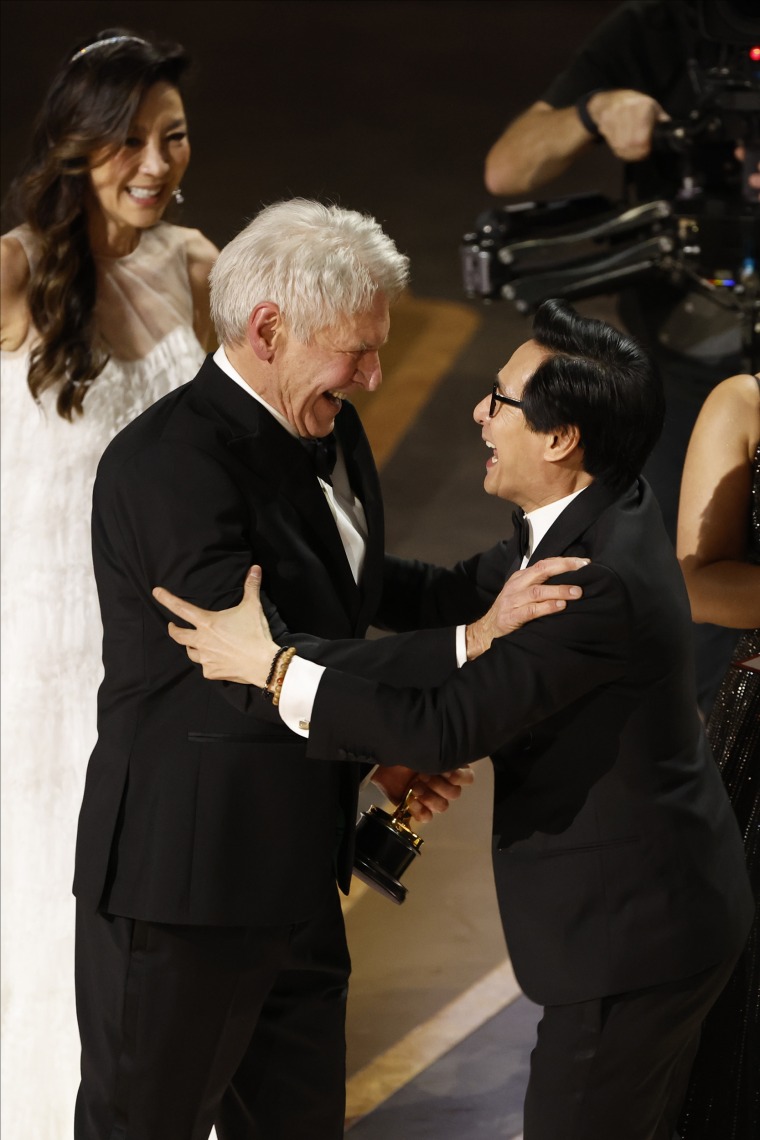 In an interview with Variety, Quan revisited that special moment and shared what it was like to have Ford hand him the Oscar.
"When he opened that envelope and read the title, it made our win for best picture even more special," he said. "And when I ran up onstage, I pointed at him and he pointed back at me and I gave him a hug. I just couldn't help myself. I just want to shower this man with all my love. I gave Harrison Ford a big kiss on the cheek."
It was all part of a magical night for Quan, who completed an improbable comeback by winning the Oscar for best supporting actor and inspiring fans with an emotional speech.
"Dreams are something you have to believe in. I almost gave up on mine," he said.
"To all of you out there, please keep your dreams alive," he added.