Kate Winslet is sharing why she feels comfortable filming nude scenes. 
The 47-year-old actor is Vogue's October 2023 cover star and she opened up to the publication about her new film, "Lee." The biographical drama, which had its world premiere at the 2023 Toronto International Film Festival Sept. 9, shows Winslet take on the portrayal of photographer and photojournalist Lee Miller. 
Miller photographed the events of World War II for Vogue magazine. She made appearances in some of her pictures during her career, sometimes posing topless. So, Winslet, one of the producers of "Lee," decided to re-create one of Miller's famous nude photographs for a scene in the film.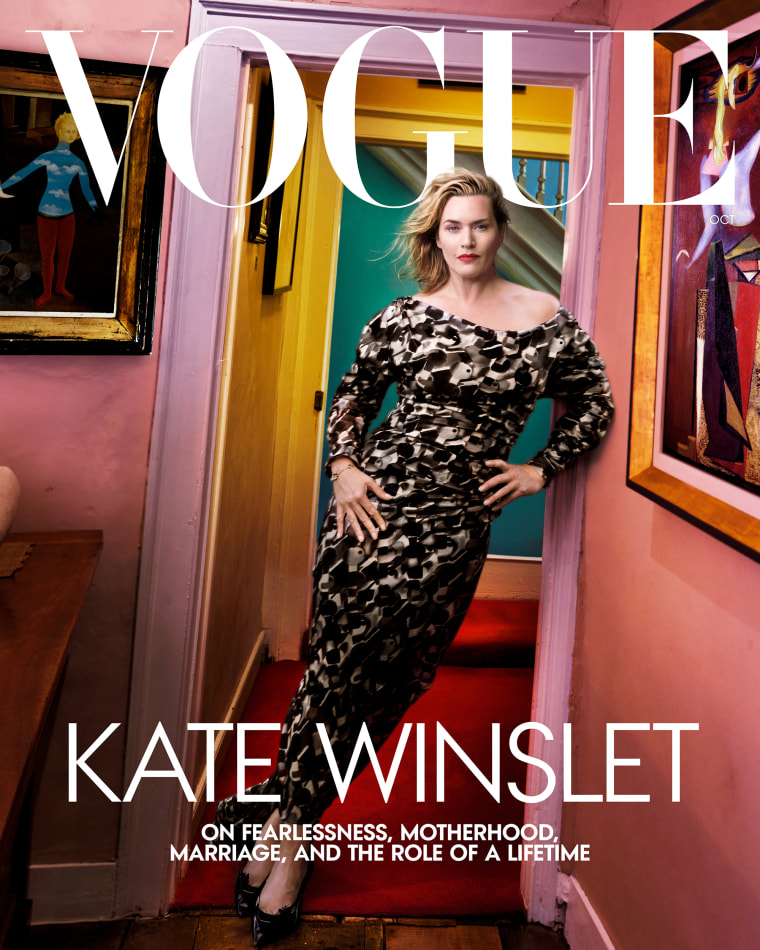 The Oscar winner explained that she filmed the moment after suffering a back injury, meaning she was not able to work out. 
"You know I had to be really f---ing brave about letting my body be its softest version of itself and not hiding from that," she told Vogue. 
Speaking about embracing body positivity, Winslet said, "I know better than to waste precious energy on criticizing my physical self."
She added, "I think any woman is better off just saying: I believe in myself. It doesn't matter what other people think; this is who I am —let's get on with it."
She kept that positive mindset on set, refusing to let others make her feel self-conscious. Winslet said that "Lee" also includes a scene in which the war journalist is wearing a bikini top.
"And believe me, people amongst our own team would say, 'You might just want to sit up a bit,'" she shared. 
Winslet pushed back on their suggestion. "And I'd go, 'Why? (Because of) the bit of flesh you can see? No, that's the way it's going to be!'" she said. 
The acclaimed actor has bared it all in past films. She developed her self-esteem after hearing hurtful comments about her body over the years, she revealed. 
She explained that her appreciation for her body "probably stems from having been subjected to the most awful scrutiny and judgment and, actually, I would go so far as to say bullying, from mainstream media when I was in my 20s."
Winslet landed the role of Rose in "Titanic" when she was just 20 years old. She remembered facing criticism at the start of her career. 
"I was consistently told I was the wrong shape," Winslet recalled. "I was consistently told I would have to settle for less."
According to Vogue, Winslet said she has not read a review of her films or television shows since was 21. 
She also avoids social media and encourages her children — Mia Threapleton, 22, Joe Mendes (known professionally as Joe Anders), 19, and Bear, 9 — to do the same. Winslet said her youngest child is not allowed to have an iPhone. "But I'm not in any way smug about it," she said about limiting their social media activity. "I do see how it's a very difficult negotiation for parents."
Despite having a difficult start in the movie industry, she acknowledges that progress has been made thanks, in part, to the #MeToo movement.
Winslet applauded young actresses for being "unafraid" to speak up for themselves. 
"It makes me so proud," she shared. "And I think, Yes, all the s--- flinging, all the struggle, all the using my voice for years, often being finger-​pointed at and laughed at — I don't give a s---! It was all bloody worth it."
She continued, "Because the culture is changing in the way that I couldn't in my wildest dreams have imagined in my 20s."