Jodi Benson was the voice of Ariel in Disney's animated 1989 "Little Mermaid" classic. Starting in 2019, when Halle Bailey was cast in the live-action version, Benson has been nothing but supportive of the 23-year-old being "part of her world."
"I think that the spirit of a character is what really matters," she said in Bailey's defense at a July 2019 pop culture convention in Florida, responding to racist backlash about Bailey's casting. "What you bring to the table in a character as far as their heart and their spirit is what really counts."
In 2023, Benson attended the Los Angeles premiere of the live action film, and the two Ariels shared a sweet embrace on the red carpet.
But it turns out, she wasn't just there as a fan. Benson makes her own special appearance in the film in a cameo — though few people knew it at the time.
"I'm getting that question every week, 'So, are you in the movie?'" Benson tells TODAY.com. "And I just kind of say, 'No, no you know, I'm just really helping out with press and publicity. I'm just a big supporter.'"
"So I've just basically been lying for four years," she says, with a laugh.
Prior to the movie's release on May 26, the only people who knew about her cameo were her immediate family, she says. "I didn't even tell my mom or my sister or my nieces," she says.
She could officially speak about the moment when the film premiered May 26, the same day she spoke with TODAY.com.
"My phone's been buzzing all day," she says.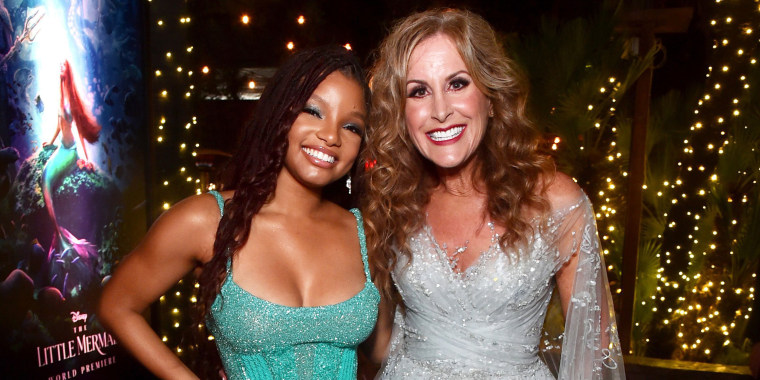 When is Benson's cameo and what happens in it? 
In the new film, as Ariel gets to know Prince Eric's Caribbean kingdom, she meanders away from his carriage and stumbles into a local market. 
Ariel can't speak, having given up her voice in exchange for legs in a devious deal made with Ursula, the sea witch played by Melissa McCarthy in the remake. But Bailey's expressiveness (plus a new song that represents her internal monologue) conveys how she's feeling as she gets used to the human world.
At one point, a wide-eyed Ariel encounters a food stand and peruses the available products. The camera pans up to reveal the salesperson, who is none other than Benson. She hands Ariel a fork — who, on the advice of Scuttle, thinks the utensil is used to comb hair. It's a fish-out-of-water moment fitting for a literal fish out of water.
The poignant moment between Benson and Bailey functions "like a little hidden secret" for fans of the source material, Benson says, as one Ariel literally and metaphorically "passes the dinglehopper" to another.
How the cameo came to be
When the live-action film was officially announced — with her longtime friends Rob Marshall and John DeLuca set to direct and produce, respectively — Benson immediately reached out to congratulate them.
"Of course, they emailed back and were like, 'You are going to be part of this,'" Benson says. "I'm like, 'Oh, well, you know, we'll see what life brings at that point.'"
They soon responded, "We're serious, so you're coming," Benson recalls.
Marshall and DeLuca's initial invitation eventually turned into a month spent on the London set of "The Little Mermaid" in May 2020, despite her scene only lasting a few seconds.
"If you blink or go to the bathroom, you'll miss me," she says.
Meant to take 12 days to film, the scene instead took 30 due to isolating for the COVID-19 pandemic and four days of torrential rain that almost destroyed the outdoor set.
But Benson took the extra time in stride, enjoying her time on set.
"As soon as I finished my quarantine, I could go and watch," she says. "To see it come through Rob and John's eyes of how they envisioned it, paying tribute to the original but then just expanding it, was just glorious. I was blown away."
Ariel, meet Ariel
Benson first met Bailey while she was filming at London's Pinewood Studios. Bailey and McCarthy were strapped into giant contraptions as stagehands pushed them through the sky to give the illusion of swimming.
When they saw Benson, Bailey and McCarthy "swam" back to the platform as their legs were freed from the equipment. They hugged, and Bailey gushed about the role Benson played in her childhood.
"For Halle to say, 'Ariel's already been my favorite princess,' I just adored her,'" Benson says. "I just thought, 'Oh, you're ready.'"
'I sing this song every week': Benson on playing Ariel for 2 decades and counting
She describes the new film as a "reimagining" of the original film, with updates that reflect a changing time.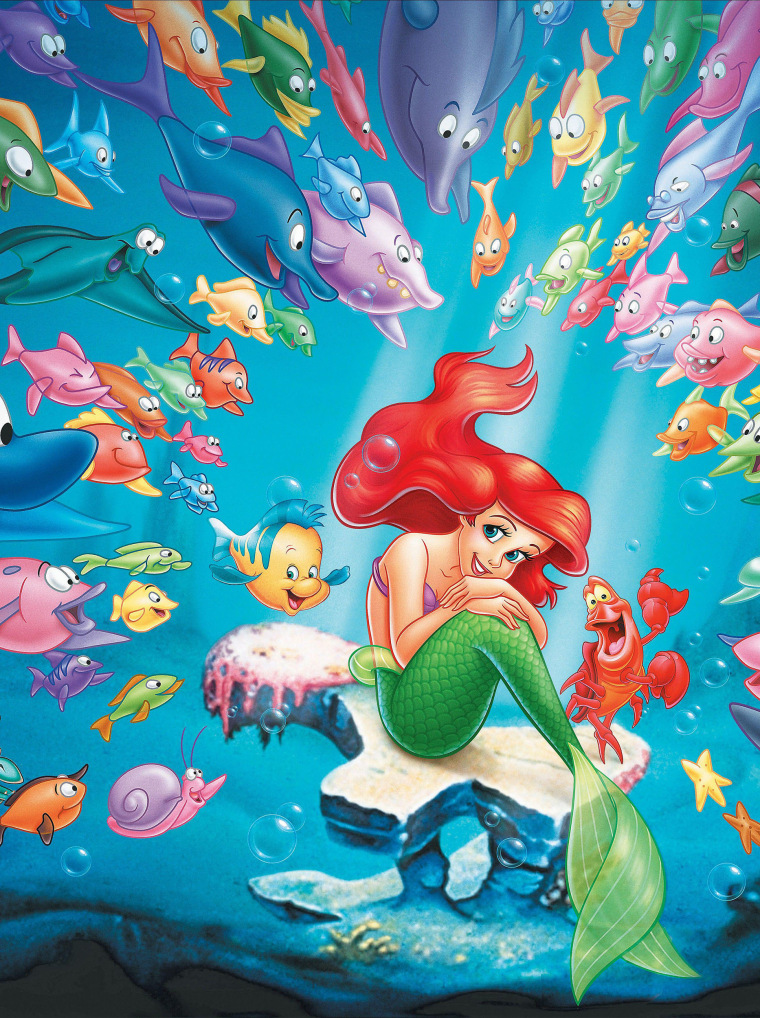 "They don't compare and compete with each other because they're completely different films," Benson says. "An animated and a live action, they're completely different. And that's kind of how I explain it to people — you can love both films."
Benson compares it to previous iterations of the original film, from the 2007 Broadway musical, to the 2019 ABC television special "The Little Mermaid Live!" starring Auliʻi Cravalho.
But her Ariel lives on. Benson is still employed by Disney as the voice of Ariel for a variety of products, including projects for the parks, commercial promotions and video games — a legacy she never could have anticipated when she accepted the role.
Traditionally, in line with "the way Walt did it back in the day," she says, the cast of an animated film was kept anonymous until you "stopped your VHS" and analyzed the rolling credits.
When she and Samuel E. Wright (who voiced Sebastian) signed on to the animated project, they figured it would be a "one-and-done" situation.
"Our faces were never going to be attached to the character," she says. "You would just record it and then you disappear. The movie would come out and that would be great, but that would be it."
But Benson says early screeners of "The Little Mermaid" suggested "something was different" about the film due to lyricist Howard Ashman, who is often credited with Disney's "second golden age" of animation, along with composer Alan Menken.
Deviating from precedent, Disney sent Benson on a press tour and introduced her to the public as the voice behind Ariel. "Even then I thought, 'Oh, it's going to quiet down,'" Benson says. "And it just never did."
As a result, despite largely being known for her voice, she gets recognized "every week," she says, anywhere from airports to restaurants.
"It comes with the territory," she says. "I've been with the company for a really long time."
Thirty-six years, to be exact. She records most of the work to be done for Ariel from her home base in Buckhead in North Atlanta. When a script is written for Ariel, she reviews it and runs it through her "filter," because "she knows how (the character) talks."
"Maintaining her integrity and maintaining who she is as a character, that runs through me," she says. "I have free rein to edit."
Through her work, she says she sings Ariel's signature song "Part of Your World" "every week." She aims to sing it the same way she did three decades ago, with every breath and every syllable.
"My job is to make sure I can create that trigger memory for people," she says. "When I sing it, I sing it exactly the same way that I sang it with Howard in the studio. And I never change."
What it was like for Benson to watch the new 'Little Mermaid'
As she sat in the Dolby Theatre in Hollywood May 8 and watched the new film, Benson reflected on the role that turned her career "180 degrees."
The moment was bittersweet, as Benson thought of all the cast members who weren't alive to witness the moment. Wright died in 2021; Pat Carroll, who voiced Ursula, died in 2022.
"I was the only cast member there," she says. "Me, and one of my directors and then Alan (Mencken, songwriter). So there were three of us from the original film, and that was it."
She sat next to the movie's original director, Ron Clements, and his wife during the screening.
"Ron is the one that brought 'The Little Mermaid' and pitched it to Disney on two little pieces of paper, with scribbling notes all over it," she says.
Throughout the movie, she kept peeking over to see his reaction. "Gosh, this must be so surreal for him," she remembers thinking.
Throughout the event, she was struck by the thought that nobody would be there if it weren't for Ashman, who died of AIDS at age 40 in 1991, one month after winning a Grammy for "Under the Sea," and Clements' "two little pieces of paper."
Bensons says in the middle of the movie, Clements turned to her and whispered, "Those are all my lines. Those are all the lines of dialogue I wrote on that piece of paper ... I can't believe they're still in this movie."