Jeremy Renner made his first red carpet appearance on April 11 after a catastrophic snowplow accident on New Year's Day left him in the hospital.
Using a cane, Renner appeared at the premiere for his upcoming Disney+ docuseries "Rennervations" at Regency Village Theatre in Los Angeles.
In the show, Renner teams up with "expert builders" to reimagine decommissioned government vehicles as "unique purpose-built vehicles" to serve communities around the world, according to Disney's website.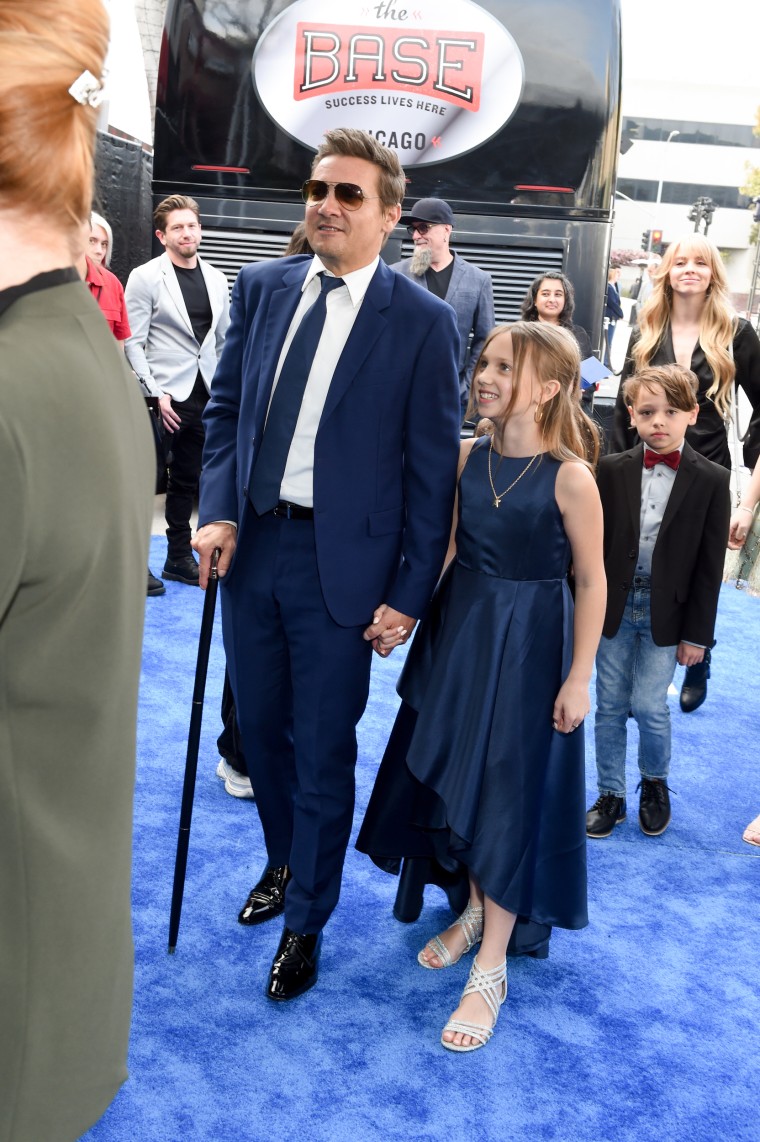 The actor was accompanied by his family to the premiere, including his 10-year-old daughter Ava.
The father-daughter duo arrived hand-in-hand to the event and They both matched in color-coordinated navy outfits.
While on the blue carpet, Renner also posed with other family members and friends.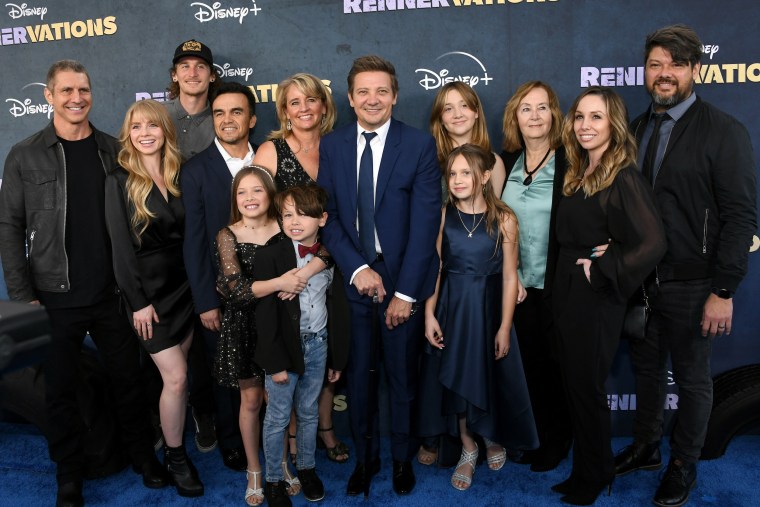 Once inside the event, Renner — who used a knee scooter — received a standing ovation from the audience and participated in a Q&A led by Jimmy Kimmel.
The actor touched on his accident when Kimmel asked about the snowplow that caused him his injuries.
He said that the machine is a "necessity" on his property because there is "so much snow up there."
However, he shared that his mom is not a fan of the snowplow.  
"My mom wants to light it on fire and have a big ol' party," Renner said. "Light it on fire. No, but the thing's amazing. I love this thing and it's a necessity. It's how you get to the house when we have these giant snowstorms."
"I just gotta learn to drive better," he quipped.
He also shared the inspiration behind "Rennervations," telling Kimmel he started collecting large-scale vehicles years ago, with "a purpose for every single one of them."
"I do like the idea of repurposing things, and especially really wonderful things that our taxpayer dollars go towards, especially emergency vehicles and all these state-fund vehicles," he said. "They're great machines, they're perfectly good machines and they shouldn't go to waste." 
"So I've started different ways to repurpose them. And then when it became about kids directly, I just got really, really excited about it and started building," he added.
A  Jan. 1 incident report from Washoe County Sheriff's Office shows Renner was towing his nephew's truck out of the snow at his Reno, Nevada, property on a private road at the time of the crash.
The PistenBully plow started sliding down a hill and Renner got out but didn't put the emergency brake on, the report says. He tried to stop it from hitting his nephew in his truck by stepping up on the plow's track to divert or stop it but was "pulled under the PistenBully." The machine rolled over him, injuring his torso, extremities, face and head, the report details.
The 52-year-old actor had to be hospitalized for his injuries and shared a photo from his hospital bed following the incident.
"Thank you all for your kind words," he captioned the initial post. "Im too messed up now to type. But I send love to you all."
In a follow-up post on Jan. 21, he thanked fans again for their support.
"Morning workouts, resolutions all changed this particular new years …. Spawned from tragedy for my entire family, and quickly focused into uniting actionable love," he wrote. "I want to thank EVERYONE for their messages and thoughtfulness for my family and I …. Much love and appreciation to you all. These 30 plus broken bones will mend, grow stronger, just like the love and bond with family and friends deepens."
The snowplow that ran over Renner weighs at least 7 tons, according to Washoe County Sheriff Darin Balaam at the time of the accident. He added that neighbors helped Renner as he waited 40 minutes for first responders to get to the scene because of inclement weather.