Jennifer Lopez's first movie release in 2023 will reunite her with a genre she has mastered: The rom com.
"Shotgun Wedding," an action-packed movie co-starring Josh Duhamel, Jennifer Coolidge and Lenny Kravitz, will be released on Jan. 27 on Amazon Prime Video.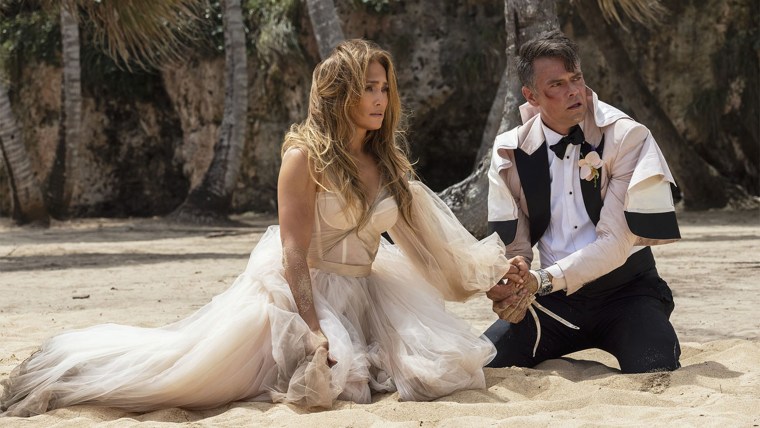 In the movie, Lopez and Duhamel's characters are eager to tie the knot at their destination wedding. Then, pirates suddenly crash the event and take the wedding guests as hostages. 
But just like the inclusion of adventure and action elements in "Shotgun Wedding," Lopez's movie repertoire is also filled with an eclectic group of films that show off her versatility to transcend genre.
Since making her acting debut as a child in "My Little Girl" at 16, Lopez has been constantly booking leading roles in films and television shows — including "Gigli," starring her husband Ben Affleck. Lopez actually wore a wedding dress from a past movie during her wedding to Affleck.
TODAY.com narrowed down a few of Lopez's films that highlight her best performances. Take a look at our list below and see if you agree.
'Selena' (1997)
Lopez showcases her dramatic acting skills in this biopic about the late legendary Latina musician Selena Quintanilla. In the musical drama, Lopez portrays the star's rise to fame, her success with hit songs like "Como la Flor" and "Dreaming of You," her elopement and her journey to confront those close to her who are profiting off her global stardom. Lopez dons some of Selena's most iconic outfits and perform to roaring crowds. In each scene, the promise of a long career that never was: The singer was murdered in 1997 at the age of 23.
'Out of Sight' (1998)
George Clooney stars alongside Lopez in this cat-and-mouse drama about a federal officer attempting to track down a convicted bank robber who breaks out of prison and kidnaps her. In the movie, which was directed by Steven Soderbergh, Lopez's character, Karen Sisco, is supposed to follow orders and arrest Clooney's character, Jack Foley. The plan derails when the two quickly develop undeniable chemistry after their first meeting. Their on-screen connection is so tangible you can practically see smoke rising between them — it's that scorching. Lopez has played many law officials throughout her career, but her tenacious portrayal of Karen stands out. 
'Anaconda' (1997)
This cult classic created a horror franchise that spans four films from 1997 to 2009. In the first adventure flick, Lopez plays a documentary director who intends to make a movie about an indigenous Amazonian tribe with her crew. The group, which also includes Ice Cube and Owen Wilson, comes across a snake hunter who forces them to help him hunt a massive green anaconda. Lopez battles the hunter and the dangerous reptile while trying to bring her group home safely. 
'The Wedding Planner' (2001)
Lopez has appeared in quite a few beloved rom-coms. One of her best is "The Wedding Planner," in which she plays a successful wedding planner for a popular San Francisco company. Her character, Mary Fiore, is committed to her work until she falls for a doctor named Steve (Eddie) Edison, played by Matthew McConaughey. The two share a romantic night exploring the city together before she later learns that Eddie is engaged. Even worse, he is marrying one of her clients. As Mary continues to plan his wedding, Eddie grows closer to her and starts to question his feelings for his fiancée. 
'Maid in Manhattan' (2002)
Another equally great rom-com featuring Lopez is "Maid in Manhattan." Lopez shares the screen with Ralph Fiennes and Natasha Richardson in this movie. Lopez portrays a single mom, Marisa, who works in a luxurious New York City hotel when she isn't taking care of her son, Ty (Tyler Posey of "Teen Wolf"). One day at work, Lopez's friend and coworker convinces her to try on some expensive outfits in the room they are cleaning. When Senator Christopher Marshall (Fiennes) enters the room, he mistakenly assumes Marisa is a socialite and becomes determined to know more about her. 
'Monster-in-Law' (2005) 
A rom-com starring Lopez, Jane Fonda and Wanda Sykes is the perfect recipe for a fun time, as long as you don't take things too seriously. In this film, Lopez's character Charlie worries she will never find her soulmate. Then, she bumps into Kevin (Michael Vartan) at a coffee shop. Everything is going well, so Kevin decides to introduce Charlie to his mom Viola (Fonda) and propose soon after. Viola, who thinks Charlie isn't good enough for her son, schemes to make her future daughter-in-law's life so miserable that she has no choice but to call off the wedding. Charlie realizes Viola's plan and retaliates. The two torture each other with shenanigans of hilarious proportions. 
'Second Act' (2018) 
Following the 2012 movie "What to Expect When You're Expecting," Lopez took a brief hiatus from the rom-com genre before returning with "Second Act." The flick, which veers toward drama, follows a retail employee named Maya (Lopez) who wishes to be promoted to a managerial position. But since Maya does not have a college degree, she's constantly passed over. One day, the son of her friend Joan (Leah Remini) creates a fake resume for Maya to help her land an executive position. As Maya embraces her new life, boyfriend Trey (Milo Ventimiglia) tries to convince her that she doesn't need a forged background to be successful. 
'Hustlers' (2019) 
Lopez's role as Ramona in this crime drama landed her both Screen Actors Guild and Golden Globe nominations (and arguably should have earned her an Oscar nomination, too). The musician, who learned pole-dancing for the role, leads a talented ensemble cast with actors and musicians like Constance Wu, Julia Stiles, Keke Palmer, Cardi B and Lizzo in "Hustlers." Based on a true story detailed in a 2015 New York Magazine article, the film focuses on a group of dancers who con their Wall Street clients out of hundreds of thousands of dollars. After multiple scams, the women are investigated by law enforcement. 
'Halftime' (2022)
Jennifer Lopez is the star of "Halftime" in a literal sense. The documentary is about her lead-up to her legendary Super Bowl halftime show, which she performed with Shakira. The unvarnished Netflix documentary also features many revelations, from feeling boxed in by tropes to a look into her headline-making love life.