"Academy Award-nominated actor Jamie Lee Curtis" has a nice ring to it, doesn't it?
The veteran actor shared her joy and shock at learning she was nominated for a best supporting actress Oscar for her role in the film "Everything Everywhere All at Once" when nominations were announced Jan. 24.
It marks the first time the 64-year-old actor has been nominated for an Academy Award.
Curtis, who is in her sixth decade of making movies, reacted to the news with a sweet Instagram post that featured a trio of photos.
One showed her covering her mouth as her name was announced, while another showed her hugging her husband, director and "Spinal Tap" star Christopher Guest.
"THIS IS WHAT SURPRISE LOOKS LIKE! One of my oldest besties @debopp texted me at 5:15 that she was sitting in front of my house and did I want company watching the announcements," she captioned the post.
"Debbie Oppenheimer has won an Oscar for the beautiful documentary she made about her mother's story as one of the kindertransport in the Oscar-winning documentary. Into The Arms Of Strangers : Stories of the Kindertransport. There she was in the pitch black, freezing, cold in a parka. She came in and sat with me as I had sat with her the day she was heading toward the Oscar ceremony, the year she won."
Curtis also gave a shoutout to co-star Stephanie Hsu, a fellow best supporting actress nominee this year.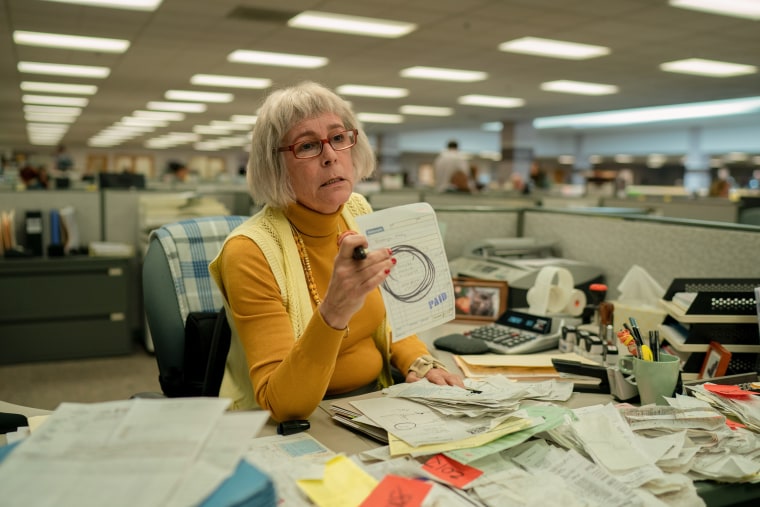 "The first is the moment of hearing my name, and then the thrill of my friend, Stephanie's @stephaniehsuofficial name, and the rest of the nominations and then the best thing of all, a loving embrace for my husband," Curtis wrote. "No filters. No fakery. Just the truth of a moment of joy Captured by a friend.
"Hey @everythingeverywheremovie we went to 11!" she wrote, likely referencing a famous "Spinal Tap" moment featuring her husband.
Curtis was also referring to the 11 nominations "Everything Everywhere All at Once" received, the most of any film, including one for best picture.
In addition to Curtis and Hsu, Michelle Yeoh was recognized in the best actress field and Ke Huy Quan earned a nod for best supporting actor.
"I am so happy! Aaaah!" a jubilant Quan told the 3rd hour of TODAY Jan. 25 after learning he had been nominated.
"Oh, my God, I'm jumping up and down, and I'm screaming so loud. Just like the day when I got the phone call, when the Daniels (writers and directors Daniel Kwan and Daniel Scheinert) told me I got the role of Waymond. I'm feeling exact same thing. This is one of the best mornings." 
Curtis joins her parents as an Oscar nominee. Her father, screen legend Tony Curtis,  earned a best actor nomination for "The Defiant Ones," while her mother, Janet Leigh, was also nominated for best supporting actress for "Psycho."
Curtis also marked the moment in another Instagram post that featured a photo of her parents and a picture of the cast and crew of "Everything Everywhere All at Once."
"It was never even in my wildest dream box," Curtis wrote. "I have always felt very much like an outsider looking in and yet always so grateful for any and all opportunities I have had. Being a part of this beautiful movie, which just received so many acknowledgments for our talented, motley crew of artists, is the highlight of my professional life."