Idris Elba may have shied away from becoming the next James Bond, but the actor, who reprises his role as DCI John Luther in Netflix's "Luther: The Fallen Sun," admits there are some similarities between his detective character and the infamous 007.
"I really don't want to compare John Luther to James Bond, but in the whirlwind of conversations around me playing James Bond, I've always said, 'Look, wait till we see John Luther in a movie because I feel like the real estate is the same,'" he told Sunday Sitdown host Willie Geist in the March 12 episode.
Elba said both characters can be seen as "relatable," although on very different scales.
"In a sense that James Bond is this sort of ... very charismatic character in these really unusual situations and some of them are relatable, but most of them are not," he said. "John Luther is an ordinary detective with sort of extraordinary circumstances, but very relatable."
In the original BBC crime drama "Luther," which ran for five seasons between 2010 to 2019, Elba's character took on psychopaths, serial killers and other violent criminals while often bending the law to take them down. The new film serves as a continuation of the series with his character intently focused on making sure justice is served.
"We're not talking about end of the world crime," Elba explained. "We're talking about guys that have real bad sort of ethics ... And he can't stand that."
But it's not lost on the "Harder They Fall" actor that his character's desire to take the law into his own hands could be seen as a parallel to the justice exacted by James Bond.
"But what the film has now given us is taking this central character, Luther, and putting him in these landscapes, in these scenarios," he said. "That could be as epic as the ones that James Bond sort of covers. You know what I mean? And I hope people kind of go, 'Wow, James versus John.' Like, I really hope that."
While it's unlikely that the two British tough guys will ever cross paths in an actual film project, there was a small, but direct nod to the James Bond franchise in "Luther: The Fallen Sun." Geist recounted the scene to Elba, who admitted there was no mistaking the reference.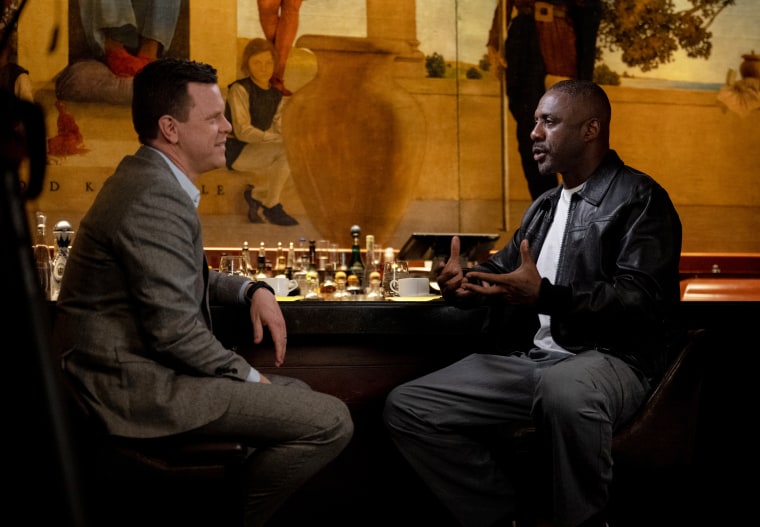 "I didn't write that. I didn't write that," he said, with a laugh. "I remember seeing that in the script and was like, 'Are we sure bro? I mean, this is like right on the nose.' And he was like, 'Yeah, let's do it."
Elba called the scene "a little bit of fun," telling the TODAY host that it wasn't "purposely" done to allude to the chatter about him taking up the mantle of 007. But he added cryptically, "Those who know, know."
In regards to joining new franchises, Elba may still have some work to do in the one he's in. The actor said he hopes to see another chapter of "Luther."
"I think that the ending, again, really sort of opens that door for what are the possibilities," he said. "Where does John go next? And I think that's quite on purpose."
"I feel like there's so much we can offer," he added.
"Luther: The Fallen Sun" is now available to stream on Netflix.