Cringe appeared to be in style on the red carpet (make that the champagne carpet) at the 95th Academy Awards on March 12.
During ABC's pre-show Oscars coverage, Ashley Graham spoke to Hugh Grant for an interview that has people debating whether or not the actor was being rude.
The exchange began innocently enough, with Graham asking the "Notting Hill" star his favorite part of going to the Oscars.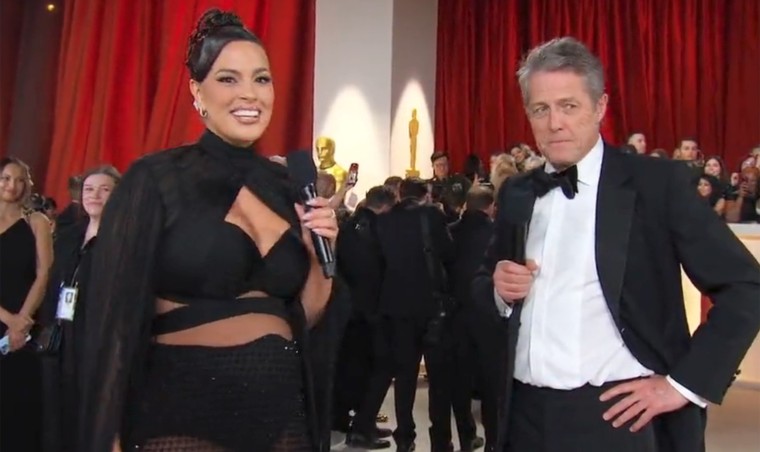 "It's fascinating," he said after stammering for a few seconds. "The whole of humanity's here. It's vanity fair."
It's unclear if Grant was referring to the phrase or classic novel, but Graham appeared to think he may have been talking about the popular after-party. The awkwardness continued when she asked him who he was most excited to see and whether he's rooting for anyone to win.
"No one in particular," he replied.
Graham then shifted gears to a very routine question about what he was wearing.
"Just my suit," he answered.
When she asked who made it, Grant continued to be succinct.
"My tailor," he said.
Graham asked him how it felt to star in the Oscar-nominated "Glass Onion: A Knives Out Mystery" and how fun it was to make.
"Well, I'm barely in it. I'm in for about three seconds," he replied.
"Yeah, but still, you showed up and you had fun, right?" Graham asked.
"Almost," Grant replied.
Graham then ended the interview by thanking Grant and saying, "It was nice to talk to you," as the actor looked to walk away.
Many people on Twitter couldn't help but notice Grant seemed somewhat short during the interview, which lasted a bit more than a minute.
E! News' Jason Kennedy weighed in on Twitter. "Don't worry @ashleygraham….now you see why Hugh Grant isn't one of our favorites to interview live. Well done working around his nonsense," he wrote.
Others seem to enjoy the drama.
"Ashley Graham interviewing Hugh Grant is the most awkward piece of television in 2023 and I'm living for it," one person wrote.
"Ashley Graham deserves an honorary Oscar for putting up with Hugh Grant," another person wrote. "Don't walk the carpet if you don't walk to talk about THE ACTUAL OSCARS."
"And the Oscar for the guy who totally doesn't want to be there goes to Hugh Grant," someone else wrote.
"Why was Hugh grant so rude?? Shout out to Ashley for holding up the conversation. / getting through that," yet another person wrote.
And while many people slammed Grant, there is another school of thought.
"You know the culture is irredeemably broken when people are lining up to defend the imbecilic questions of Ashley Graham," someone commented. "Hugh Grant had every right to his exasperation."
"I'm Hugh Grant all night with the Oscars & award shows in general nowadays. Don't care for them at all lol. He mustve been threatened to go there," another person wrote.
Leading the list of nominees include "Everything Everywhere All at Once" and "The Banshees of Inisherin." The list of performers and presenters includes Rihanna, following her Super Bowl halftime show, and the viral Telugu-language hit "Naatu Naatu."
Follow TODAY.com for complete Oscars coverage, including this year's winners and unexpected moments.