Hilary Duff's son unintentionally reenacted a scene from "A Cinderella Story," giving the actor deja vu of her favorite moment of filming the 2004 film with Jennifer Coolidge.
Duff recalled when Coolidge rubbed salmon on her face, "talking about the omegas" during a scene in the movie while appearing on the Jan. 26 episode of "Watch What Happens Live With Andy Cohen."
"My son actually started eating sushi when he was, like, three and had a similar moment. I looked and I was like, 'You're just rubbing raw salmon on your face,'" Duff said. "And it was soft and he liked it and it reminded me of her."
"I'm sure you were like, 'This is happening to me twice in my life?'" Cohen replied.
The former "Lizzie McGuire" star shares her son, Luca, 10, with her ex-husband Mike Comrie, and has two daughters, Banks, 4, and Mae, 1, with husband Matthew Koma.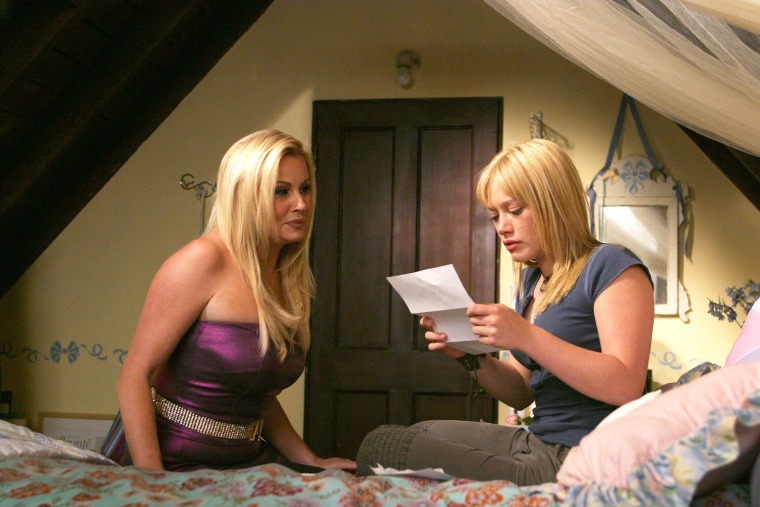 Duff went on to gush about how obsessed she is with Coolidge's cultural renaissance stemming from her stardom in "The White Lotus."
"I can't even begin to tell you how much I've just been obsessed with this past year for Jennifer Coolidge. It's been really cool to see," Duff said.
"She's always been a lovely human being, but I'm really proud to see her moment," she continued. "I think it just reminds me that being in this industry, I feel so lucky that anything can happen at any stage. It's so dope."
Coolidge also acknowledged this exciting new chapter for herself during her acceptance speech at the Golden Globes on Jan. 10. After winning best performance by an actress in a supporting role in a limited series, anthology series or motion picture made for television, she thanked Mike White, the creator of "The White Lotus," for giving her career a "new beginning."
"I just want you all to know that I had such big dreams and expectations as a younger person, but what happened was they get sort of fizzled by life or whatever, and I thought I was gonna be queen of Monaco, even though someone else did it, but I had these giant ideas and then you get older and it's just not happening," she said. "And I just want to say, Mike White you've given me hope."
Coolidge has gone on to star in "Shotgun Wedding" with Jennifer Lopez and Josh Duhamel, and even recruited J. Lo to help her make her debut on TikTok.