When you hear the name Happy Gilmore, you probably think about Adam Sandler's character from the 1996 comedy of the same name. 
Well, there happens to be a new — and real — Happy Gilmore in the golfing game, and he's making headlines. On June 23, high schooler Happy Gilmore announced that he was committing to playing college golf at Ball State University in Muncie, Indiana.
"I am very excited to announce that I have committed to continue my academic and golf career at Ball State University," the Indiana teen wrote on Twitter. "I am very grateful for the opportunity Coach Fleck has given me! I would like to thank my family, my friends and coaches who push me everyday!"
"Happy Gilmore" is about a rejected hockey player-turned-golfer who has a mean golf stroke and foul mouth. Sandler himself even reacted to Gilmore's news on Twitter.
"Go get em Happy. Pulling for you," the actor wrote.
Reactions to Gilmore's announcement included GIFs from the comedy and people questioning if that is his real name.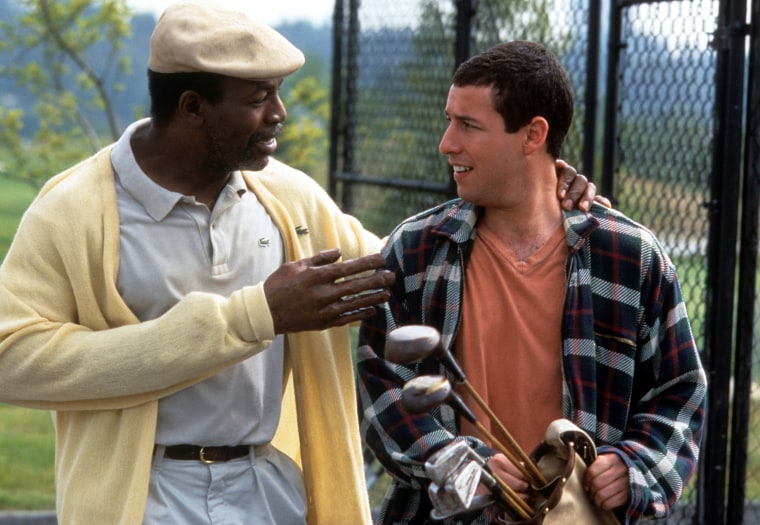 According to the Indianapolis Star, Gilmore's given name is Landon but he began to go by the nickname "Happy" when he was about 6 and started to play golf.
The "Happy Gilmore" references continued, as a verified Twitter account for Shooter McGavin, actor Christopher McDonald's character in the film, also congratulated the kid on his announcement.
"Congrats but I tell you what, you'd be something in one of those long drive contests," the account wrote. "Hell, you'd probably make a very good living. Traveling around, hustling at driving ranges. Just a thought."
In 2022, the same account reposted a tweet about how the teen was named Happy Gilmore and trying to qualify for the U.S. Open.
"If anyone see's this kid, tell him I'd love to meet him tonight on the 9th green at 9," the account wrote, referencing the film.
Gilmore previously opened up about his nickname and introducing himself to people.
"Sometimes, when I first introduce myself, they will look at me funny," Gilmore told the Indianapolis Star in 2022. "But if my golf bag is there and has my name on it, that will kind of help a little bit. But it never fails. At some point they will ask me, 'Is that your real name?' or 'How did you get that name?' Something along those lines."
The young golf star also told the outlet that he can do Sandler's tee shots in the film, but hadn't practiced in a while. As for his nickname, he said it didn't add any pressure on him.
"But I do know that whatever I do is going to be seen. Especially as far as leaderboards when people are scrolling down and see 'Happy Gilmore' they are going to look at it, obviously," he said. "So I do know that, but I don't let it get in my head or that I have to play good because of it. I just go out and do my thing."