With Halloween around the corner, there are still so many festivities to plan, like what jack-o'-lantern to carve this year to thrill trick-or-treaters or which group costume to wear to get the whole family involved in the fun.
Of course, you also need to set the mood with a haunted playlist of songs to listen to during your ride to the pumpkin patch.
No Halloween is complete, however, without at least one spooky movie on the roster, if not more. But when choosing Halloween movies for kids, there are few things to consider.
"Be careful with like monsters, zombies, aliens and material, like stories about that involve danger to characters near their age or separation, that can really stick with them and be scary," says Betsy Bozdech, editorial director at Common Sense Media.
Bozdech tells TODAY.com that while slasher films and serial killer movies might be popular among adults, they're often way too intense for kids and, sometimes, even teens.
When selecting a Halloween movie for kids, age and level of scariness should be a top consideration says Bozdech. "You want to look for something short and gentle and topically appropriate for the littlest ones."
And while you can up the scare factor as they get older, you still want age-appropriateness to be top of mind.
To help you choose, we pulled together a list of family-friendly Halloween movies (in no particular order) that you can find on Netflix, Hulu and other streaming services. These films are sure to deliver all Halloween fun minus the nightmares.
'The Nightmare Before Christmas' (1993) | PG
Nothing compares to this Tim Burton masterpiece about Jack Skellington, Pumpkin King of Halloween Town, whose life is forever changed after discovering Christmas. This kids' Halloween movie is an absolute must, along with its enduring Halloween song, "This is Halloween," an essential add to your Halloween playlist.
'Curious George: A Halloween Boo Fest' (2013) | NR
For the youngest kids, "Curious George: A Halloween Boo Fest" is the perfect introduction to the year's spookiest holiday. George and his friend, Allie, visit a pumpkin patch and hear the legend of a scarecrow who kicks people's hats off on Halloween. Is it real? They're determined to find out and solve the mystery of a scarecrow that kicks, uh, hat.
'Hocus Pocus' (1993) | PG
Bette Midler, Sarah Jessica Parker and Kathy Najimy star as three witches who return to life after being executed during the Salem Witch Trials. The trio hatches a spellbinding plan to restore their youth that puts all of Salem's children in mortal danger. Follow it up with the 2022 sequel.
'Charlie and the Chocolate Factory' (2005)
This 2005 Tim Burton film is a cautionary tale about what happens when you eat too much Halloween candy. Johnny Depp stars in this remake of the 1971 classic about candymaker Willy Wonka and the young boy who scores a golden ticket to visit his chocolate factory.
'Goosebumps 2' (2018) | PG
In the sequel to Goosebumps, a new cast of characters finds themselves in a spooky situation as two boys accidentally unleash the Goosebumps monsters onto their unsuspecting town on Halloween night.
'Wendell & Wild' (2022) | PG-13
Director, Henry Selick of "The Nightmare Before Christmas" collaborates with producer Jordan Peele of "Us" and "Get Out" in creating this stop-motion animated feature about two demon brothers who are invited to the land of the living by a 13-year-old hoping to bring her deceased parents back to life. With some supernatural scares, this one's best for older kids and teens.
'A Babysitter's Guide to Monster Hunting' (2020)
A high school student finds herself embroiled in a quest to battle monsters when she gets recruited by a group of babysitters to rescue the boy she's watching. Parents say this movie is best for kids ages 9 and up.
'The Spooky Tale of Captain Underpants Hack a Ween' (2019) | TV-Y7
In this installment of the Captain Underpants franchise, Melvin declares that Halloween is now illegal. Best friends Harold and George say: not so fast.
'Hocus Pocus 2' (2022) | PG
The long-awaited sequel to "Hocus Pocus" is finally here! The witches we all love to hate – Winifred, Sarah and Mary Sanderson –are back and up to their old tricks after two teens inadvertently summon them from 15th-century Salem.
'Harry Potter and the Goblet of Fire' | PG-13
In the fourth installment of the Harry Potter film series, Harry finds himself an unwitting participant of the "The Triwizard Tournament," a fierce and potentially life-threatening competition between three rival schools of magic. One of the darker chapters of the series, this one's best for tweens and teens ages 11 and up.
'The Spiderwick Chronicles' (2008) | PG
Martin Short, Seth Rogen and Mary-Louise Parker are part of an all-star cast in the 2008 film, "The Spiderwick Chronicles." The story follows two twin brothers who move to a new home where they discover faeries and a host of other fantastical creatures.
'The Halloween Tree' (1993) | TV-NR
Based on the book by the same name, legendary author, Ray Bradbury's, "The Halloween Tree" is an animated tale of a group of trick-or-treaters who learn all about the spooky holiday after one of their friends mysteriously disappears.
'Under Wraps' (1997) | TV-G
After accidentally resurrecting an ancient Egyptian mummy from the dead, three teens must race against the clock to reunite their new mummy friend, Harold, with his long-lost love. Things get complicated when the evil Mr. Kubat tries to kidnap Harold for his own financial gain.
'Liar, Liar Vampire' (2015) | TV-G
Things get complicated after the new kid in town, Davis Pell (Rahart Adams), is mistaken as a vampire by one of his high school classmates. His next-door neighbor fuels the rumors and Davis must figure out a solution that'll clear his name without alienating his new friends.
'A Witches Ball' (2017) | PG
NSYNC's Joey Fatone stars in this sweet movie about Beatrix Steinberg, a young witch who must solve three riddles before graduating as a full-fledged sorcerer at the annual Witches Ball. With a Harry Potter-esque vibe, kids 6 and up will love it.
'Toy Story of Terror' (2014) | TV-G
Short and sweet, "Toy Story of Terror" finds Buzz, Woody, Jessie, Mr. Potato Head and the rest of the "Toy Story" gang star in peril after a road leads to a spooky adventure. There are a few (minor) scares in this one, so it's best for kids 5 and up.
'The Boxtrolls' (2014) | PG
Based on Alan Snow's 2005 book "Here Be Monsters!" this stop-motion fantasy tells the tale of a boy raised by a group of garbage-collecting trolls wearing boxes - hence the name "The Boxtrolls." Ben Kingsley, Elle Fanning and Toni Collette lead an all-star cast in this animated feature which received a Best Animated Feature Oscar nod.
'Harry Potter and the Prisoner of Azkaban' (2004 | PG
The third installment in the Harry Potter franchise, "The Prisoner of Azkaban" is arguably one of the best. Kicking off with a delightfully harrowing trip aboard the Knight Bus, it's non-stop adventure for Harry, Ron and Hermione. The scary, soul-sucking dementors make their first appearance and may be frightening to younger children. This one's best for kids 9 and up.
'The Addams Family' (1991) | PG-13
They're creepy, kooky, mysterious and spooky. If that's not enough, the Addams clan is also altogether ooky (if that's even a word). Based on the 1960s TV show about a ghoulish family with a passion for the macabre, "The Addams Family," movie is silly, spooky and hilarious.
'Coco' (2017) | PG
The absolutely stunning animation in this Oscar-winner is reason enough to watch. But you'll want to watch it anyway due to its Day-of-the-Dead theme, skeletons and touching story about a young boy who travels to the Land of the Dead to find his great-great grandfather.  
'The Muppets Haunted Mansion' (2021) | TV-PG
You can never go wrong with Muppets. A perennial favorite of both kids and adults, this Halloween movie finds Gonzo and Pepe the King Prawn spending the night at a haunted mansion while the rest of the gang celebrates Halloween at Kermit and Miss Piggy's costume party. 
'Monster House' (2006) | PG
After a cantankerous neighbor suddenly dies, two teens discover that the house he leaves behind is a living, breathing monster with plans to eat trick-or-treaters on Halloween. With some mildly scary themes, this animated feature is best for kids ages 9 and up.
'Beetlejuice' (1988) | PG
After dying in a car accident, a married couple haunts their beloved house in an attempt to get rid of its whacky new tenants. When their efforts don't work, they resurrect Beetlejuice, a maniacal spirit who, instead of helping, makes everything worse. Michael Keaton stars as the mischievous ghost in this Halloween classic.
'Hotel Transylvania' (2012) | PG
Hotel Transylvania is a human-free oasis where monsters go when they need a vacation. The ghoulish retreat is threatened after Jonathan, a human, stumbles upon the hidden hotel and meets the daughter of its bloodsucking owner — Count Dracula. 
'Scooby Doo: The Movie' (2002) | PG
Jinkies! This live-action adaptation of the animated series, "Scooby-Doo," finds Shaggy, Velma, and the rest of the gang estranged until they unexpectedly meet up on Spooky Island to – you guessed it –solve a mystery.  
'It's the Great Pumpkin Charlie Brown' (1966) | NR
In Charles M. Schulz's Halloween classic, Charlie Brown and friends navigate the ups and downs of Halloween while debating the existence of a Great Pumpkin that delivers toys to faithful children on Halloween night.
'Casper' (1995) | PG
This live-action movie (based on the 1930s cartoon by the same name) is about a friendly ghost named "Casper" who joins forces with a ghost therapist (for real, what are the chances?) and his young daughter to help rid their home of not-so-friendly ghosts.
'Goosebumps' (2015) | PG
A tale inside a tale, this movie brings the popular book series to life and revolves around real-life "Goosebumps'" author, R.L. Stine (played by Jack Black), and what happens when the fictitious monsters from his books come to life.
'Frankenweenie' (2012) | PG
Spooky, funny and also slightly melancholy, "Frankenweenie" is about a young boy who brings his beloved dog, Sparky, back from the dead ("Frankenstein"-style), with disastrous results.
'Halloweentown' (1998) | NR
After discovering that she's a witch on her 13th birthday, Marnie learns that her mom and grandmother have been keeping some other pretty big family secrets from her, including the existence of an enchanted place called Halloweentown.
'Coraline' (2009) | PG
Annoyed after her parents won't pay attention to her, Coraline goes exploring and discovers a hidden passage to another world in this unsettling movie, based on a Neil Gaiman novel. After crossing over, she soon realizes that all is not what it seems and must escape if she wants ever wants to go home again.
'Tim Burton's Corpse Bride' (2005) | PG
While practicing his wedding vows in the woods, a groom from the 19th century accidentally winds up in the Land of the Dead. If that's not bad enough, instead of his beloved fiancé, he finds himself married to a zombie bride.
'Scooby-Doo on Zombie Island' (1998) | G
Zoinks, it's another Scooby-Doo movie! Scoob and the gang head to New Orleans in this movie made years after the original Scooby-Doo cartoons. As usual, they encounter ghosts, zombies and just about everything else before finally solving yet another mystery.
'Monsters, Inc.' (2001) | G
Yes, it's possible for a movie about monsters to be sweet. This animated classic is about Sulley and Mike Wazowski, two working monsters who find themselves in charge of a big-eyed toddler that unexpectedly sneaks into their world, which is fueled by energy created by kids' fear.
'Harry Potter and the Sorcerer's Stone' (2001) | PG
The first movie in the wildly popular series adapted from the J.K. Rowling books, "Harry Potter and the Sorcerer's Stone" introduces us to Harry, Ron, Hermione, Hogwarts and all the other magical wonders associated with the world of witchcraft and wizardry. It's worth the watch just to see floating pumpkins in the Great Hall on Halloween.
'Ghostbusters' (1984) | PG
Who you gonna call if there's something strange in your neighborhood? Well, if the "something strange" is an invisible man sleeping in your bed, better make your next call to the Ghostbusters. In addition to being hilarious, this '80s movie has some real scares in it along with some adult themes, making this better suited for older kids.
'Ghostbusters' (2016) | PG-13
Released more than 30 years after the original "Ghostbusters" movie, this reboot stars Melissa McCarthy, Kristen Wiig, Kate McKinnon and Leslie Jones as the new ghost-fighting group. Its PG-13 rating means that, like the original, it's best for older kids.
'Gremlins' (1984) | PG
"Gremlins" starts off all cute and cuddly, but don't be fooled into thinking this is "E.T." — because it's not. It doesn't take long for this movie to reveal why you should never break the three rules of pet ownership. The result is grisly mayhem as gremlins take over a town. Because of that, this one's best for older kids.
'The Haunted Mansion' (2003) | PG
Based on Disney's "Haunted Mansion" ride, this movie by the same name, stars Eddie Murphy as a workaholic realtor who drags his unsuspecting family on a trip to look at a house. Upon arriving, they discover – yep – it's haunted and only a woman in a crystal ball can help save them.
'The Little Vampire' (2000) | PG
After leaving all his friends and family behind to move with his parents to Scotland, Tony (Jonathan Lipnicki from "Stuart Little") finds a new best friend who just happens to be a vampire.
'Twitches' (2006) | NR
This beloved TV movie is about identical twins (Tia Mowry-Hardrict and Tamera Mowry-Housley) born on Halloween in the mythical land of Coventry. To protect them from harm, they're separated, then sent to earth until their 21st birthday. After a chance meeting, they discover they're sisters – and witches!
'Wallace & Gromit: The Curse of the Were-Rabbit' (2005) | G
The pest business (called "Anti-Pesto," get it?) is going well for Wallace and his dog, Gromit, even if it means they have a lot of new friends. The only problem is that the annual town vegetable competition is being threatened by a giant werewolf-rabbit. Plenty of funny hijinks result in this popular stop-motion movie.
'Labyrinth' (1986) | PG
This '80s fantasy film features David Bowie, big hair and original numbers. Don't don't let that distract you from the fabulous puppetry and grandeur in this mythical story about a girl who wishes away her baby brother. When her wish is granted, she discovers he's been taken by an evil Goblin King.
'Spooky Buddies' (2011) | G
Air Bud gets a Halloween makeover in this dogs-in-costumes movie about puppies who stay overnight in a haunted mansion. Even though it's G-rated, "Spooky Buddies" actually has some scary stuff, which might not be suitable for all kids.
'The Pirates of the Caribbean: The Curse of the Black Pearl' (2003) | PG-13
Aye, matey! While "Pirates of the Caribbean" isn't technically a Halloween movie, there are so many skeletons and creepy scenes, it should be. Beyond that, it's a swashbuckling adventure just right for older kids, who'll totally love the nonstop action. 
'The Witches' (2020) | PG
Based on the Roald Dahl book, "The Witches," this remake of the 1990 film features Ann Hathaway, Octavia Spencer and Stanley Tucci in a movie about an orphan who discovers that witches are actually real.
'The Witches' (1990) | PG
The original version of "The Witches" stars Angelica Houston as an evil witch who hatches a plot to turn all the world's children into mice. This fantasy movie features some impressive (and terrifying) puppet creatures from Muppets-creator, Jim Henson. Due to some scary scenes and themes, it's likely too intense for younger kids.
Scooby-Doo and the Witch's Ghost (1999) | NR
In this campy Scooby-Doo installment, the gang heads to Massachusetts to investigate — what else — witches. While there, they meet the Hex Girls (an all-girl goth band) and together they solve a centuries-old mystery. This one's all about girl power and saving the environment. Also, good luck getting the Hex Girls "Earth, Wind, Fire and Air," song out of your head.
'The Willoughbys' (2020) | PG
Kicked out of the house by their neglectful, self-absorbed parents, four kids set out on a mission to become orphans in this Netflix animated adventure. This movie doesn't have a precise Halloween theme, but it does have mischief.
'Twilight' (2008) | PG-13
Edward, Bella, Jacob: Three now-famous characters in one rainy Washington town. The "Twilight" saga begins here and has all the makings of a perfect Halloween flick. Vampires, murder, moody teens and an iconic game of baseball played in a thunderstorm. "Twilight" is a great Halloween movie for tweens, especially ones with a love for romantic movies.
'ParaNorman' (2012) | PG
Eccentric and mostly friendless, Norman Babcock lives in a small Massachusetts town and has an unusual talent. He can talk to dead people. Things get out of hand when an ancient curse threatens the entire town and Norman, along with his undead companions, must save the day. This stop-motion film has some scary elements and is best for kids 10 and up.
'The Dog Who Saved Halloween' (2011) | PG
"The Dog Who Saved Halloween" is the story of "Zeus," a talking canine who discovers some pretty creepy happenings at the neighbor's house. When things go awry, Zeus and his friends must save the day. Because of some slightly older humor, this one's best for kids 6 and up. 
'Double, Double Toil and Trouble' (1993) | TV-Y7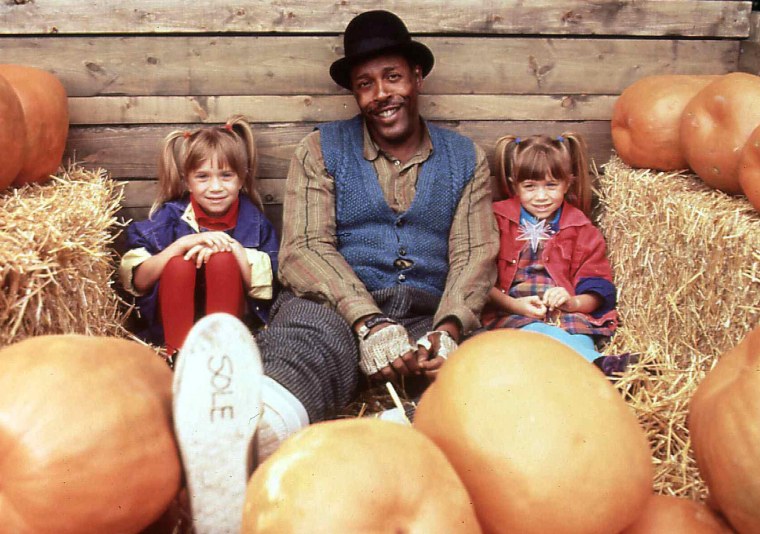 Everyone will love this throwback '90s Halloween video. Long before they were fashion icons, Mary-Kate and Ashley Olsen made a series of kid's videos including this gem, "Double, double toil and trouble." The 90-minute video has the twins battling their witchy Aunt Agatha (Cloris Leachman) to save the family house.
'Bedknobs and Broomsticks' (1971) | G
Long before she appeared in the TV series "Murder She Wrote," Angela Lansbury starred in this film as an apprentice witch who's trying to learn a magic spell that'll help end World War II. This 1971 film has musical numbers and some pretty nifty effects including blending animation with live-action much like "Mary Poppins." Even though it's rated G, there are some scares that might be too intense for little kids.   
'Hubie Halloween' (2020) | PG-13
With adult themes and gags, this Halloween comedy is best-suited to older kids and teens. Playing Hubie, a well-meaning deli worker who loves Halloween, Adam Sandler stars in this mystery-horror-comedy that's mostly slapstick with a few silly scares.
'Halloweentown High' | TV-G
The third installment in the "Halloweentown" series finds Marnie and her supernatural friends debating whether or not to attend a "mortal" high school instead of staying in Halloweentown. Things don't go as planned after a gang of magic-hating knights threaten to strip the town and all its inhabitants of their magical abilities.
'Spookley the Square Pumpkin' (2005) | G
Based on the book "The Legend of Spookley the Square Pumpkin" by Joe Troiano, this super-sweet animated tale revolves around Spookley, a pumpkin who, unlike all the other pumpkins, is square instead of round. Bullied by the "normal" pumpkins, Spookley becomes an unlikely hero after a storm threatens the pumpkin patch right before Halloween.
'Spirited Away' (2001) | PG
This beautifully animated classic from 2001 centers around Chihiro, a young Japanese girl who must save her parents after they are turned into beasts. This adventure film has magic, spirits, mystical worlds and a fantastic story. Because of some scary themes and visuals, however, this one's best for kids 10 and older.
'Scooby-Doo and the Goblin King' (2008) | NR
Ruh-roh, the gang's back at it yet again in this 2008 Scooby-Doo direct-to-video flick! Campy and fun (as usual), Fred, Velma, Daphne, Shaggy and Scooby-Doo attend a Halloween carnival where they meet "The Amazing Krudsky" an evil magician (voiced by Wayne Knight) who wants to take over the world. To stop him, they must travel to the spirit world and negotiate with an evil goblin king.
'The Dark Crystal' (1982) | PG
Jim Henson (the Muppets) once again works his puppetry magic in this fantasy film about a broken crystal that causes chaos in the universe. The story centers around "Jen," a creature who must journey to find a missing piece of the crystal in order to restore harmony. Because of some intense scary content, "The Dark Crystal" is best for older kids and tweens.
'The Book of Life' (2014) | PG
To win the heart of his beloved Maria (Zoe Saldana), Manolo (Diego Luna), a bullfighter struggling with his career path, must travel through three different worlds in this song-filled adventure. With colorful animation, a clever plot and lots of laughs, this one's a great Halloween choice for kids 8 and up.
'Harry Potter and the Chamber of Secrets' (2002) | PG
The second film in the series, "Harry Potter and the Chamber of Secrets" kicks off with a crazy flying car scene and the ride continues from there. Witchcraft and wizardry are all part of this epic film that has Harry, Hermione and Ron searching to find whoever's responsible for attacking their fellow Hogwarts classmates. Due to some relatively scary scenes and adult themes, this one is most appropriate for older kids and tweens.
'Igor' (2008) | PG
Everyone wants to win the science fair in the land of Malaria, especially Igor (John Cusack), an assistant who's sick and tired of being treated like a minion. Igor and his friends, including a brain in a jar (Sean Hayes) and an immortal rabbit (Steve Buscemi), create a monster named "Eva (Molly Shannon)," except she's nothing like the beast they were expecting.