Welcome (back) to Good Burger, home of the Good Burger!
A sequel to the 1997 comedy is officially underway, stars Kenan Thompson and Kel Mitchell said on "The Tonight Show" March 17.
"Ladies and Gentlemen," Mitchell announced. "Welcome to the Good Burger, home of the Good Burger — part two!"
As the studio audience erupted in cheers and applause, the two comedians and host Jimmy Fallon celebrated the announcement by standing up and yelling, "two!"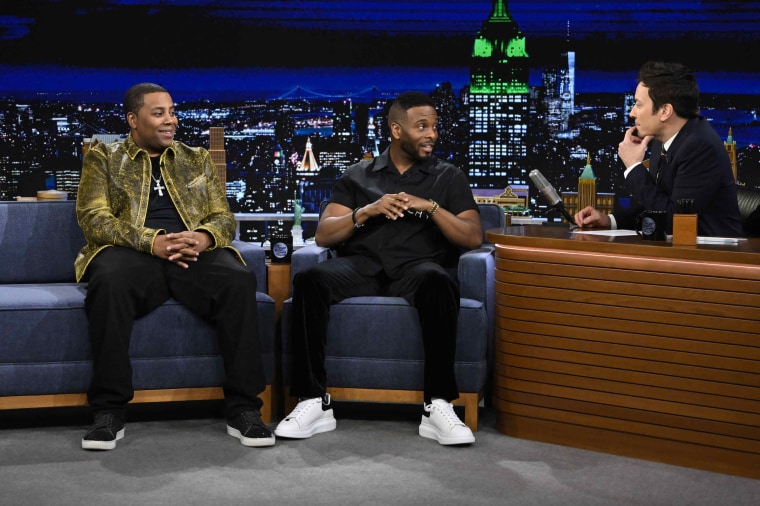 The pair said they've wanted to do a "Good Burger 2" since the first film was released. According to the "Saturday Night Live" star, they plan to film this summer, and the movie will be out "soon."
"It's such a blessing, man," Thompson told Fallon. "It's unbelievable."
The upcoming flick will follow Dex and Ed as they reunite at Good Burger with some brand new co-workers, according to a press release about the sequel.
Thompson told Fallon to expect a lot of "hijinks" as well as several guest appearances.
"We want as many cameos as we can possibly get, like anybody that wants to do it that I guess is somewhat famous," he said.
They then asked Fallon if he would potentially make an appearance.
"Of course I would do something," he responded. "I would do anything with you dudes."
The original "Good Burger" sketch, which first appeared on "All That" in 1994, featured Mitchell as an oblivious cashier named Ed working at the fast-food restaurant, Good Burger. The skit was later made into a film and released in July 1997.
"Ed is one of those timeless characters that has brought so much joy and laughter to fans, and it's such a beautiful blessing to still be doing it after all these years," Mitchell said in the press release.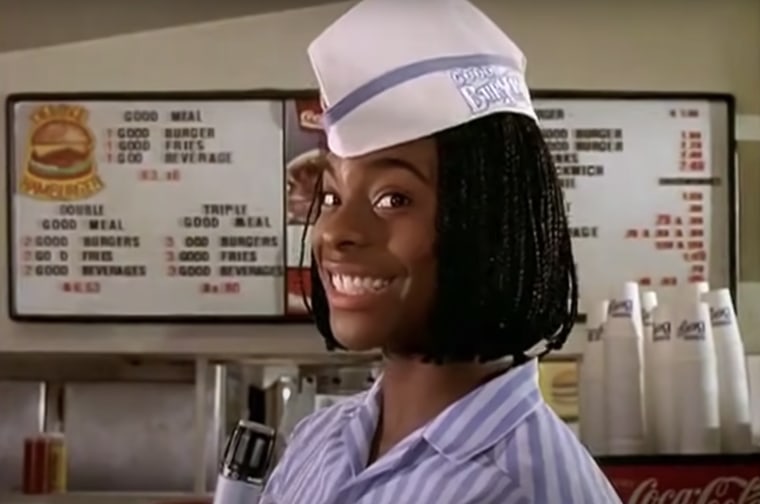 When asked about the process of making the song "We're All Dudes," Mitchell told Fallon he wrote the "uplifting" tune in about a day.
"I wrote it at a hotel...I wrote it really quickly and sung it for all the execs and they loved it," he said. "I was at a table and everyone was eating lunch and to this day I still get paid from the 'Good Burger' song."
Fallon then pulled out two microphones and they all belted out "We're All Dudes" for an applauding audience while dancing around the studio.
While reminiscing on another '90s hit, the sketch comedy show "All That," the duo told Fallon that they didn't know each other prior to filming.
"It's funny how we all met. I don't know if they planned this, but they had all the kids come one by one off the elevator in the lobby. And I remember I was down there already and the elevator opened and this kid came out with 'Mighty Ducks' gear on," Mitchell said, referring to his first interaction with Thompson.
The comedian added that Thompson had the "roller blades and everything" — which is when he knew they would be friends.
They explained they felt especially compatible as a witty pair when impersonating two old men in "Mavis and Clavis."
"I feel like with me and Kenan, I would say a joke and he would finish it and it just felt like we gelled really good," Mitchell explained.
Thompson called "Good Burger" a "fire sketch from the beginning," and said the duo knew it would be a hit.
To this day, Mitchell said fans still quote the film back to him, with the added perk of getting free burgers.
"Good Burger 2" will be available on Paramount+ later this year.