It's been more than 35 years since Geena Davis appeared in "Beetlejuice," the 1988 Tim Burton film about a ghost couple who attempt to rid their house of its pesky new tenants and, in the process, inadvertently unleash Betelgeuse (Michael Keaton), a demonic spirit who terrorizes them all.
There's good news for fans of the haunted comedy: a sequel is in the works.
According to Variety, the film is slated to be released in September 2024 and will once again star Keaton as "the ghost with the most," as well as Catherine O'Hara and Winona Ryder who are returning to play mother-daughter duo, Delia and Lydia Deetz, along with newcomers Jenna Ortega and Justin Theroux who are also signed on to do the project.
While the jury's still out on whether or not Alec Baldwin will return as Adam Maitland, Davis tells TODAY.com in a sit-down interview that she won't be reprising her role as his on-screen wife, Barbara.
"Unless it's a surprise to me, no," Davis answers when asked about appearing in the sequel.
"But I think it makes sense because we told the story of the Maitlands, and in that world, ghosts don't age. You stay in the same clothes you died in and everything," she explains and says it's been "quite a long time" since the Maitlands unexpectedly went to the great beyond after a car accident claimed their lives.
Perhaps it's a good thing given how much Davis currently has on her plate, including writing and illustrating a new children's book called "The Girl Who Was Too Big for the Page" and spearheading the Bentonville Film Festival, a annual festival that spotlights women, persons with disabilities, non-binary and LGBTQ voices among others and filmmakers and actors, now in its ninth year.
"The point of (the festival) is to have another outlet to champion women and diverse voices. That's our whole goal," says Davis. "We want to make sure they have a chance to get their voice heard, but also prove that incredible movies can be made by anybody."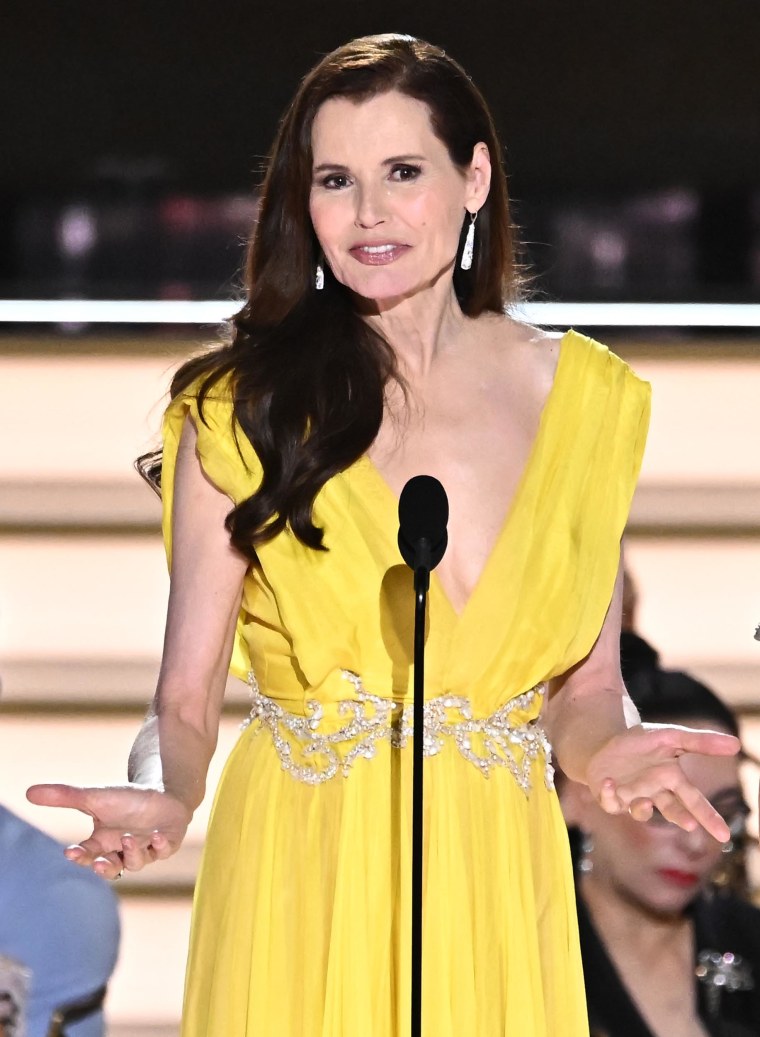 Davis is also the founder of the Geena Davis Institute on Gender in Media, a research-based organization that advocates for gender parity, inclusion and reduction of negative stereotyping within the entertainment industry. She has long been recognized for her work in striving for equal representation.
In honor of her achievements, she received the 2019 Jean Hersholt Humanitarian Award and more recently, the Governors Award at the 2022 Emmys.
Davis says that the inspiration for her advocacy work came, in part, from playing Thelma in the 1991 movie, "Thelma and Louise," a role that earned the actor a best actress Oscar nomination.
"(The movie) really changed my thinking about female representation on-screen because it made me realize how few opportunities women have to come out of a movie feeling like they did coming out of 'Thelma and Louise,' which is empowered, seen, and that they can relate with the female characters," she says. "So, I've really kept that in mind ever since then."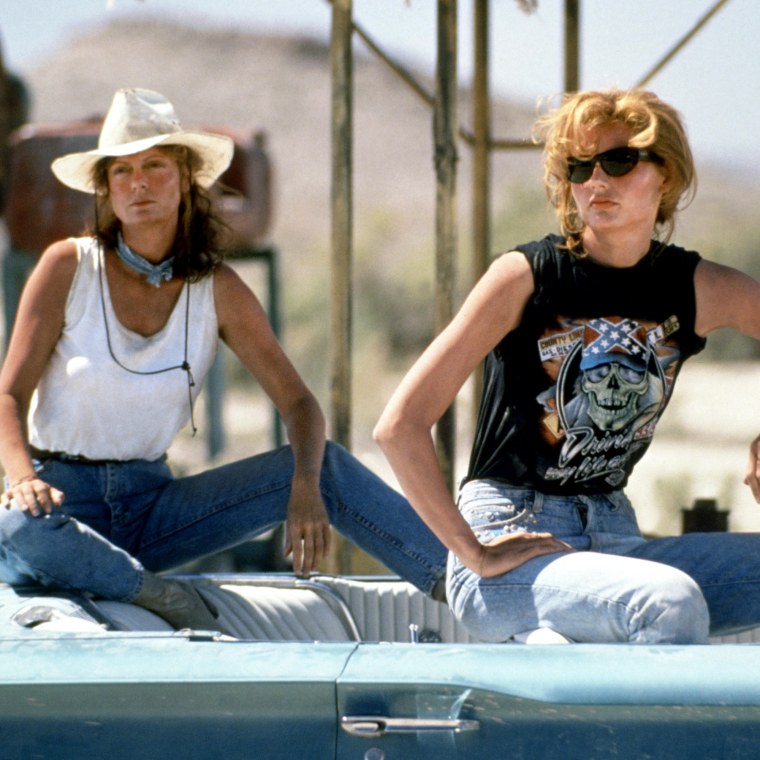 The iconic film, also starring Susan Sarandon, not only picked up an Oscar but also cleaned up at the box office, grossing more than $40 million — and launched the career of a little-known actor by the name of Brad Pitt.
"When we made 'Thelma and Louise,' nobody thought what happened would happen. I mean, it had kind of a small budget and we hope some people will watch it. It'll probably be in an arthouse or something. And then it exploded like that. It was astounding," Davis says.
More than three decades later, the movie continues to resonate with fans who might be happy to learn that a musical version of "Thelma and Louise" is being developed for the stage.
Slated to makes its debut on Broadway this fall, Amanda Seyfried confirms to TODAY that she's signed on as Thelma.
"Susan (Sarandon) and I want to go opening night or something like that," Davis says of the upcoming show. "I'm definitely going to fly in to see that."