Florence Pugh is proud to be Florence Pugh.
The 27-year-old was featured in Vanity Fair's annual Hollywood issue alongside 11 other stars, including Austin Butler and Selena Gomez. The reporter, David Canfield, asked her about the changing nature of being a role mode in Hollywood: Whereas before it meant "appearing flawless," now it means "something more human."
Pugh said she "loves" the change — but that not everyone in her life is as comfortable with her sharing her real self on camera.
"When I started out, my granddad would always tell me off and be like, 'Why are you showing everyone your ugly spots?' He'd be really confused as to why I'd show my cellulite," she Vanity Fair.
Pugh said she'd respond with, "Well I'd much rather do it than they do it, and then I feel ashamed."
In an era dominated by FaceTuning and quick digital alterations meant to enhance appearances, Pugh said she prioritizes authenticity.
"There's no pretending with me," she said. "When I put on makeup and step in a wonderful dress, I give credit to the people that made me look like that, and I also want my fans to know that (a) I don't look like that all the time and (b) I also have stress acne, and I also have hairy eyebrows, and I also have greasy hair."
Looking back on the industry's expectations surrounding beauty, Pugh said that she "always thought there was a better way to do it." She explained that the best way to approach the system is to be "honest and open."
Pugh shared another candid comment her grandfather made about her career choices on "Late Nights with Seth Meyers" after he watched the horror movie "Midsommar."
"At the end my grandad, who does not watch movies like 'Midsommar,' came up to me and he put his hand on my shoulder and he said, 'Well, if you weren't in it, I wouldn't watch it,'" Pugh said.
The "Don't Worry Darling" star has previously revealed the close relationship she shares with her grandmother, reflected by her decision to whisk "Granzo Pat" away to the the Venice International Film Festival in September 2022.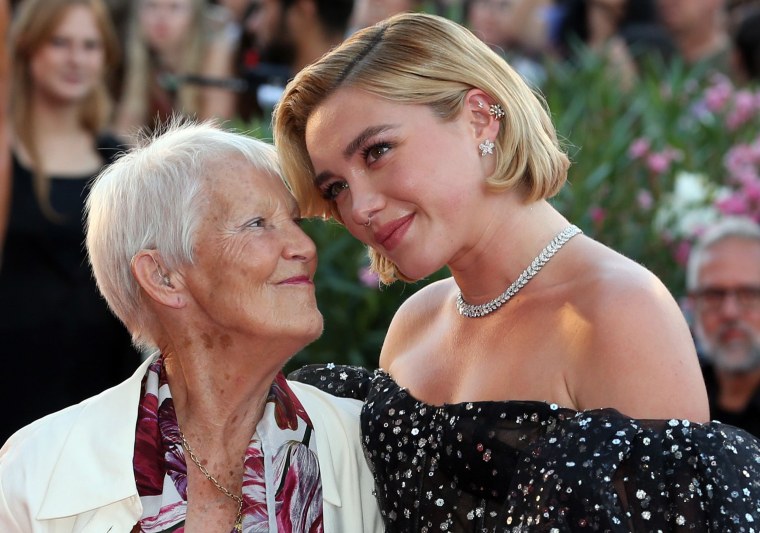 Pugh's grandmother, dressed in a white suits and floral scarf, had a dazzling moment dancing and walking along the red carpet with her granddaughter.
In an appreciation post on Instagram, Pugh shared stunning pics of the two of them smiling and twirling together, explaining that "Granzo Pat" almost couldn't attend the festival with her because she didn't plan to get her passport renewed given her age.
"She is such an adventurer that it saddened us all that she was thinking that way," Pugh wrote.
"I asked her, 'But granny, what about being on the red carpet at my premiere in Venice? What about if Bear Grylls actually does invite you to run wild with him for an episode?'" she continued.
After further consideration, Pugh's grandmother agreed to join her and began the passport renewal process.
Once at the event, Pugh noticed her grandmother avoiding red carpet photos and instead taking pictures on her phone.
"I hugged her and asked if she would like to stand with me for a picture, her eyes lit up whilst also saying, 'Oh they don't want to see me...,'" Pugh wrote.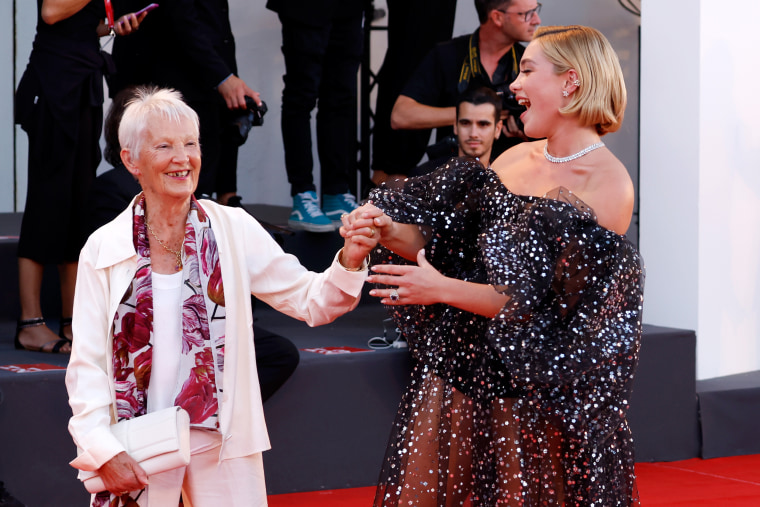 After assuring her that they did, Pugh's grandmother quickly became comfortable posing, flashing smiles and even dancing in front of the cameras.
"Next thing I know she's dancing for all the photographers calling her name," Pugh wrote. "It was truly the most special moment I have ever had on a carpet. She has always been beauty and grace, but to see her so proud and so natural when hundreds of people were watching and cheering was truly remarkable."