When Richard Montañez was told "no," the Frito-Lay janitor-turned-executive made an elaborate plan to disrupt the food industry. "Flamin' Hot," the Eva Longoria-directed biopic told from Montañez's point of view, sets out to show just that.
The film, starring Jesse Garcia, tells the story of Montañez's upbringing in East Los Angeles in the late 1950s, from his early cholo, troublemaking days to becoming a janitor and rising up the ranks at the food company as he allegedly helped establish Flamin' Hot Cheetos.
Montañez's determination propels him to learn about the machines and production line at Frito-Lay. He goes on to impress PepsiCo CEO Roger Enrico (Tony Shalhoub) with his marketing ideas aimed at the Latino market.
"Flamin' Hot" is based on Montañez's book, "A Boy, A Burrito and A Cookie: from Janitor to Executive," with the screenplay written by Lewis Colick and Linda Yvette Chávez. (Notably, Montañez's actual involvement in the creation of Flamin' Hot Cheetos has come under question, with Frito-Lay saying in a statement to TODAY.com that the movie is "Montañez's story, told from his point of view.")
"I'm just excited that the world is going to know who Richard Montañez is. Flamin' Hot is a multibillion dollar brand," Eva Longoria told TODAY.com. "And to know that it came from the head of a Mexican-(American) janitor, it just proves that there are stories from our community worth telling and that we are amazing storytellers."
In the film's telling of the story, Montañez and his wife, Judy (Annie Gonzalez), come up with the Flamin' Hot Cheetos recipe. When the snack goes into production, sales are low and higher ups want to scrap the spicy Cheeto. Montañez, however, feels as if the team isn't marketing Flamin' Hot the way it should be and decides to take matters into his own hands. The rest is history.
The story resonated with Longoria, leads Garcia and Gonzalez, as well as producer DeVon Franklin, who shared with TODAY.com a time when a "no" changed their careers.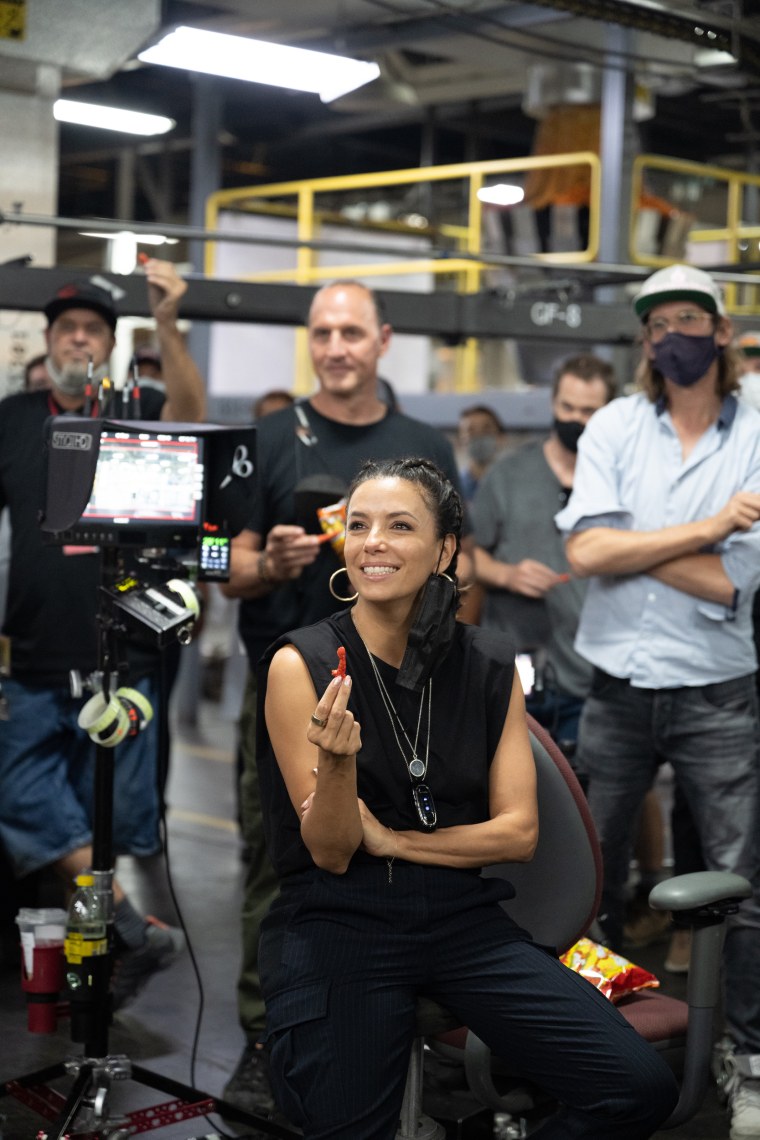 "Oh God, I got so many no's, especially as an actor. Every part you auditioned for and they're like, 'Next,'" Longoria said, before recalling a life-altering moment. "I remember auditioning for 'Hitch' and not getting it and Eva Mendes got it."
"A week later it was 'Desperate Housewives,'" she said of her hit ABC show which she starred in for eight seasons from 2004 to 2012. "I would have not been available if I had been doing that movie. That's why I (say) God has a plan... I'm always glass half full. Every time something didn't turn out, I go, 'Oh my God, that means something amazing is around (the corner). Oh my God, I didn't get that. That means something else better is coming!'"
Adding, "I really, really thought that when I moved here. I was like, 'Oh, gosh, I can't wait to see what unfolds next."
For Garcia, the actor recalled auditioning for the movie "Walkout" in 2004 and feeling "like I bombed it."
"I was super bummed because it was an all Latino cast about the 1960s high school walkouts in East L.A. Of course I didn't get it," he recalled, adding that a year later he heard they were auditioning actors for the same movie.
The second time, he was told that he was "too old" to be a part of "Walkout," but Garcia didn't take no for an answer. Instead, he decided to do a self-tape and after he submitted it was told he could audition for a roll. He prepared, bought the gear he needed to get into character and auditioned in front of Edward James Olmos who was directing the film.
"He goes, 'Which part you going to read?' I go, 'All of them.' He goes, 'All right,'" Garcia said, sharing that he ended up reading three parts "and I killed them all."
An impressed Olmos told him that he was going to "love the script" and a couple hours later Garcia got the call that he got cast as Armando Lopez.
"So, I didn't take a 'no,'" he said. "I go, 'No, no, let me show you.'"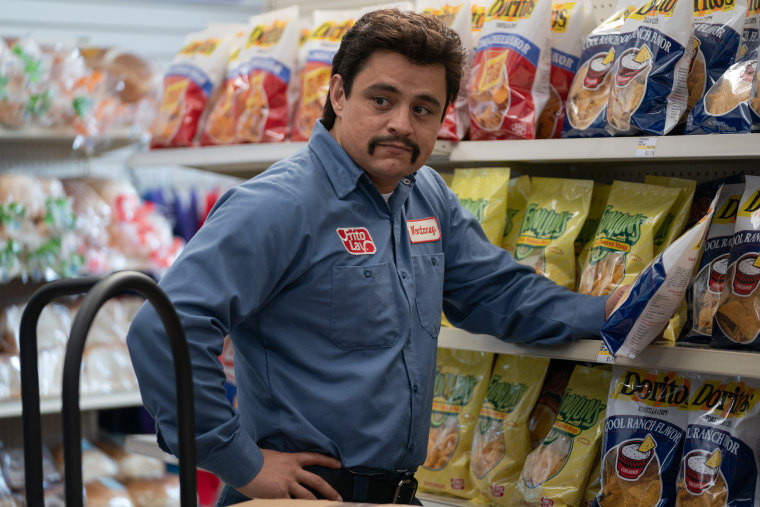 Gonzalez, on her end, has felt like her career "has been a series of no's." Luckily for her, she was taught "the obstacle is the way" and sees it as a chance for growth and improvement.
"Eva says it all the time, 'There's no, no. Either I'm asking the wrong person or asking the wrong question,'" Gonzalez said. "Every no has taught me how to be stronger, smarter, better, more diligent and work harder at my craft."
Franklin, on his end, shared how he had originally applied to USC's film school but was rejected. While he did attend the private university as a business major, the "Miracles from Heaven" producer said, "If I had gotten into film school, I wouldn't have had enough time to do my internship. My internship was for Will Smith and that's what got me in the door in entertainment."
"I probably wouldn't be here now if I got that, 'Yes,'" he said. "No's are not always bad. No's can actually clarify our direction."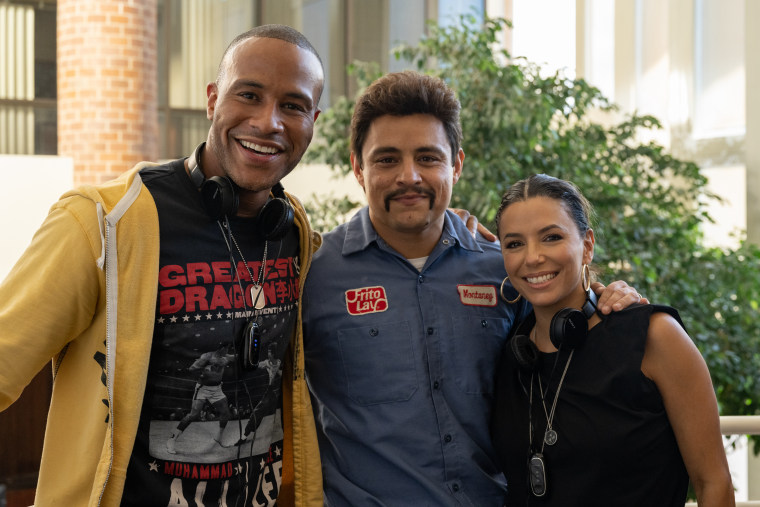 "Flamin' Hot," meanwhile, did face its own challenges. Longoria was announced as the director in 2019. As casting and production got underway, in 2021, a Los Angeles Times story disputed Montañez's claims that he invented the spicy snack.
At the time, Frito-Lay said in a statement that they had no record showing that Montañez was involved in the test marking of Flamin' Hot Cheetos. They did, however, celebrate the former executive for his contributions to the company, and confirmed he started working at Frito-Lay as janitor. Frito-Lay did not have any direct involvement with the film.
The investigation did note Montañez's involvement in the Frito-Lay's Sabrositas product line launch, which was aimed at the Latino market and included Flamin' Hot Popcorn and Lime and Chile Fritos.
As the film's release was fast approaching, a spokesperson for Frito-Lay told TODAY.com in a new statement that "'Flamin' Hot' is Richard Montañez's story, told from his point of view."
"His contributions to Frito-Lay are highlighted throughout the film, specifically his insights and ideas on how to better serve Hispanic consumers and engage the Hispanic community, a legacy PepsiCo continues today," the statement continues. "We are grateful to him for that, and hope people enjoy the film."
The film does not mention the controversy.
As for Longoria, the multifaceted star hopes "Flamin' Hot" inspires people.
"I think people will see the film and go, 'Wow, that guy went through all that and overcame it and not just survived it but thrived in spite of it. Imagine what I can do?'"
"Flamin' Hot" is now streaming on Hulu.