Twenty years ago, filmmaker Todd Haynes premiered his highly stylized feature "Far From Heaven," set in the glamorous and suffocating world of 1957 and starring his favorite leading lady, Julianne Moore. The film earned instant critical acclaim, snagging nominations throughout that awards season, including in four major Oscar categories. It was also his biggest commercial success until "Carol," the 2015 adaptation of Patricia Highsmith's sapphic romance novel, starring Cate Blanchett.  
Haynes had been circling making a film that engaged with the classic Hollywood melodramas of the 1950s, specifically Douglas Sirk's films, since his college days. But it wasn't until he met Moore — when she starred as a 1980s housewife being driven mad by environmental illness in "Safe," his sophomore feature from 1995 — that he had the vehicle. 
"That was such a remarkable experience for both of us, and a meaningful second feature for me, as I was still figuring out what my direction was as a filmmaker," Haynes told TODAY, ahead of an anniversary screening of "Far From Heaven" on Sunday, July 17 at Outfest, the LGBTQ film festival of Los Angeles.
"I can't imagine how my career would have unfolded without Julianne's part in it," Haynes added about the actor with whom he'll make his sixth film this year. "It's an element of luck that we found each other."
In "Far From Heaven," Moore's character, Cathy Whitaker, faces a different set of ills. Incorporating elements from Sirk's "All That Heaven Allows" and "Imitation of Life" — along with references to Max Ophülus' film about a mother desperate to protect her family, "The Reckless Moment" — the film charts how Cathy's once picture-perfect life in Hartford, Connecticut, is upended by scandal involving her relationships with two men.
"This was the first and really only film that I wrote for a specific actor in my career," Haynes said. "Her relationship to the camera — and her understanding of understatement and of eliciting an audience's investment — that's always astonished me about her. Not all actors understand that the way she does. 
"There were things in Cathy Whitaker that made use of her ability to emote, but also her ability to withdraw and be something that we have to find as a viewer, as we watch her, and that engages you and draws you into the process."
Opposite Moore, Dennis Quaid plays Cathy's husband, Frank, and Dennis Haysbert plays Raymond, a local gardener who inherits the Whitakers as clients when his father dies. Early on in the film, Cathy discovers that Frank is sexually attracted to men, which is as much a threat to her social standing as her marriage. And, at the same time, she begins the slow burn of a romance with Raymond — a Black man — that threatens to ruin her completely.
'You see that painful attempt to fit in'
When Haynes decided to make a film set in 1957, he was acutely aware of the similarities between that era and his own. Like in the Eisenhower years, the beginning of George W. Bush's presidency was characterized by economic prosperity, even if it was marked by a war in a different way. And, with that, there was a level of complacency toward certain kinds of injustices that was reminiscent of America's most idealized decade.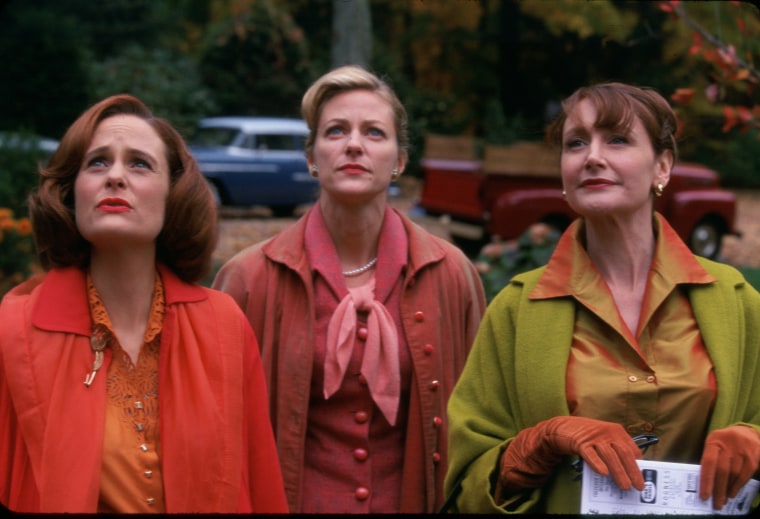 In the 1950s, Haynes points out, melodramas were vehicles for spotlighting societal issues that otherwise often went ignored. (Although, they were often criticized for overdramatizing their subjects in an effort to appeal to women viewers.) In "All That Heaven Allows," which stars Jane Wyman and Ron Kirby, a wealthy widow and her much younger gardener incite the ire of their class-conscious neighbors by falling in love. And in "Imitation of Life," which features an ensemble cast led by Lana Turner, two single mothers, one white and one Black, band together to try and raise their daughters amid limitations around race and gender. 
"The American melodrama would often pride itself in taking on topics that seemed controversial or challenging for their time. And that was definitely something that you would find in Sirk," Haynes said. 
"Even though they're often derided as being these emotional, hothouse movies — or 'weepies' — in fact, they're the stories of all of our lives," Haynes added, referring generally to the melodramas of the era. "They're the stories of families and of relationships that are challenged by society and frowned upon — the ways people try to maneuver in settings with a lot of rules about how to behave and what's acceptable."
Haynes' melodrama explores how these rules are applied unevenly to different people, depending on the confluence of their gender, class, sexuality and race. That plays out in the relative fates of Cathy, Frank and Raymond, who are each representative of the primary marginalized groups of 1950s America: women, gay men and Black people.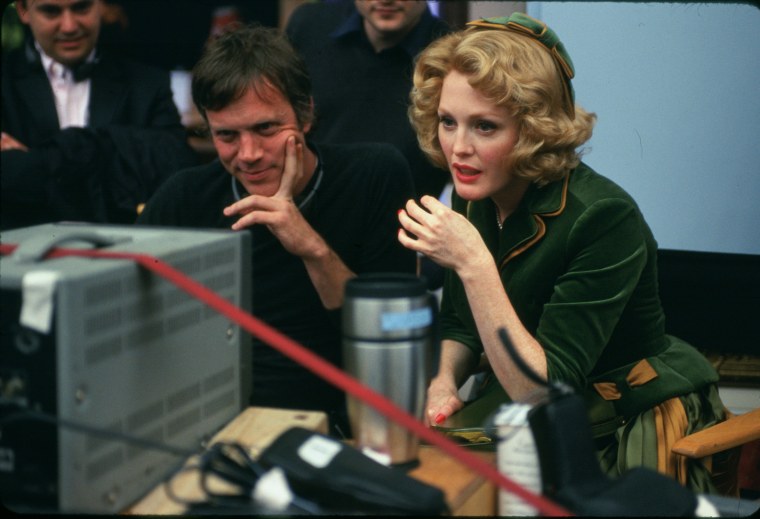 "Certain people — and it's so often women in our society — carry an unequal burden of maintaining the institutions of family and marriage and the home, the value systems that are associated with middle class life," Haynes said. "These three characters are dealing with very different kinds of restrictions from the society that they live in, an era of the '50s that we like to project a lot of repression on to — as if those repressions don't persist in our culture.
"I was curious about how they respond to the pressures in different ways," Haynes continued. "In some ways, the men have more. But even Raymond has a sort of freedom to start over somewhere else and erase what has been, how difficult his life has become in Hartford. And (Frank) can operate, almost with the most freedom, undercover."
"But (Cathy) is stuck. And she has to bear the brunt of these losses, carry on with the home and the kids, and give up the desires that she had," Haynes said. "The woman gets sacked with those particular demands because of the roles that she plays out of necessity."
Although it wasn't the first time that he had explored a character like Cathy — a woman who feels less and less like a whole person as the film goes on — or the pressures of a particular decade, Haynes said that capturing the quietly traumatizing, technicolor world of the '50s took a particular investment from the actors.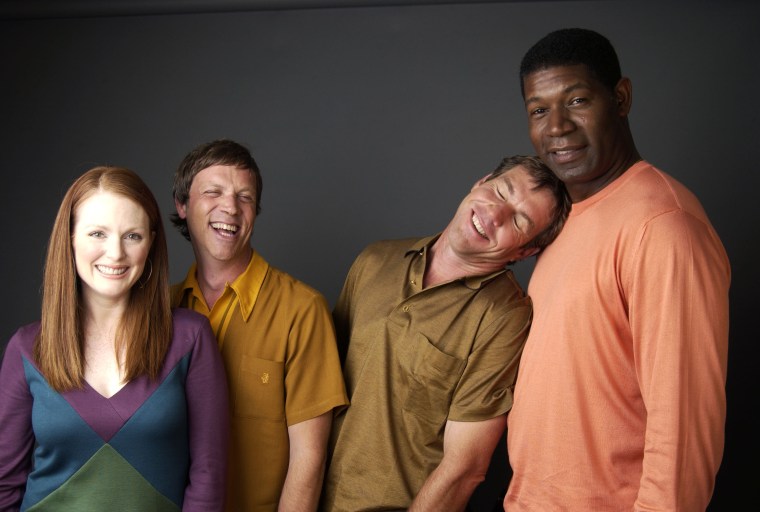 "It was easy to arouse a thrill among my actors when I was making 'Velvet Goldmine,' about the glam rock era — and the libidinal freedoms and experiments in identity that were part of the cultural language of the early '70s. The music and all that was infectious," Haynes said, referring to his 1998 film about queer, gender-fluid rockstars, starring Jonathan Rhys Myers, Ewan McGregor and Christian Bale. 
"This took a different kind of regard for the material itself, and a respect for what seems, at times, like this artificial world that's being constructed with design and costume," Haynes said. "It was about trusting the material, trusting the script, trusting the words and, in many ways, trusting the surface.
"What's so remarkable about Sirk's movies, and I think it's evident in 'Far from Heaven,' is that the surface shows you everything. The ways that we struggle to fit into society are visibly evident in how we dress and how we move and how we behave.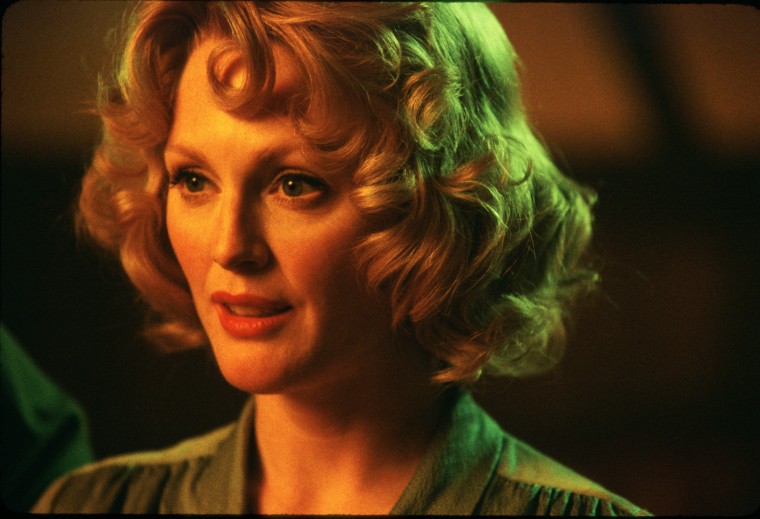 "You see that painful attempt to fit in, be accepted and not cause waves — and people's deep desire to be OK," Haynes said. "The smallest thing can disrupt that whole system. One person stepping outside of the bounds affects the next person and the next."
While things may look very different now than they did in the prosperous '50s and early 2000s, that lesson remains just as pressing.
"I love that about the best melodramas: The villain is the society," Haynes said. "It's not any one individual that you can just remove. It's really about the society itself."