Drew Barrymore is using her voice to speak about Hugh Grant's comments about her voice.
Earlier this week, Grant caused a bit of a stir when he sat down for a Wired interview with "Dungeons & Dragons: Honor Among Thieves" co-stars Michelle Rodriguez and Chris Pine.
The 62-year-old star playfully dragged Barrymore's singing after he was asked if he actually sang in their 2007 movie, "Music and Lyrics."
Grant said he did sing, but was auto-tuned before mentioning how Barrymore can't exactly carry a tune.
"Drew Barrymore was in that film with me and I don't think she'd mind me saying her singing is just horrendous," Grant said. "I've heard dogs bark better than she sings."
"But, having said that, once they tuned her up, she sounded way better than me because she's got heart, voice and rock and roll, whereas I sounded like Julie Andrews. I meant to be kind of rock and roll, as well."
Barrymore didn't take Grant's words lying down. She reacted to his comments by posting an Instagram video featuring her singing their duet from the movie, "Way Back Into Love."
"My response to Hugh Grant," she wrote on the video, in which she sang into a hairbrush.
"Oh, Hugh-bert. Hubert, that's for you," she then said after she wrapped up her short performance.
"#SingForHughGrant JOIN ME," she captioned the post.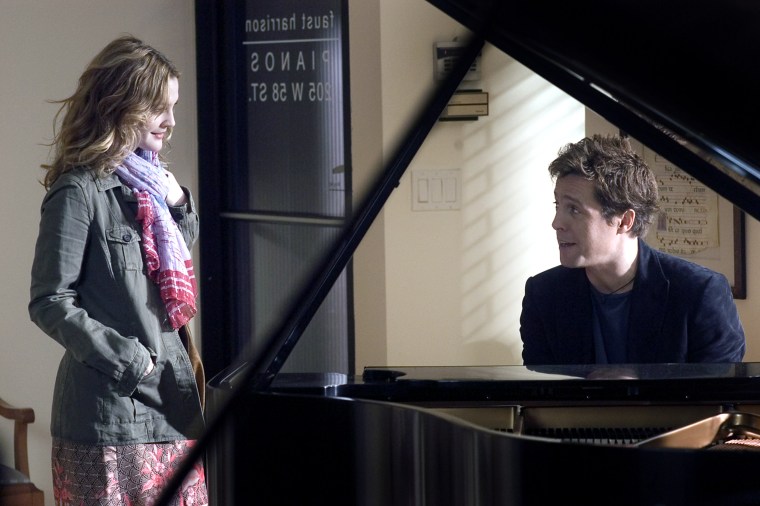 In "Music and Lyrics," Grant plays a washed up pop star who finds himself paired with Barrymore in an attempt to write a hit song within 48 hours. In true Grant rom-com fashion, they wind up falling in love.
Grant's blunt assessment of Barrymore's singing comes days after he made waves at the Academy Awards for being terse with Ashley Graham when she interviewed him on the red carpet, sparking a debate about whether his behavior was rude.