Here comes Santa Clause and Eddie Murphy!
The veteran comedian stars alongside Tracee Ellis Ross in a new Amazon Prime holiday adventure flick called "Candy Cane Lane."
Murphy plays Chris Carver, a father bent on winning his neighborhood's annual Christmas home decoration contest come hell or high snow, according to a press release sent to TODAY.com,
Ellis Ross will step into the role of Chris' wife, Carol.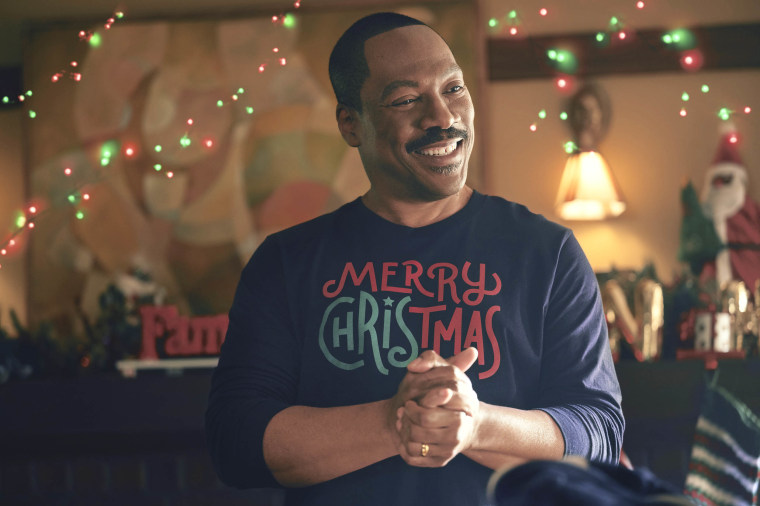 "After Chris inadvertently makes a deal with a mischievous elf named Pepper (Jillian Bell) to better his chances of winning, she casts a magic spell that brings the 12 days of Christmas to life, and wreaks havoc on the whole town," the press release explains. "At the risk of ruining the holidays for his family, Chris, his wife Carol (Tracee Ellis Ross), and their three children must race against the clock to break Pepper's spell, battle deviously magical characters, and save Christmas for everyone."
In addition to Ellis Ross, "Candy Cane Lane" includes Thaddeus J. Mixson, Ken Marino and Nick Offerman.
If the movie's synopsis is any indicator, you'll want to add this to your holiday movie watch list.
See the first trailer for "Candy Cane Lane"
The first glimpse of Murphy's foray into holiday movies came in a trailer released on Oct. 12. The clip shows Murphy's enthusiastic planning on how to win the holiday decoration contest.
The smooth-talking elf played by Bell makes an appearance, convincing Murphy's character to sign a contract that she jokes is like "signing your life away."
When Murphy's family discovers he made a deal with the elf for the best holiday display, the wisecracks quickly follow.
"Hold up, that was your wish? Not like, I don't know, world peace," his daughter says.
His son and daughter then wonder why he didn't also wish to end hunger, homelessness and climate change — and a new Drake album.
"Ooh, I love Drake," Ellis Ross says.
"Point taken," Murphy replies.
When does 'Candy Cane Lane' come out?
Catch the PG-rated movie on Dec. 1 on Amazon Prime Video.
This is Murphy's first holiday movie
Eddie Murphy cracked up viewers with his performances in hits like "48 Hrs," "Beverly Hills Cop," and "Trading Places," but it was his role in "Boomerang" that convinced audiences he could be a charmer.
"Candy Cane Lane" reunites the actor with "Boomerang" director Reginald Hudlin for the first time since the movie debuted in 1992. Brian Grazer, who produced "Boomerang," is also a producer of the holiday movie.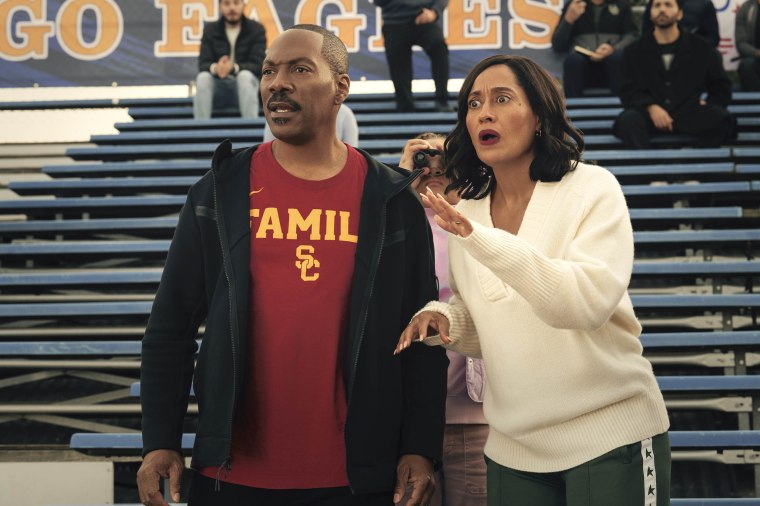 You can visit the street 'Candy Cane Lane' is based on
The movie's writer, Kelly Younger, drew inspiration for the screenplay from his own experiences living on Candy Cane Lane in El Segundo, California, according to Amazon's press release.