When "It Ends With Us" by Colleen Hoover became the best-selling book of 2022, it really was only a matter of time before it became a movie.
And now that those wheels are in motion ("Jane the Virgin's" Justin Baldoni is directing and co-starring), the casting of main character Lily, a twentysomething starting her post-collegiate life in a love triangle between Ryle (Baldoni) and her first love Atlas, was going to happen.
Lively hasn't commented on the casting, but debuted her new hair, dyed brown for the part.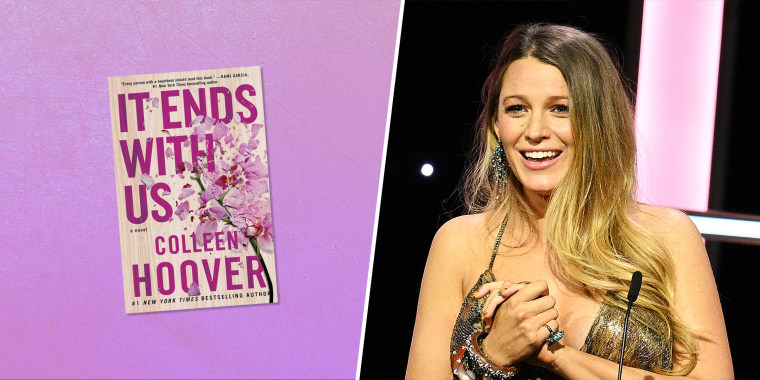 On social media, the news that Blake Lively, 35, was the one tapped to play Lily has fans TikToking and tweeting their hearts out with lots of feelings.
Fans commented enthusiastically on Hoover's TikTok page, many of whom were 100 percent on board with the news: "Are you kidding me? Blake Lively??? This is insane. I cannot wait!"
Added another on the same thread, "So exciting! And Justin is just how I pictured Ryle in my head!"
Both were replying to Hoover's TikTok posted Thursday, in which she discussed how "With Us" was loosely inspired by her mother, and became teary-eyed thinking that someone like Lively would be starring in the film.
"She's my dream Lily," Hoover told the camera. She also added that the moment she met Baldoni (who's also directing), she "immediately wanted him to be Ryle."
But not everybody agrees with Hoover. "I was wondering why blake lively is trending and i was not expecting to see what i read," one person tweeted.
Why the disgruntlement? Some took issue with the idea of Lively playing this particular character. As one Twitter user put it bluntly, "love blake lively but casting her as lily for it ends with us is quite possible the worst casting that's ever been cast."
People pointed out that Lively, at 35, is older than Lily, who is 23 in the book. "Could they not have got someone age appropriate?" one person tweeted.
Another person, echoing that, tweeted, "I think they picked Blake Lively because of her reputation and not keeping the character lily in mind."
Since the book switches back and forth between Lily as a teenager and college grad, there's a chance the movie will cast two people for the part.
But there are also many tweets and comments from people who aren't Hoover fans and have thoughts about "It Ends With Us," the author's bestselling book (of many bestselling books).
"It Ends With Us" follows one woman's experiences with a cycle of abuse. After growing up watching her mother be abused by her father, Lily enters into a similar relationship with a surgeon, Ryle Kincaid. Atlas Corrigan, a childhood friend, reminds her of another kind of love.
While author Hoover says "It Ends With Us" is based on her mother's life, the massively popular book has sparked controversy, with some critics saying the book glorifies abuse.
"I am once again asking when will colleen hoover pay for her crimes against humanity," tweeted one person, including a photo of the Deadline article about the casting.
Another tweeted, "me going back in time to stop blake lively from auditioning for it ends with us," and added a TikTok of a young man fleeing into the stars:
And, because of Lively's association with the movie, people think the movie might be critically lauded.
Then, there are some in the middle, who love Lively in the Hoover-verse, but were hoping she'd turn up in an adaptation of a different book by the author.
"no no. blake lively needed to be saved for the verity movie," commented on Hoover's thread.
This tweet seems to sum it up best for everyone, speaking to a certain degree of bafflement on the part of both Hoover and Lively fans, and curiosity: "Blake lively playing lily bloom in the it ends with us movie was not on my 2023 bingo card at all."
According to Variety, Hoover is the highest-selling U.S. novelist, charting with five of the top 10 best-selling books in any genre in 2022. She's sold over 20 million books, and "It Ends With Us" has been on the New York Times' best-seller list for more than 90 weeks.
A date of release for the Sony film has not been announced.