Blake Lively took a step back to recall the gift she rewarded herself after landing her first job playing Bridget in "The Sisterhood of the Traveling Pants."
While speaking with "Entertainment Tonight" at the Tiffany & Co. Landmark re-opening in New York City April 27, the 35-year-old revealed she bought a signature piece from the jewelry brand to celebrate.
"It was like, 'What are you going to do for yourself that will be something that will last for your lifetime?'" Lively said. "I bought the ball bracelet."
The "Gossip Girl" actor added that she couldn't afford the piece with the heart at the time, although she possibly had a knockoff version when she was in sixth grade. "But we don't talk about that," she joked.
Lively also shared that she won't be attending the 2023 Met Gala, which will take place May 1, but said she will be watching from home.
After reporters complimented her look last year, when she donned a copper gown by Versace inspired by the State of Liberty, Lively responded, "Thank you, that's very sweet. I'll be wearing that on my couch on Monday."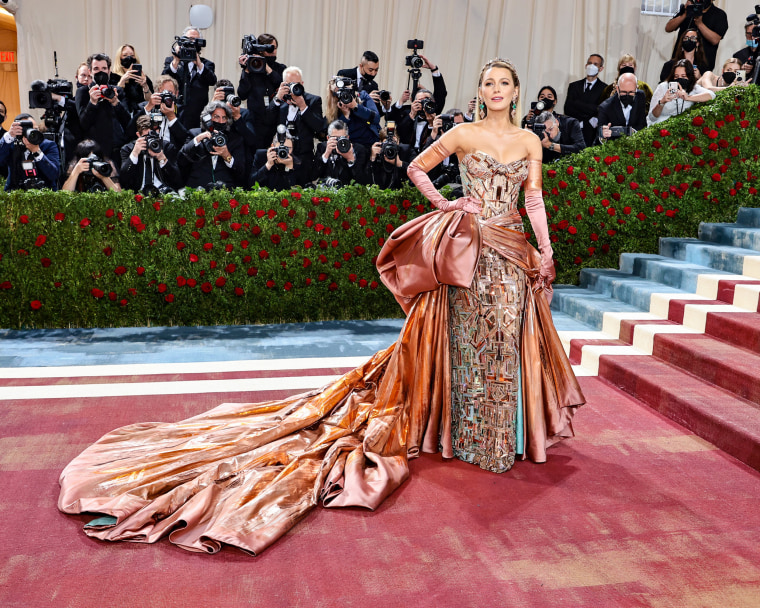 When "ET" asked Lively to name her favorite look that she's worn to the event over the years, Lively said she "can't pick a favorite."
"It's like picking a favorite kid, except I love my looks even more than my children, so it's even worse," she joked.
Last year, Lively co-chaired the 2022 Met Gala alongside her husband, Ryan Reynolds, as well as Lin-Manuel Miranda and Regina King. The co-chairs for 2023 are Penélope Cruz, Dua Lipa, Roger Federer and Michaela Coel.
Lively has consistently stunned the Met Gala red carpet over the years. Her notable looks over the years include a black feathered Ralph Lauren mermaid dress, a silver embroidered bodycon Chanel gown, an old Hollywood-inspired Gucci gown and a beaded Versace gold and crimson dress.
The 2023 theme is "Karl Lagerfeld: A Line of Beauty," which honors the late fashion designer's legacy after his death in 2019. Karl Lagerfeld led couture houses Chanel, Fendi and Chloé.
Lively and Reynolds recently welcomed a fourth child together earlier this year. They currently share three daughters, James, 8, Inez, 6, and Betty, 3. They have not publicly shared the name or sex of their newborn.