Are aliens real? The official trailer for "Asteroid City," Wes Anderson's next movie, is set in a version of 1950s America that's rollicked by the revelation that they very much are.
The director's next movie stars Tom Hanks, Jason Schwartzman, Scarlett Johansson, Bryan Cranston, Steve Carell, Margot Robbie, Tilda Swinton, Edward Norton, Adrien Brody, Rupert Friend, Willem Dafoe, Tony Revolori, Jeff Goldblum, Fisher Stevens, Jarvis Cocker and (take a breath!), Hope Davis, Maya Hawke, Rita Wilson, Matt Dillon and Hong Chau.
And, of course, the still unseen alien.
According to the official plot, the interplanetary action also unfolds among stargazing humans: "In 1955, students and parents from across the country gather for scholarly competition at a Junior Stargazer convention held in a fictional American desert town."
While set in the American Southwest, the movie was filmed in Spain.
The nearly three-minute-long trailer begins with Jason Schwartzman's character asking his father-in-law, played by Tom Hanks, to come and look after his kids after their car breaks down in Asteroid City.
This seems to foreshadow the way that soon, everyone would be stuck in Asteroid City, thanks to the alien's arrival. Schwartzman's character tells Scarlett Johansson's character that he didn't like the way the alien looked at them.
"How did he look like?" she asked.
"Like, we're doomed," he replied.
After a brief pause, Johansson then says, "Maybe, we are."
The town's encounter with the alien appears to change everything. After that, quarantine signs are spotted all over the town, asking citizens not to leave or enter the area.
"How long can they keep us in Asteroid City, legally?" one person asks, while another says, "The world will never be the same."
Amid all the interplanetary diplomacy happening, Schwartzman's character's personal life is in a state of upheaval. He asks Johansson's character not to tell his kids that he's a widower.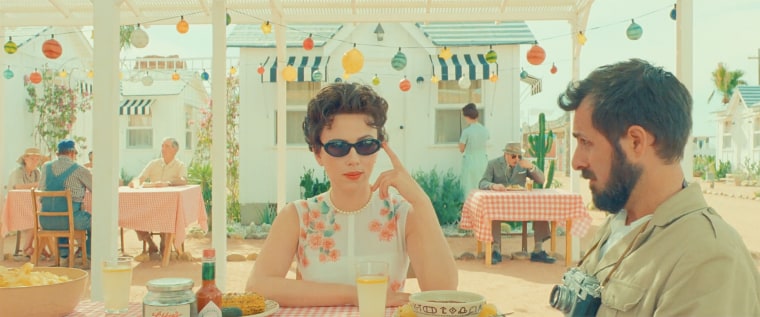 The secret appears to be short-lived because in another scene, Schwartzman is seen talking to his kids about their mom.
"You're saying our mother died three weeks ago?" his son asks, and Schwartzman replies, "Lets say she's in heaven, which doesn't exist for me, of course. But you're Episcopalian."
After Schwartzman's character breaks the news about his wife, Hanks' character tells them, "In my loneliness, I've learned to give complete and unquestioning faith to the people I love. I don't know if that includes you, but it included my daughter and your four children."
"Asteroid City" is set to premiere in theaters on June 16.