Amanda Seyfried is channeling her "Mean Girls" character's ESPN, or something, to speculate why that one scene in the 2004 hit movie has stuck with fans for so long.
Of course, she's referring to when Karen Smith reveals her psychic ability: that her breasts can tell when it's about to rain. Or, she later clarifies, when it's already raining.
"I think this scene in particular leaves a mark because I think we just feel how badly she wants everybody to feel better," Seyfried said in an interview with Vanity Fair published on Feb. 22.
"Like, it's just that simple," she continued. "I think we just see she's the person with the biggest heart, and she truly believes that the best idea would be to go to Taco Bell."
Karen tells Cady Heron (Lindsay Lohan) about her supposed clairvoyant tendencies after Regina George (Rachel McAdams) gets mad at Karen for suggesting the group goes to Taco Bell, which would break Regina's "all-carb diet."
"To be honest, that was actually the fun thing that I probably would've advised for us in my actual high school as Amanda," she said.
Seyfried also shared that when she originally auditioned for the role of Regina, "Gossip Girl" star Blake Lively was playing the role of Karen.
"I flew home and they were like, 'You know what, we think you're more correct for Karen.' So I was like, 'Oh God, OK, sure. All right, how do I really nail it?'" she said, sharing she worked with a comedic director to create Karen's whispery voice.
Seyfried said she thought the reason she got cast as Karen is because the character was similar to who she was in high school. She acted that way, she said, to "stay out of the drama."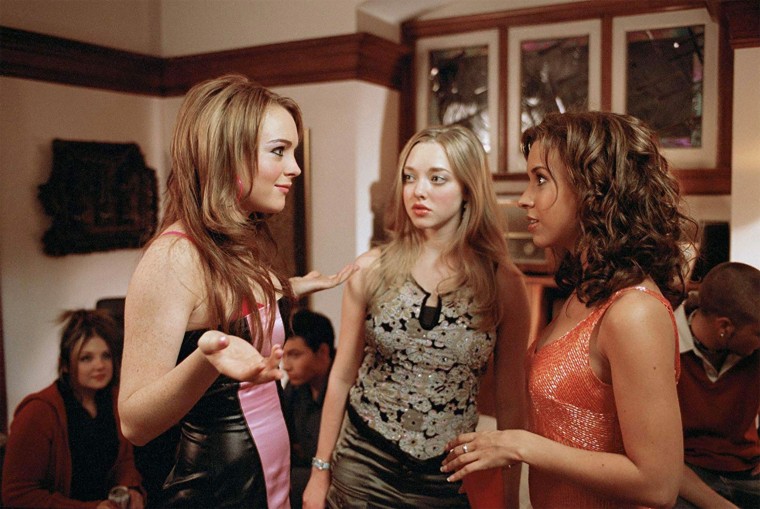 "It was a much easier transition into playing Karen from where I was at in my life at that point," Seyfried said. "I was only 17, so high school was like, right there."
Seyfried shared she wasn't sure how Lohan, McAdams and Lacey Chabert created the dynamic of the Plastics, considering they were all different ages: "There was just a vibe, they cast it right."
"I think the reason we love Karen so much, and also the reason that she's so funny is that she is just being brutally honest, and it's so beautiful," Seyfried said.
"It's what makes her so endearing," she added. "She's not that smart, but she totally knows it, and everything that she reacts to is just her truth, her true, true reaction. I think we all love people like that because we can trust them."
Seyfried loves her character from the 2004 film so much that she told Lohan in an interview last year she would reprise the role in the film's Broadway musical rendition.
"I would kill just to do one week, all of us playing our own roles on 'Mean Girls' on Broadway," Seyfried told Lohan in an interview with Interview Magazine published in November 2022.
"That would be really fun," Lohan replied, sparking fans' dreams of a possible "Mean Girls" reunion.
Tina Fey will reprise her role in the movie musical.