The highly anticipated "Gilmore Girls" revival is finally here, and thanks to a long holiday weekend filled with binge-watching, it's already over for many faithful fans. But take heart!
Some of the most familiar faces from Stars Hollow visited TODAY Tuesday to talk about the series — and about whether or not the end of the revival run is really the end of "Gilmore Girls."
Kelly Bishop, who plays matriarch Emily, admitted that she hasn't even seen the entire revival run yet.
"I've only seen two, so I'm waiting to see the other two," she told Savannah Guthrie. "To me binge-watching is one each night."
But even though she hasn't seen the end, she's heard all about it from her co-stars. Her reaction: "Huh?"
That — along with "really?" — summed up how Lauren Graham (Lorelai) felt, too. That's because the series reboot ended with four little words that changed everything.
RELATED: 15 perfect gift ideas for fans of 'Gilmore Girls'
Show creator Amy Sherman-Palladino has had the final four words in mind since before the first episode ever aired back in 2000. Scott Patterson (Luke) suspected they'd be, "Kirk, drop the gun!" But thankfully, he was wrong.
As for the actual words, you can read all the spoilerific details for yourself, but just know the brief exchange definitely involves the mother-daughter duo at the heart of the story, and it raises more questions than it answers.
"I really hope people are happy," Alexis Bledel (Rory) said. "You get some sort of closure. It might not be the closure you craved, but I think there is some sort of question answered. So that's something."
But what about something more?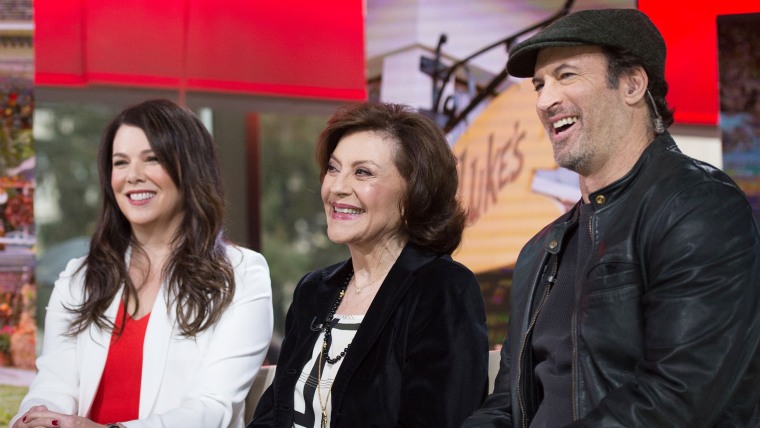 When asked about the possibility of another return to Stars Hollow, Graham shrugged and simply said, "The ending was a bit of a cliffhanger, don't cha think?"
RELATED: 'Gilmore Girls' star Alexis Bledel addresses shocking ending: 'It's full circle'
A fan could hang a lot of hope on a shrug like that.