"Gilmore Girls" fans were thrilled to revisit their favorite Stars Hollow residents when the series was revived — all too briefly — in this year's "Gilmore Girls: A Year In The Life."
**Warning: Possible spoilers below!**
The reboot, said series creator Amy Sherman-Palladino, was meant to be a stand-alone project, and she knew going into it that she'd end it the same way she always intended to end the series — with Rory Gilmore (Alexis Bledel) and her mom Lorelai (Lauren Graham) uttering (spoiler!) four magic words.
But a new throwback tweet from Netflix has perked up fans faster than a cup of strong coffee at Luke's Diner, and now they're wondering if we'll be hearing more from Rory and Lorelai in the future.
The tweet asks "Where's an eighth grade science fair when you need one?" The question references April Nardini's science fair project, which revealed her dad was none other than Luke's Diner owner Luke Danes (Scott Patterson).
But Netflix asked it beneath pics of Rory's on-again, off-again boyfriend, Logan, and her boring beau Paul. (For good measure, Netflix added a note with the words "A guy dressed in a Wookiee costume," to also include Rory's one-night stand.)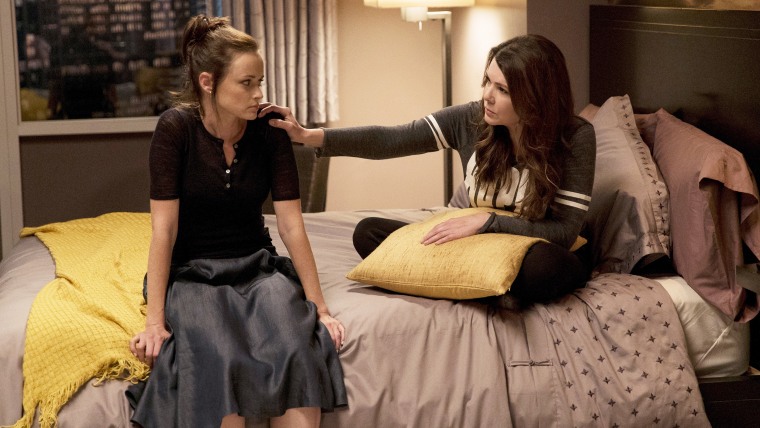 It's an unmistakeable reference to the major (and now probably obvious) cliffhanger "Gilmore Girls: A Year In The Life" ends on — a heads up that some future Stars Hollow child may one day set out to learn who his or her father is.
RELATED: More 'Gilmore Girls'? See what the cast had to say on TODAY
And fans aren't the only ones wondering. The show's cast members visited TODAY last month and agreed the end of "A Year In The Life" left them with more questions than answers.
So, is Netflix just trolling us? Or is there more "Gilmore Girls" to come? Until we know for sure, we'll settle for this amazing catch-up with the whole cast.