/ Source: The Associated Press
The Newseum, a museum about journalism and the First Amendment, celebrated its grand opening Friday with fanfare that included a screeching bald eagle that flew over a cheering crowd.
Cannons fired confetti and a huge newspaper page one was unrolled across the front of the glass building with a headline that screamed "NEWSEUM OPENS."
"We believe this Newseum will stand as a beacon for freedom for at least 100 years," said Newseum chief executive Charles Overby. He later turned to Newseum and USA Today founder Al Neuharth to count down to the opening.
The $450 million museum was built on the last available site on Pennsylvania Avenue between Congress and the White House. It includes 15 theaters, 14 major galleries, two TV studios and newspaper front pages updated each day from every state and several countries.
The opening drew hundreds of visitors, and admission was free for the first day. A line of people waiting to get inside stretched more than a block past the neighboring Canadian Embassy and toward the Capitol. After Friday, the museum will charge a $20 fee for adults and $13 for children.
Some of the first visitors wanted to exercise their free speech rights under the Newseum's 74-foot marble engraving of the First Amendment.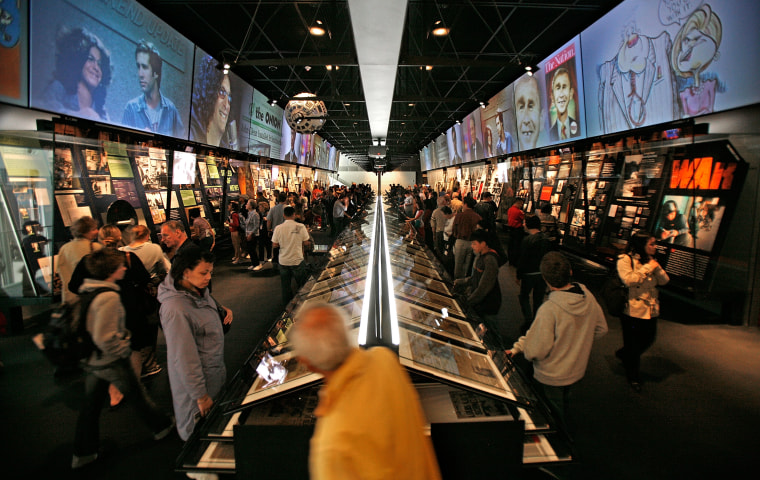 "We need to get out of Iraq," said Carol Giagnoni, of Rockford, Ill., as she held a sign protesting the war. Giagnoni was visiting Washington with friends, and met some war protesters who handed them signs that read "Iraq Escalation? Wrong Way" and other messages.
Jay Marx, a protest coordinator with the Washington Peace Center, said he brought at least 30 protesters to the Newseum opening.
"We believe the media is complicit in starting this war and perpetuating it," he said.
The first visitors lined up at 6 a.m. for the museum's 9 a.m. opening.
Newseum trustee Louis D. Boccardi, retired chief executive of The Associated Press, said the museum is like a newspaper.
"You pick and choose what interests you," Boccardi said. "It's authentic and meant to convey both the good and those situations where we, the press, haven't performed the way we should have."