In an excerpt from his upcoming book "American Story," NBC's award-winning Bob Dotson meets Florence Thompson, a widowed migrant worker and mother whose stark photograph became an iconic image of Great Depression. She raised 10 children while working day and night, and tells Dotson she "never lost hope."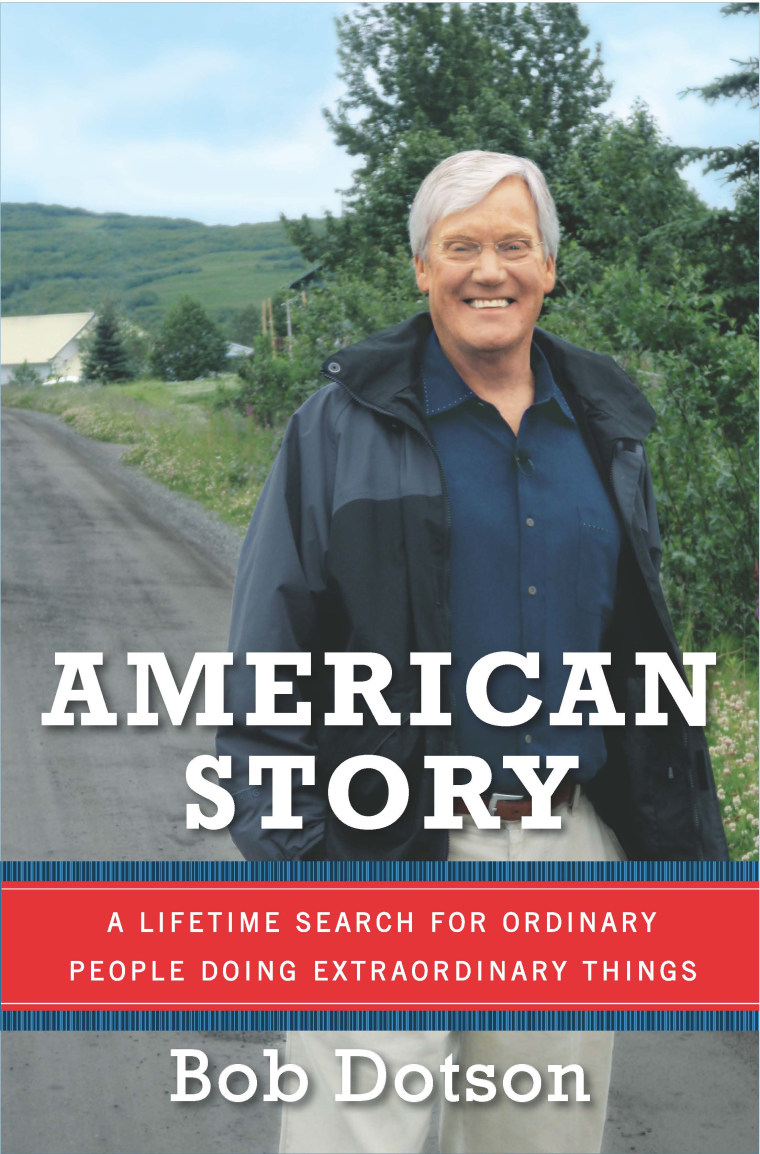 For most families who lived in the 1930s Dust Bowl, "depression" was never an abstract economic term. Their farms were buried in burned-out soil; with nowhere to turn, they moved on. They went the way Americans have always gone for new beginnings—westward. In a fifteen-month period, eighty-six thousand desperate people crossed into California, more than twice the number who went looking for gold in 1849. Along the way they liked to imagine little white homes in the orange groves. It was a dream they all carried, but a dream that blew away like the dust they fled. Instead of homes they found migrant camps and two or three hungry families for each job, so they learned to live where there was no work, and then through hope and daring, they survived. All this may seem like shopworn history, but its lesson is that these people never lost sight of what they could achieve. They followed the dream no matter where it blew them, and some made life better.
For more information about Bob Dotson's 'American Story' book, click here
I found a trailer camp on the site of the old migrant camp in Modesto, California. During the Depression it was just one of many stops on that endless road. It was still home to Florence Thompson, the Mona Lisa of the 1930s, the migrant woman whose picture haunted the nation. Florence Thompson — no, you probably wouldn't recognize the name, but few can forget her face from Dorothea Lange's iconic 1936 photograph Migrant Mother. Florence Thompson was 27 years old when the Depression began. She had five children, was pregnant with another — and her husband had just died.
American Story: How a 390-year-old family business avoids layoffs

"I chopped cotton for forty cents an acre in them days," Thompson said. She was sitting with some friends just inside the door of her little blue trailer. Her chair was angled so she could see her carefully tended flower garden from where she sat. There was no copy of her famous picture on the wall. Looking at her that day, it was difficult to find any trace of that younger woman in her deeply lined face.
"I used to fill up those old cotton sacks 'til I couldn't even lift them," she said. "Worked before daylight 'til it got so dark I couldn't see. And I didn't even weigh a hundred pounds."
The others in the room—two neighbors and a visiting relative—nodded their heads in understanding. They were about Thompson's age. Outside, a man with a cane stopped to admire her flowers and call out a greeting. She went to the screen door and waved, then turned back to her chair. "I had to drag those hundred-pound sacks of cotton," she continued. "The scales were halfway across the field."
Bob Dotson going on 'American Story' book tour
As she looked out at the flowers, the sunlight from the open door fell upon her face. "I'd pick five hundred pounds each day," she said..
The room was quiet. From down the road we could hear a domino game being played, then the neighborhood dogs began to bark, and we heard a knock at the door. Behind the screen were two middle-aged women, Florence Thompson's daughters, Ruby and Catherine. They had come to take their mother to a family reunion. Catherine worked at a turkey factory; Ruby raised pigeons for the gourmet table. They both made more in one hour than their mother once made in a week.
"If she could have gave us all material things, maybe she would have," said Ruby after introductions were made, "but I don't think that would replace what she did give us."
American Story: How a 390-year-old family business avoids layoffs
Ruby looked at her mother, who stood before a mirror, fixing her hair. "She gave us a sense of self-worth and the belief that nobody owes us anything."
They did not have much, but they had one another. Florence Thompson remarried and kept that family together. Her ten children and their children still live in the valley, and they gather each year to remember a father some of them never knew.
"Watch the birdie," a photographer called later that afternoon at the reunion. It was a clear, warm fall day, and the family was picnicking in a park. Moments earlier, a dozen kids had scampered to the swings while their mothers begged them to stay clean.
"Move in a little closer," said the photographer. He slipped a black plate into the back of his camera, as relatives ten rows deep wedged themselves between swing sets and seesaws. The smaller children squirmed, and their parents pinched them into place.
Ruby and Catherine squinted into the sun, but Florence was not with them. She had decided at the last minute not to go, but she would not say why. Alone in her kitchen, she looked at a copy of her famous picture.
"I don't think you could take a woman today and put her out and do what I done to make a living," she said. She ran her fingers across the old photo as if to clean dust from the tired face that stared back.
"I worked in hospitals. I tended bar. I cooked. I worked in the fields. I done a little bit of everything to make a living for my kids."
Beyond her screen door the bees and the hummingbirds were at work in the garden. Florence Thompson watched them for a moment, then set the picture aside and stepped outside.
"Did you ever lose hope?" I asked.
"Nope," she said, snapping off a flower to take a sniff. "If I'd'a lost hope, this country never would have made it."
Reprinted by arrangement with Viking, a member of Penguin Group (USA) Inc., from American Story: A Lifetime Search for Ordinary People Doing Extraordinary Things, Copyright © Bob Dotson, 2013
For more information about Bob Dotson's upcoming book "American Story," click here.
Bob Dotson will be doing personal appearances and signings in the months ahead. For details, click here.