Lauded poet and writer Maya Angelou pays loving tribute to her mother in "Mom & Me & Mom." Here's an excerpt.
Porgy and Bess was going to be made into a movie with Diahann Carroll as Bess and Sidney Poitier as Porgy.
Otto Preminger was the director, and when he saw that I was six feet tall and Sammy Davis Jr., who was playing Sportin' Life, was about five three or four, he asked Hermes Pan, the choreographer, to create a dance for us.
During the shooting of the film in California I made friends with Nichelle Nichols, the actress who was later to become Lt. Uhuru on Star Trek. Her gentleman friend and my gentleman friend were buddies and since we had a long weekend, and we were near San Francisco, I invited them to come down to San Francisco, where I had grown up, and to allow me to show off my city. They accepted my invitation.
I telephoned mother and said I wanted to bring three people down to introduce them to her and that we were going to "do" San Francisco.
"Oh baby, do honey, do come. Come home first. Come."
We arrived at my mother's house on Fulton Street. After all the introductions, she gave us drinks. As we went out to have a good time my mom said, "Come back around two thirty, no later than, and I will make you some omelets or crepe suzettes. Just come back and tell me all the fun you had."
We had a big wonderful San Francisco time and we did come back to Mother, who had her omelet pans out and a cold bottle of champagne. We had an after-theater dinner with her. My mother showed Nichelle and her gent where they could stay and she told my fella where he could stay, then she asked me, "Baby, will you stay with me?"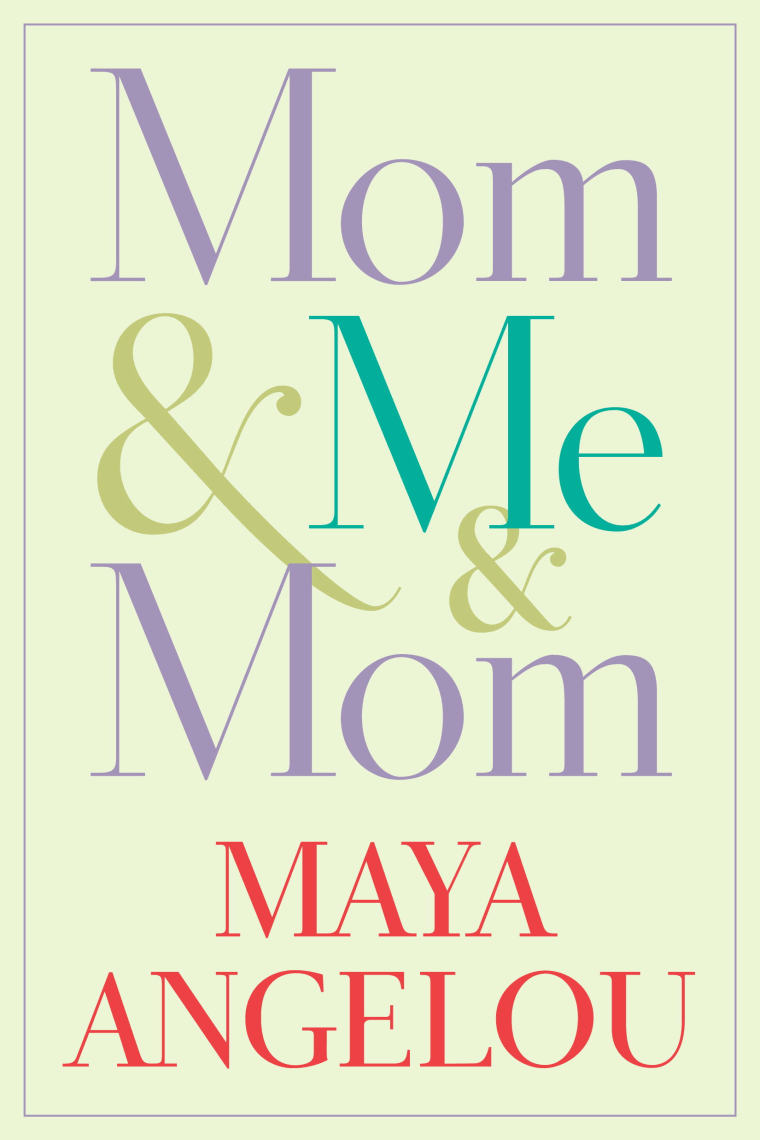 I said, "Of course."
"I have run you a bath."
I dialed the number and a woman's voice said, "Yes?"
I said, "Good morning, this is long distance for Mr. Cliff Thomas."
The voice began yelling. "Bitch you know this is not long distance!" I hung up the telephone. "Mother, the woman said . . . " I repeated the woman's statement.
"That son of a bitch, he's over there with his wife."
"Where else should he be?"
"No, they have been separated three years, and he and I have been together at least two years. Now I know he is trying to get back with her. I have asked him, 'Do you want to go back with her? Don't lie to me; do you want to go back?' He said, 'No, no.' Yesterday I drove by her house and his car was parked in her driveway. I want to know what he is doing over there and why he is lying to me."
Maya Angelou: 'Letter to My Daughter'

I said, "Oh Mom. Come, Mom, don't worry." I put my arms around her and stroked her shoulders. "You know it's all right. I know you will work it out. Calm down." I kept murmuring to her and I put myself to sleep.
A man's deep voice awakened me, "Thank you, Miss Myra. Oooh, thank you Miss Myra, oohhhh." The man was crying, "Oooohhh, thank you, Miss Myra."
I sat up in the bed and there was a huge man kneeling at the foot of the bed and my mother standing there with her hand in a paper sack. The man was crying. He had urinated all over himself and probably even gone further, judging by the stench in the room.
"Mister get up. Get up and leave. Go." "Oohhhhhh, thank you, Miss Myra." He stood up and rushed to the door. I took the paper sack.
Mother had her German Luger pistol in it. "Mother, what are you doing?"
"Oh baby, you don't know how they treat me." "Well, they don't treat you that way very long, obviously."
"You know, he was over there, just as I suspected, with his wife."
"But Mother, how did you get him to come here?"
"Well, after you went to sleep, I got up and I took another bath and lotioned myself and I put on some clothes. And then I didn't have anything else to do, so I got my keys and got in my car and drove to her house. I rang the bell. And when his wife opened the door I put my pistol on her and I said, 'I'm here for your husband.'
"She said, 'Here he is.'
"I told him, 'Go, get in the driver's seat and let me show you why you are alive this morning.' "
She made him drive her back to her house. She told him, "Come on inside. Open the bedroom door and get on your knees because if it wasn't for my baby, I'd blow you a brand-new one this morning." When he left I said to my mother, "You know I brought friends here. They think I am so such-a-much and they are in the house because I invited them. Nichelle Nichols and her fella and my fella, who are quite well-known artists, even famous, were going to be involved in a shooting. Was that fair to me?"
She came around to me and she said, "Baby, you know I didn't do anything to that man. He's the one who did something to me. You see, baby, you have to protect yourself. If you don't protect yourself, you look like a fool asking somebody else to protect you." I thought about that for a second. She was right. A woman needs to support herself before she asks any- one else to support her.
Maybe she could have found another time to assert herself and her rights than a night when my illustrious friends were in the house. But she didn't, and that was Vivian Baxter.
Years later a friend took me to have my hair done around 10 a.m. in a salon on Fillmore Street. The beautician was busy and asked if I would come back in about an hour. There was an open bar across the street; after all, it was San Francisco. My friend and I went over to the bar. The bartender seemed familiar. After we ordered drinks I asked my friend Jim, "Will you ask the bartender his name?"
Jim asked the barkeep, "Excuse me, what is your name?"
"My name is Cliff." Then he looked at me. "Ask her if she knows me. I know her mother."
Then he spoke directly to me. "How's your mother, baby?"
I said, "She's fine, thank you."
He said, "I was just up in Stockton visiting her. She is sure one hell of a woman." He should know.
Copyright line: From the Book, MOM & ME & MOM by Maya Angelou. Copyright © 2012 by Maya Angelou. Reprinted by arrangement with Random House, an imprint of The Random House Publishing Group, a division of Random House, Inc. All rights reserved.