/ Source: The Associated Press
Here are a selection of box-set offerings this season:
AC/DC 'Backtracks' (Sony)
The essence of a box set is great packaging, lots of swag and hard-to-find content. All that is here on the latest AC/DC box set. The high-end version comes in a box made to look like a road-worn amplifier, complete with AC/DC logo. But look — the top comes off to reveal one of the treasures inside actually is a working amplifier that you can plug a guitar into a jam along!
The three CDs lean heavily on B-sides and live tracks that were released piecemeal as part of something else, and not a whole lot can be considered truly rare. That's particularly true with the early tracks featuring original singer Bon Scott, who died in 1980. But the band has pretty much scraped the bottom of the Bon barrel in previous post-mortem releases. The most interesting Scott track here is a live version of "Dirty Deeds Done Dirt Cheap" from Sydney, Australia in 1977.
The other two CDs feature various live cuts with current singer Brian Johnson, nicely mixed and cleaned up from the soundboard. Two DVDs include alternate versions of many promo videos (there's some nice Bon Scott stuff here), as well as a 2003 concert in a tiny club in Germany.
The set also comes with a 164-page coffee table book laden with previously unpublished photos from 1974 to the present, a vinyl record duplicating the first CD of "rarities," a poster from their 1977 European tour, buttons, stickers, temporary tattoos and a 1975 vintage AC/DC guitar pick. It's not cheap, at $200-plus, but for true fans, it's probably worth it.
Michael Jackson, 'Hello World: The Motown Solo Collection' (Motown)
While the documentary "This Is It" shows Michael Jackson as a man able to thrill with his smooth moves and voice up until his death, the three-CD box set "Hello World: The Motown Solo Collection" shows Jackson as a boy launching into the pop stratosphere.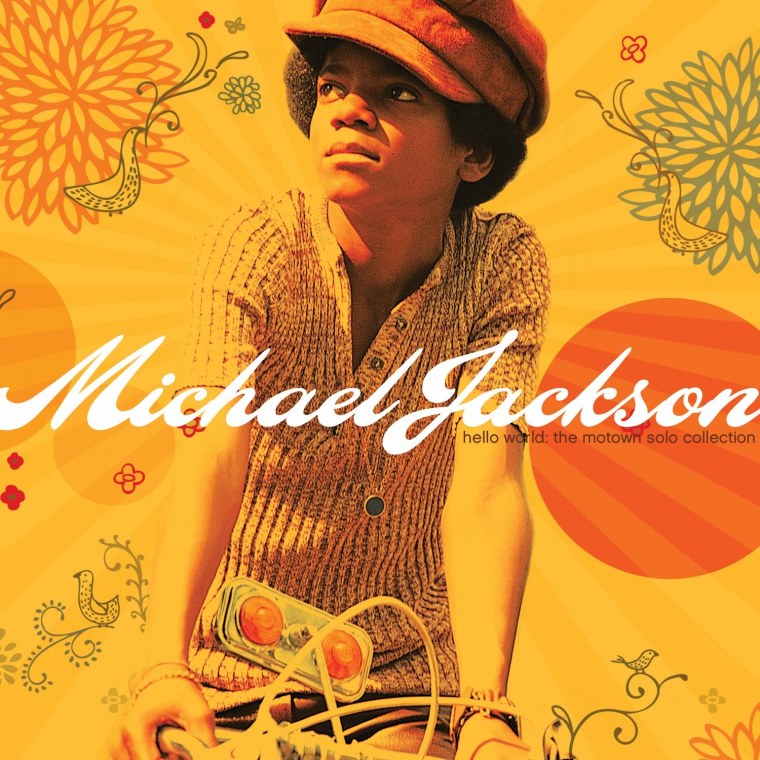 With a bright yellow package depicting a cherubic, Afro-haired Jackson on the cover, the superb collection features every Jackson solo recording released from 1971 to 1975 — albums "Got To Be There," "Ben," "Music & Me" and "Forever, Michael." Also included are songs released from the Jackson vault after he became the King of Pop, the 1984 album "Farewell My Summer Love" and 1986's "Looking Back to Yesterday," featuring previously unreleased masters.
Bonus tracks, colorful photos, album covers, original liner notes and essays by Motown's Suzee Ikeda and author and professor Mark Anthony Neal complete the box set.
Most of all, "Hello World" showcases Jackson's glorious voice, an instrument so nuanced that he sounds much older and wiser than his young years. A spoken word intro leads into Jackson's soulful cover of the Bill Withers classic "Ain't No Sunshine": Jackson lets his boyish falsetto soar over backing strings, in complete control over the vocal dips and swoops.
Other tunes span from harpsichord-tinged ballads to funky gems such as "Rockin' Robin," a sure-fire hip shaker. His voice lowers in register on "Forever, Michael," taking on the more mature tone to define his later albums and hits.
Just to hear a sweet-voiced Jackson take on Edwin Starr's soul stomper "Twenty-Five Miles," wailing over distorted guitar, makes this collection truly worth it.
'Def Jam 25' (Def Jam)
There is no Jay-Z without the Def Jam label. No Public Enemy. No Kanye West, Beastie Boys, Rihanna or LL Cool J. Sure, these game-changing talents would have been heard regardless. But Def Jam had the savvy and sheer willpower to make them superstars.
That's why this five-disc history of Def Jam's 25-year history is an essential ingredient for any serious rap music collection. Even if you have all the songs in album or single form, or buried among thousands of MP3s in your computer, the box set's track sequence puts them in context, connecting the dots as rap moves from fringe to revolution to mountaintop.
The Def Jam story starts when party promoter/artist manager Russell Simmons met punk rocker/rap producer Rick Rubin, who was making records out of his New York University dorm room. Their first hit — and the box set's first song — was LL Cool J's "I Need A Beat."
That cut was just a voice and a drum machine. By the end of disc one, rap has taken a sonic quantum leap with Public Enemy's furious "Fight the Power." The whole collection is filled with such fascinating evolutions and connections: Nikki D to Foxy Brown; Boss to Rick Ross; Onyx to DMX; Sisqo to Ne-Yo.
There also are one-hit wonders (Montell "This Is How We Do It" Jordan), gems (Method Man and Mary J. Blige's "You're All I Need To Get By") and enough Jeezy and Ludacris to keep Atlanta happy. And, of course, Jay-Z, from his breakthrough "Hard Knock Life" to his appearance on Rihanna's "Umbrella."
Jay-Z's presence means more than just timeless lyrics. He represents the industry smarts and hustle of Simmons and his alter ego, Lyor Cohen, who succeeded Rubin as Def Jam partner and resident Caucasian. There have been a lot of big rap labels over the past 25 years. Only Def Jam has played the vicious rap game to perfection without getting played.
None of the Def Jam stars got killed. Russell Simmons is now a hip-hop institution. Cohen is the heir to Ahmet Ertegun. Rick Rubin's 24-carat ears are headed to the Rock and Roll Hall of Fame. There is no "show" without the "business," and Def Jam did both better than any rap label ever.
'Miles Davis: The Complete Columbia Album Collection' (Columbia/Legacy)
Miles Davis never liked to look back, always staying contemporary as he moved from bebop at the beginning of his career to hip-hop at the end. With this 70-CD collection, released to coincide with a major exhibition "We Want Miles" at a Paris museum, Davis deservedly becomes the first jazz musician to receive the comprehensive treatment usually reserved for a Mozart or von Karajan in the classical realm.
But the trumpeter's constant evolution caused some fans to drop away — particularly post-1970 when he turned away from acoustic music to play electro-fusion jazz. Those fans probably won't have much need for this collection — comprising the more than 50 albums Davis recorded for Columbia from 1955-85 — because they've already collected their favorite sessions plus bonus material in reissues from Columbia/Legacy's ambitious Miles Davis Series since 1996.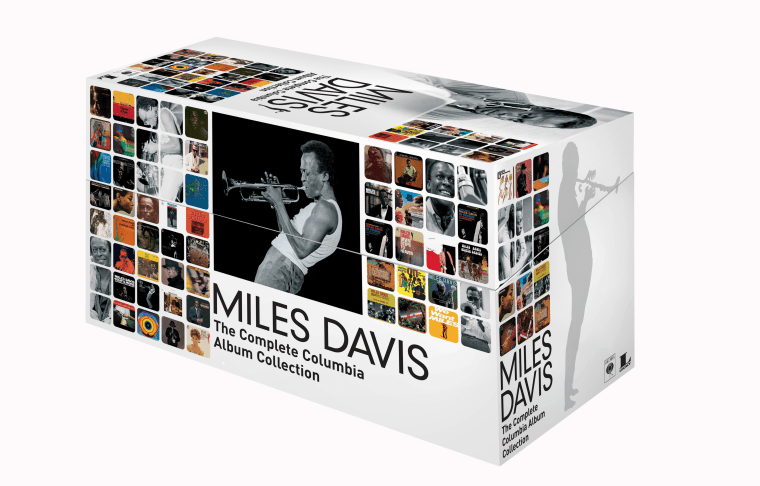 But this collection has a smattering of rarities and unreleased material to whet the interests of the Davis completist — including the first official release of Davis' full-length concert at the 1970 Isle of Wright festival in a band with keyboard players Chick Corea and Keith Jarrett, and a bonus DVD "Live in Europe '67," the first video to be officially commercially released featuring Davis' groundbreaking quintet with Herbie Hancock and Wayne Shorter. There are also two unissued tracks from a live recording of Davis' bebop quintet with pianist Tadd Dameron from a 1949 Paris concert, the only CD in the collection representing the trumpeter's formative years (originally released as an LP by Columbia in 1977 during Davis' five-year health-related hiatus).
The CDs — packaged in Japanese-style mini-CD jackets replicating in most cases the original cover art work — are also presented chronologically by recording session date. That enhances the collection's appeal for younger, open-minded listeners who may have heard only a few Davis albums and want to follow more closely his remarkable career. The collection — sold exclusively through Amazon.com for about $330, or under $5 per disc — includes a booklet with a basic biographical overview by French critic Frederic Goaty and capsule descriptions and discographical details on each album.
The collection does not include Davis' earliest and last recordings for other labels, but his 30-year relationship with Columbia yielded an extraordinary body of work that's all here with bonus material from previous Legacy reissues.
Various Artists, 'Woodstock — 40 Years On: Back to Yasgur's Farm' (Rhino)
First there was the triple album. Then came its sequel, a double album.
Now the single-largest collection of music from the three-day Woodstock festival has been gathered in the six-CD box set "Woodstock — 40 Years On: Back to Yasgur's Farm." Even with 77 songs, what's presented is a mere sliver of what was actually played at the concert 40 years ago. It would take 30 discs, not six, to release all of it.
The box set does a lot of things right — including sequencing the music in the actual order in which it was played, to at least give a reasonable semblance of what it was like there over those three days.
It also offers up more snippets of stage banter, including the entirety of farmer Max Yasgur's gracious speech to the half-million concert-goers on his property and prolonged warnings about which type of acid (not the brown!!) to take.
Unfortunately, only half of the songs are previously unreleased. That means true Woodstock aficionados will have to pay, again, for much of the music they already own.
But for anyone who hasn't upgraded from the vinyl of the original soundtrack, or never bothered to buy any of the music, this is the way to go.
There's really no way to put out a decent box set on Woodstock without including most of the music that was on the first record, anyhow. Those songs from Jimi Hendrix, The Who, Country Joe & The Fish, Jefferson Airplane and Janis Joplin were, and are, the best the festival had to offer.
Hearing them against some of the weaker previously unreleased songs only helps to make that point even more clearly.
Various Artists, 'Where the Action Is! Los Angeles Nuggets 1965-1968' (Rhino)
Los Angeles Nuggets refers not to a 1960s team in the American Basketball Association, but to tunes recorded by L.A. acts largely overlooked during rock's heyday.
While fans elsewhere were focused on happenings in London and San Francisco, a lively club scene developed on Sunset Strip in the mid-1960s, with performers drawing on influences that ranged from the Rolling Stones to the Monkees, "Sgt. Pepper" to "Pet Sounds," and Bob Dylan to Bo Diddley. Rhino has collected the era's Southern California sound in a 101-song, four-CD package, and it's a lively set. After all, rock 'n' roll was still a teenager then.
The collection would have benefited from a narrower focus — the scope includes such forgotten bands as the Others, the Hysterics and London Phogg, but also the Beach Boys, Byrds and Doors. The range in quality is broad, too, with surprising gems from the Light, the Garden Club and the Knack (the California version), but also a weak Monkees tune ("Daily Nightly") and bagpipes on an awful rendition of "I Love How You Love Me." There are lots of lovely three-part harmonies, but also too many tambourines, bad guitar solos and spasms of druggy '60s weirdness.
Still, Rhino knows how to make musical time travel fun. The antecedents of every L.A. group from the Eagles to X are here, along with early-career performances by Randy Newman, Lowell George, Stephen Stills, Ry Cooder and Warren Zevon. As always, Rhino's packaging is first-rate, with extensive liner notes and photos in a Dr. Seuss-style book. "Nuggets" offers a welcome alternative to the local classic rock radio station.
Richard Thompson, 'Walking On a Wire (1968-2009)' (Shout! Factory)
The one-of-a-kind fretwork we've heard before, and Richard Thompson on guitar remains as distinctive and thrilling as contemporaries Jimi, Jimmy or Jerry. The boundary-defying blend of musical genres is familiar, too, as is the potent lyrical cocktail: two parts melancholy, one part humor (which pretty much mirrors real life).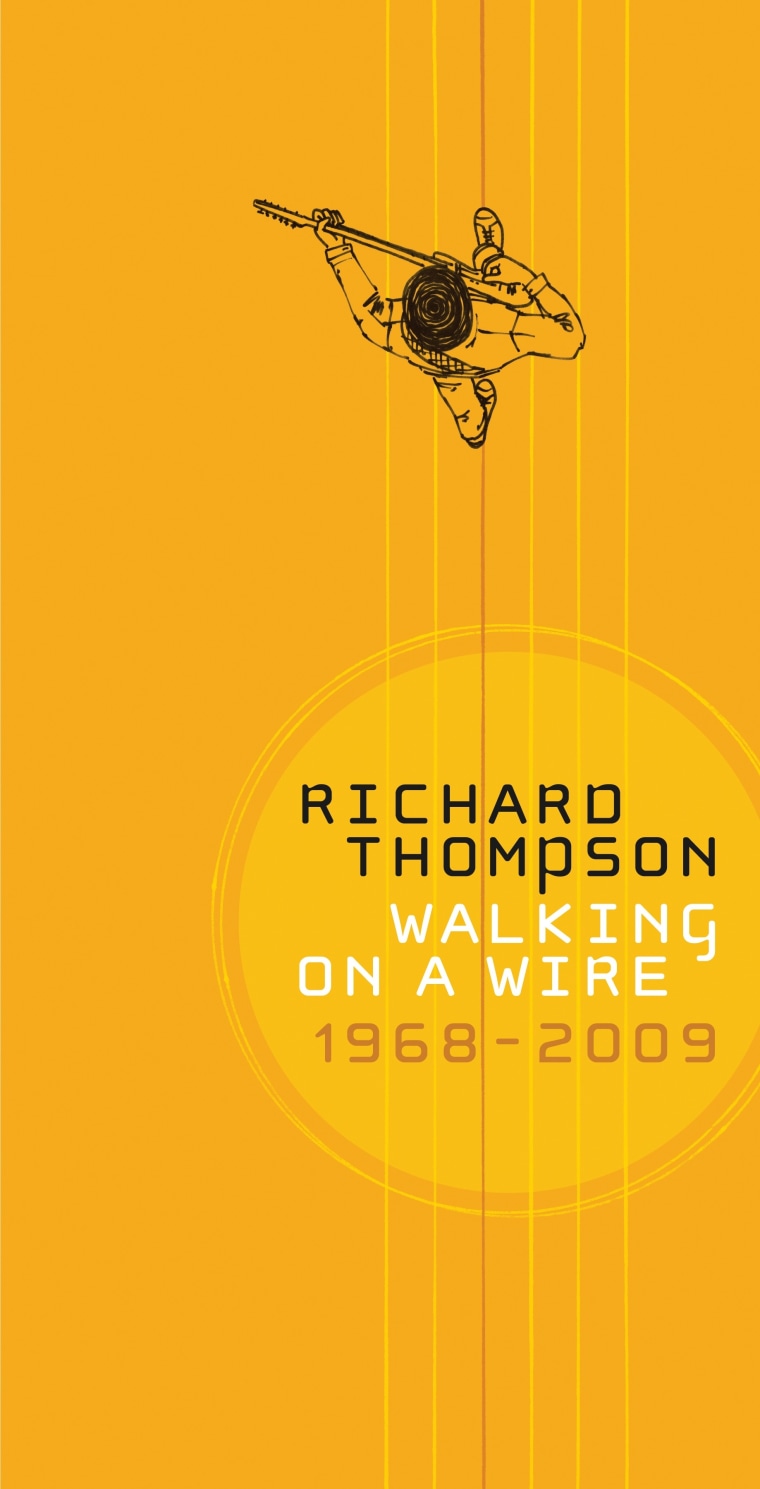 No, there's nothing new in "Walking On a Wire," a four-CD, career-spanning set. Yet the collection is revelatory because it shows how consistently Thompson has delivered through the years. There's not a dud in this 71-song batch, and the many highlights are sprinkled across the decades.
The list of 1960s musicians still vital is short but includes Thompson, whose muse has never flagged. Perhaps the best song he ever wrote is the penultimate selection in this set, the poignant but funny "Dad's Gonna Kill Me," inspired by the Iraq war.
Or maybe the best song is "1952 Vincent Black Lightning," a folk tune from 1991 about keys to a motorcycle and much more. Or maybe it's "Dimming of the Day" from 1975, a ballad lovelier than a Land's End sunset. Or maybe it's "Tear Stained Letter" from 1983, which finds common ground in the music of a Kansas City roadhouse and an Irish pub.
Vote for your own favorite — "Walking On a Wire" includes at least one song from every Thompson album. He generously gives ex-wife Linda an extended turn in the spotlight, which is warranted because longtime fans still mourn the demise of their partnership in 1982. There are five cuts from his days with Fairport Convention, and obscurities from live albums Thompson released as "official bootlegs" are among the gems.
Missing is his cover of the Britney Spears hit "Oops! ... I Did It Again." Also absent is "The End of the Rainbow," perhaps the best gloomy lullaby ever. With Thompson, four CDs of material simply isn't enough.
Various, 'Rock and Roll Hall of Fame Live' (9-DVD box-set) (Time Life)
The Rock and Roll Hall of Fame is an odd thing. It's always felt a little late to the party, in a why-didn't-they-think-of-this-earlier-and-why-Cleveland kind of way. Yet, for its foibles, it has its place shouldn't be besmirched for recognizing rock music greatness.
This nine-DVD set attempts to deliver the cream of the crop performances from a quarter-century of induction ceremonies. It's a bit of a hit-and-miss. The star-studded lineups look good on paper, but having them attempt to pull off enjoyable impromptu jam sessions is asking a bit much.
When the artists are pulling their own weight, things go along just fine. It's neat to see Roebuck "Pops" Staples dancing the Staple Singers off the stage in 1999 after a moving rendition of "I'll Take You There." Some groups never lost their chops.
And 2005 inductee Percy Sledge gives it his all in singing his timeless love ballad "When A Man Loves A Woman." Sure he hits a few sour notes here and there, but the effort is there on his day in the sun.
But the cluster of appreciation can detract from some of the performances as well. In 1992, Johnny Cash was inducted and performed "Big River" at the ceremony with the help of what must have been everyone with a guitar from the surrounding 50 miles. Keith Richards tries mightily to add zest to the Cash fete, but gets lost in a sea of balding bodies directing traffic on stage.
The performances show a little more maturity in recent years, as does the recording and production value.
Pearl Jam, 'Ten' (Super Deluxe Edition Box-set) (Epic)
On Aug. 27, 1991, Seattle's grunge scene would begin a trek to its zenith. Pearl Jam released the album "Ten" and seemingly every American male between 13 and 30 had a new favorite band.
And why not? Side A, with the unforgettable songs "Black" and "Jeremy," is arguably the strongest front half of an American rock album — ever.
Now to fete that standout album comes not one but four different box-set editions of "Ten," remixed, remastered and retaining the same power that drove it up the charts and made it a music shelf staple.
The Super Deluxe Edition includes a CD of the original album, digitally remastered; a second remastered CD, with six bonus tracks; four vinyl LPs, including a live concert recording made at Magnuson Park in Seattle; and even a cassette featuring demo versions of "Alive" and "Once" from "Ten."
The vinyl is the real cream of the crop here. It's 180-gram audiophile weight vinyl and gives a nice analog feel to the seminal album, with its pounding assault of Eddie Vedder's voice and Dave Krusen's aggressive yet fluid drum work.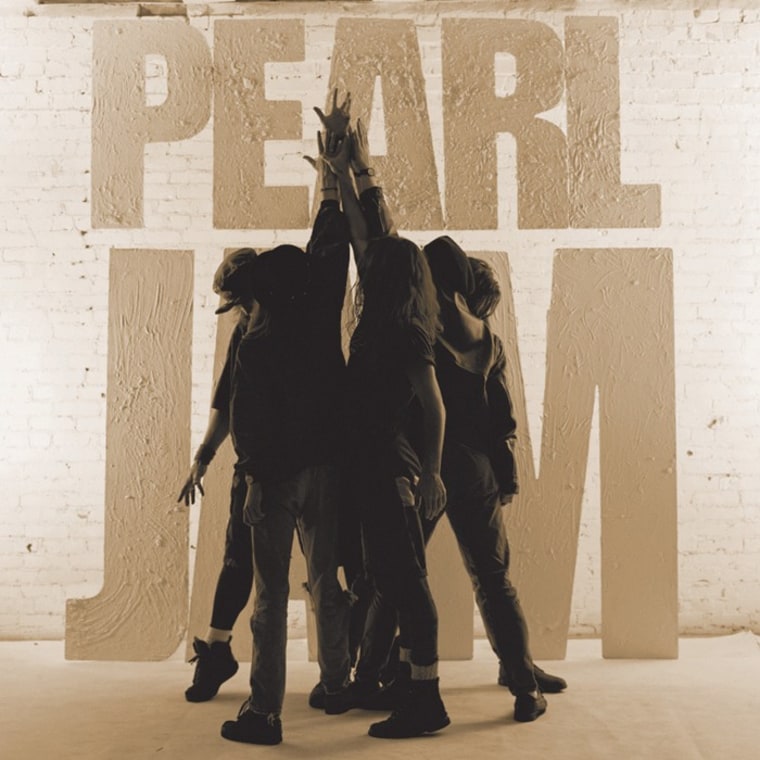 The set includes a composition notebook with replicated personal notes and images from Vedder and bassist Jeff Ament.
Better still is the DVD of Pearl Jam's 1992 "MTV Unplugged" performance. Hearing them less amplified shows they weren't simply hiding behind a wall of sound. It's simply good music, plugged or unplugged.
Pearl Jam was originally named Mookie Blaylock, after the former NBA point guard. They've even thrown his rookie card into the package for style points.
Ella Fitzgerald, 'Twelve Nights in Hollywood' (Verve)
This 4-CD collection is a real gem unearthed from Verve's vaults — 73 previously unreleased live small group recordings from the "First Lady of Song," in some cases (for example "I Can't Get Started') these are the first and/or only live versions of the songs she ever recorded. This is Ella at the creative peak of her career — from the same period when she was in the studio recording her critically acclaimed "Songbook" albums devoted to the great American popular composers and lyricists.
Nor are these scratchy amateurish recordings. Verve founder Norman Granz personally supervised the live recordings over 12 nights in 1961 and 1962 of every set Fitzgerald performed with her quartet in the intimate setting of Los Angeles' Crescendo Club — but only 12 tunes ended up on the 1961 album "Ella in Hollywood."
This collection finds Ella ranging through her entire repertoire from the familiar to the obscure, including new versions of her earliest hits ("A-Tisket, A-Tasket") and those of her peers Billie Holiday ("Good Morning Heartache") and Frank Sinatra ("The Lady is A Tramp").
Ella swings hard on uptempo numbers ("Lover Come Back to Me"), slowly caresses ballads ("But Not For Me"), sings the blues ("Baby, Won't You Please Come Home") and scats madly ("Take the `A' Train").
And there's the spontaneity and humor ever present in Ella's live performances — whether she's messing up the lyrics to "Blue Moon" without skipping a beat, affectionately imitating Louis Armstrong and Dinah Washington on "Bill Bailey," or suddenly improvising her own Twist song when momentarily distracted by noise from dancers in an upstairs room in the midst of singing "Too Darn Hot."
Keith Jarrett, 'Testament: Paris/London' (ECM)
It's been more than 35 years since Keith Jarrett created his own distinctive genre with his spontaneously composed solo piano concerts, melding the finesse and command of a classically trained virtuoso with the improvisational imagination of a top-flight jazz musician. After being sidelined by Chronic Fatigue Syndrome a decade ago, Jarrett has revised his approach to his solo concerts. On the 3-CD "Testament," presenting two late 2008 concerts in Paris and London, he's curbed the youthful exuberance that found expression in epic 40-minute-plus journeys on albums such as the multiplatinum 1975 "Koln Concert" in favor of loosely connected shorter improvised segments with more emphasis on melody and restraint in playing.
In his unusually personal liner notes, the usually private pianist reveals that these two concerts were hastily arranged at a time he needed to plunge into work because of the emotional turmoil surrounding the breakup of his marriage of 30 years. He found himself on the verge of a nervous breakdown observing cheerful couples preparing for the holiday season. But that only gave these performances a more powerful emotional impact.
The Paris concert offers sharp contrasts, beginning with some dissonant passages before Jarrett hits full stride, playing a soothing pastoral ballad in the next-to-last part before closing with rumbling flurries of notes. The London concert best illustrates Jarrett's wide-ranging tastes — jazz, blues, gospel, classical, Americana, atonal contemporary music, and pulsating vamps. The concert begins with somewhat dark melancholic melodies but ends triumphantly with Jarrett pounding out a buoyant, almost gospel-like inspirational anthem.
Above all, Jarrett offers a testament to the healing power of music to see us through troubled times.