Former presidential candidate Mitt Romney was looking at the man in the mirror on Wednesday night's "Tonight Show." And while that man wasn't asking him to change his ways, he was making him laugh in his own unique way.
That's because the man on the other side of the looking glass was actually played by Jimmy Fallon, doing a terrific impersonation of Romney right to his face.
Romney worried to his "reflection" what he should say when Fallon asked him about not running for president a second time, and Reflection Romney gave him good advice: "Just tell him you enjoy the freedom. You get to sit back and relax, golf all the time, go on vacation whenever you want ..."
"Aka, be president!" said Romney, which made his reflection laugh in a stilted, choppy way.
"Good one, me!" said Reflection Romney.
WATCH: Mitt Romney on Bowe Bergdahl prisoner swap: I wouldn't have made the trade
He also got in a zinger about the state of the country with President Obama in charge: "We've got turmoil in the Middle East, an immigration crisis here at home, and now Zayn quit One Direction. Thanks, Obama!"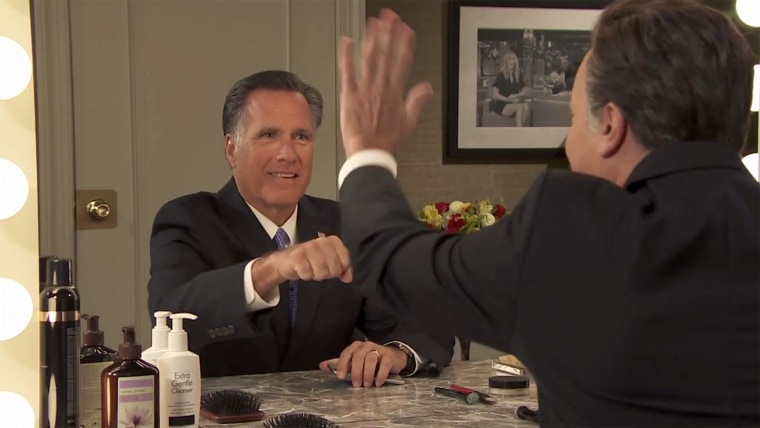 Unfortunately, Reflection Romney couldn't draw his other self into a little dance to 1D's music.
They did coordinate shortly thereafter, though, on a "secret Mitt Romney handshake" that was made up of near-high-fives and near-fist-bumps. "Still got it," grinned Reflection Romney.
Which led to even more stilted "ha ha ha has" and raucous audience laughter. Check it out!