It's hard to imagine a joyful friendship emerging from so much onscreen "Misery."
Yet, 25 years after James Caan and Kathy Bates starred in the cinematic thriller, they picked up right where they left off during a recent Los Angeles photo shoot for Entertainment Weekly's reunions issue and a conversation with NBC News' Joe Fryer.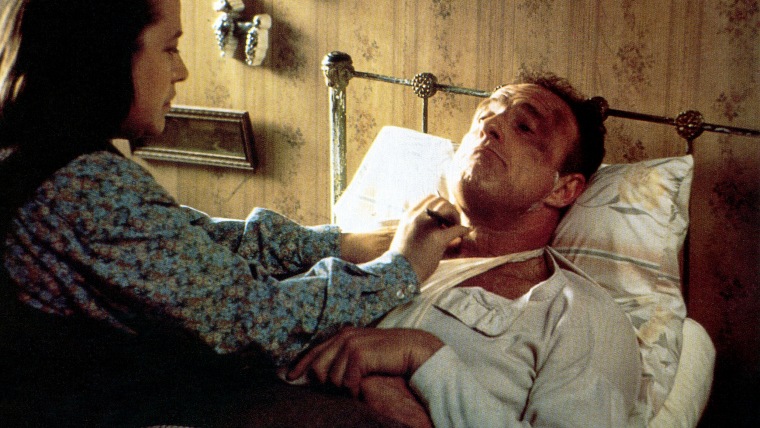 "Come on," said Bates, while playfully punching her co-star.
Playing along, Caan quoted a memorable line from the 1990 movie: "Come on, you dirty bird."
Echoed Bates, "You dirty bird."
Directed by Rob Reiner and based on Stephen King's novel of the same name, "Misery" chronicles an author (Caan) who's severely injured in a car crash and rescued by an obsessive nurse (Bates) with questionable bedside manner. Most of the movie takes place inside a tiny bedroom.
"I know Rob did this on purpose," Caan surmised. "He said, 'I'm gonna get the most neurotic guy in Hollywood and put him in a bed for 15 weeks,' you know? I'd come in the morning, and he'd say something to Kathy. And then he'd look at me and go, 'Jimmy, today you get in bed.'"
Recalled Bates, "We were so excited when we got to go to the dining room."
Caan agreed. "Yeah, it was a bit [of an] outing for us. ... 'I get to sit up?'"
RELATED: 'Family Ties' cast reflects on show 3 decades later: 'We all loved each other'
The movie's most memorable scene, involving the use of a sledgehammer, initially disappointed Bates. "I had read the book," she said, "and in the book, she chops his feet off."
Fryer suggested her character "did to the sledgehammer what ['Friday the 13th' villain] Jason Voorhees did to the hockey mask" — prompting Bates to concur with a laugh.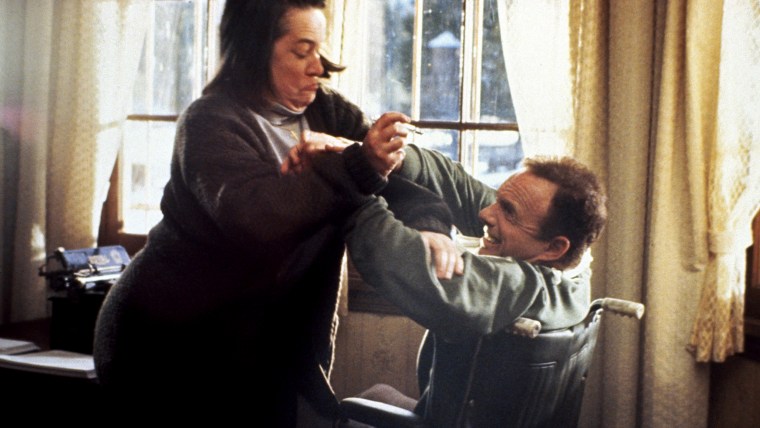 Perhaps more upsetting to Bates, the actor, was the two characters' fight sequence, which was done without stunt doubles.
"The minute we got into a real violent thing, she got so upset," Caan said.
Noted Bates, "I was crying. … I mean, to have that much violence coming at you… ."
Caan credited his scene partner for her toughness. "She had me pinned twice, but I got out," he laughed.
RELATED: 'Bring It On' cast reunites 'cheer-ocracy' 15 years after movie hit theaters
Some good came out of their struggle. In addition to making more than $61 million at the box office, "Misery" helped launched the career of Bates, who won a leading-actress Academy Award for her performance.
"She could be pretty scary," said Caan, a previous Oscar nominee. "But she's really a little mashed-potato sweetheart."
Bates said her mom may have seen things differently: "My mother said, 'I don't know what all this fuss is about: That's just you up there [on the screen].'"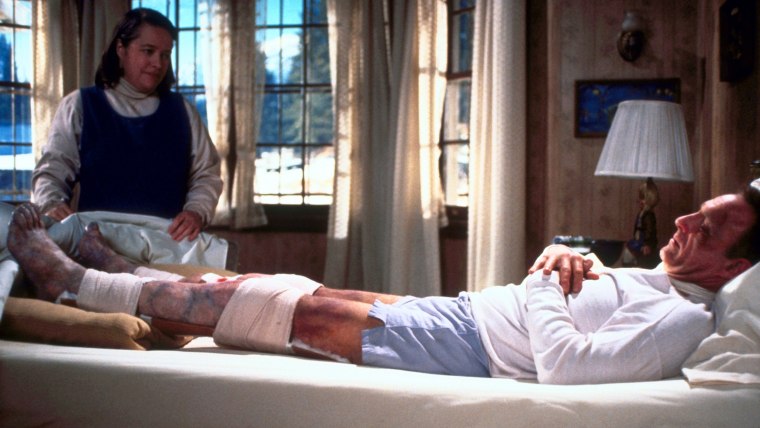 But for all the fictional horror, what remains today is laughter. The actors chuckled when Caan joked that their next project would be appearing as themselves on the TV game show "Hollywood Squares."
It's pretty clear that, even after 25 years, "Misery" still loves company.
RELATED: Time warp! 'Rocky Horror Picture Show' cast reunites 40 years after film release
Bates told Caan of their reunion, "It's been fun to see you again," inspiring him to kiss her hand.
"My girl," he replied.
Entertainment Weekly's reunions issue, featuring "Misery" and other fan favorites, arrived on newsstands Friday.
Follow TODAY.com writer Chris Serico on Twitter.