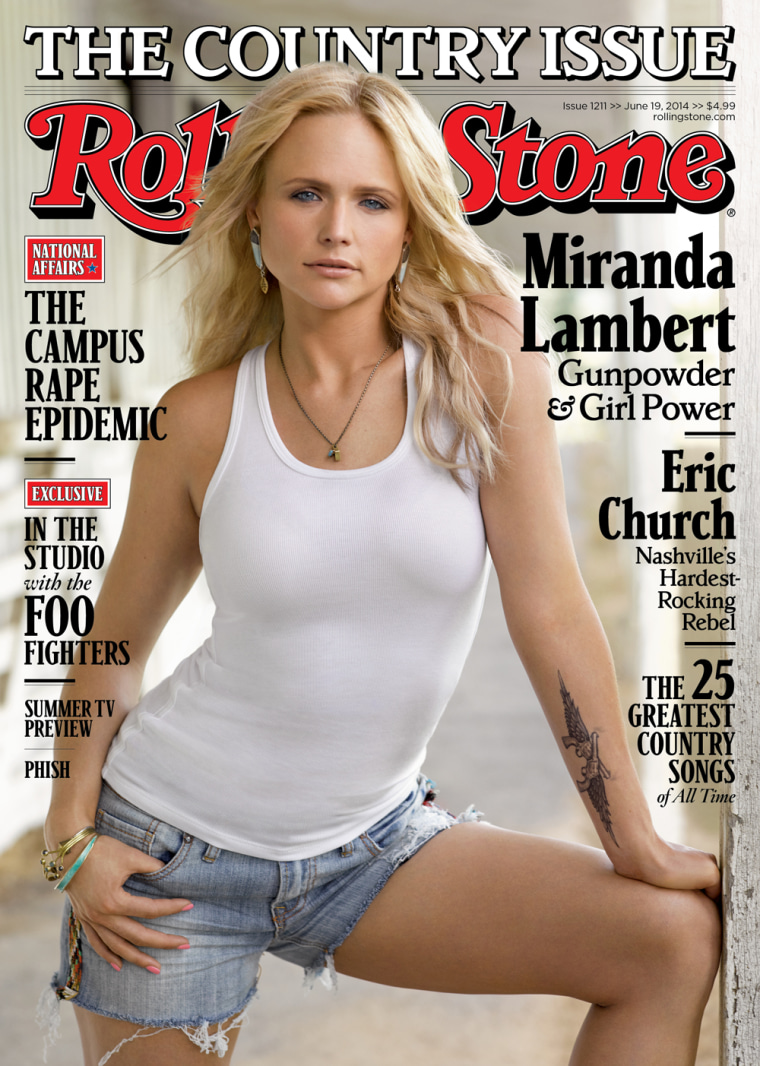 Miranda Lambert is one hot country star — in more ways than one. The singer is showing off her svelte figure on her first Rolling Stone cover, but it's inside the pages of the music magazine where things really heat up.
"Voice" coach and country star Blake Shelton told Rolling Stone that his wife can get steaming mad and isn't shy about getting into bar fights.
"People always try to pop off or call her bluff at bars," he revealed. "One of them, I don't want to say the guy's name, but he's the lead singer of a very popular rock band. His initials are C.K." (Lambert reportedly got into a fight with Nickelback frontman Chad Kroeger at her 27th birthday party in 2010.)
But for now, Lambert is sounding off on being being famous and the gossip that come along with celebrity. 
"One day we were country singers, and the next we're on the front of the tabloids," she told the magazine about her and Shelton's rise to fame. "I'm, like, really magical. I've been pregnant for two and a half years."
But the singer isn't magical only because of her amazingly long "pregnancy." She found a way to have fun with a scary situation and promote her new album, "Platinum," at the same time: Lambert on Tuesday shared a photo of herself and three other women in hazmat suits after her plane was diverted. "Our plane had an emergency landing in Clarksburg WV. But don't worry, we found platinum fire suits. Yes! #platinum," she wrote.
A rep for Lambert told The Associated Press that the plane, headed from New York to Nashville, lost pressure and was grounded for three hours. The award-winning singer is scheduled to perform at the CMT Music Awards in Nashville on Wednesday night.
The new issue of Rolling Stone will be available on newsstands Friday.