When "This Is Us" returns for its second season this fall, fans of the tearjerker drama better have extra tissues on hand for the big reveal about Jack Pearson's final fate. Star Milo Ventimiglia has already warned them that his character's death will be a heartbreaker, and on Tuesday night, he offered up a few spoilers about it.
Sort of.
Rather than explaining how Jack dies in the flashback plot, he revealed how he definitely doesn't die during a visit to "Jimmy Kimmel Live."
"He did not die by sticking his head in a microwave while making popcorn," the actor deadpanned. "He didn't die while eating a peanut butter and banana sandwich on the toilet, like Elvis. He did not do that."
He also didn't die at a Justin Bieber concert ("wrong decade"), "gluten didn't kill him," and just in case anyone thought it was a possibility, Ventimiglia assured viewers "he didn't die giving birth."
So that narrows things down ... not at all really.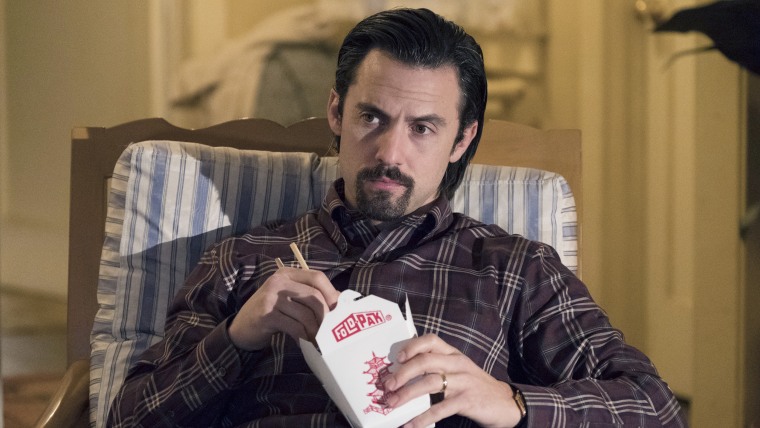 Of course, thanks to the show's time-hopping story lines, even after viewers find out how it ends for the Pearson patriarch, Jack will still be around. That's reassuring, both because Jack is a fan-favorite character and because Ventimiglia just earned his first Emmy nomination for his performance.
According to star, that honor led to 272 text messages, 97 emails and 50 congratulatory voicemails from friends and some members of his family.
But the day his nomination was announced, Ventimiglia's proud father took to Instagram to celebrate something else entirely.
"I have missed a few National Celebrations in my day, but I won't miss this one," a private post from his dad read. "Today is National French Fry Day."
When asked if his mom and his fry-loving dad will join him for the Emmy bash in September, Ventimiglia said his folks have already "declined" his invite.
"They said they're holding out for an Academy Award."
Tough crowd!