We're not crying, you're crying! Milo Ventimiglia is crying! Everyone is crying!
But don't worry, it's a good cry. So why did the star of "This is Us" leave everybody in tears on Saturday during a panel at the Paleyfest TV festival? Turns out it's because he started talking about who inspired his character Jack in the series.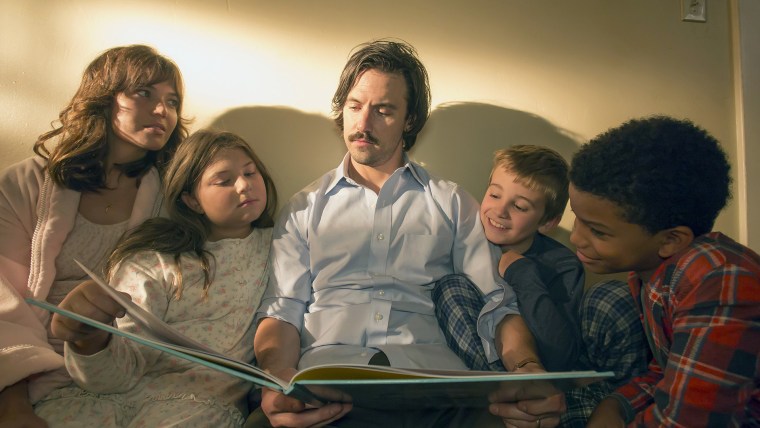 "Here we go, you're going to find me crying," he said. "My father."
He then pointed to the audience and indicated that both of his parents, Peter and Carol, were present.
As he spoke further, Ventimiglia got more and more emotional: "["This Is Us" writer] Dan Fogelman and all the producers and writers wrote this man who loves his wife and loves his kids, really as simple as that," he said. "And I saw that in my own father."
RELATED: Milo Ventimiglia pens sick note to get you out of work after 'This Is Us' heartbreaker
Continued the 39-year-old actor, "There's not a moment in my life where I don't think about how he raised us, my sisters [Laurel and Leslie] and I ... So, my dad."
At least one fan was wise enough to hand over a whole box of tissues!
Fans of the show already know that at some point, Jack dies. It had been widely speculated that he'd meet his end in the Season 1 finale last week, but all viewers got were a few small clues.
During the panel, however, it turned out that most of the cast does know how Jack goes out, and while on stage they re-enacted their reactions to learning the news:
And that actually got a laugh as everyone looked around to see the faces the others were pulling.
What's known so far at least is that yes, Jack does die and that at some point Jack's best friend Miguel (Jon Huertas) will end up with Jack's widow Rebecca (Mandy Moore). In fact, Huertas made a surprise appearance at the panel!
Looks like we're all in for quite the bumpy ride next season on "This is Us," and that it will likely be full of tears ... and laughter.
RELATED: Mandy Moore reacts to Milo Ventimiglia's new look: 'I don't know that person!'
We're still crying, you know!
Follow Randee Dawn on Twitter.