/ Source: The Associated Press
Clint Eastwood, Hilary Swank and Jamie Foxx weren't the only winners at the Academy Awards. Preliminary indications are it was a strong ratings performer for ABC.
More than 41 million people watched the Oscar show capped — a respectable showing but hardly the ratings knockout ABC had hoped for, first figures showed Monday.
The three-hour, 10 minute Oscar broadcast averaged 41.5 million viewers, down 5 percent or 2 million viewers from last year, when box-office powerhouse "The Lord of the Rings: The Return of the King," was the big winner, according to preliminary data from Nielsen Media Research.
Last year's Oscars were seen by 43.5 million people, a sharp 32 percent increase over 2003. Considering the ominous signs of ratings declines for the Golden Globes and Grammys this year, the numbers left ABC executives pleased.
Backstage at the Oscars, Eastwood contemplated how deserving he was to come away with his second best-picture and directing triumph, this time for the boxing tale "Million Dollar Baby."
"There's a lot of great movies that have won the Academy Award, and a lot of great movies that haven't," said Eastwood, whose film also earned Swank her second best-actress Oscar and Morgan Freeman the supporting-actor prize. Humbly, Eastwood added, "You just do the best you can."
Other acting awards Sunday night went to performers in real-life roles, Foxx as lead actor for his uncanny emulation of Ray Charles in "Ray" and Cate Blanchett for supporting actress as Katharine Hepburn, the love of Howard Hughes' life, in "The Aviator."
Eastwood's triumph meant fresh heartbreak for Martin Scorsese, whose Hughes epic "The Aviator" won the most awards with five but failed to bring him the directing Oscar that has eluded him throughout his distinguished career.
Scorsese, now a five-time loser, matched the record of Oscar futility held by a handful of legendary filmmakers such as Alfred Hitchcock and Robert Altman, who also went 0-for-5 in the directing category.
Eastwood, who directed a segment of Scorsese's music-documentary TV series "The Blues," had kind words for his rival backstage.
"I was kind of a little disappointed when they started building a competition between Marty and me," Eastwood said. "I have the greatest respect for him and all the films he's done over the years."
Blanchett echoed Eastwood's praise.
"Certainly, working with Martin Scorsese was an absolute minute-by-minute education without him ever being grandiose about it," Blanchett said.
The wins by Freeman and Foxx followed Denzel Washington and Halle Berry's triumph three years ago for "Training Day" and "Monster's Ball," the only other time blacks claimed two acting Oscars.
"In our music, in our everyday life, there are so many negative things," said Foxx, who throughout awards season has praised Washington and Berry as ambassadors for black actors. "Why not have something positive and stamp it with blackness?"
Producers of Sunday's show hoped the presence of first-time host Rock might boost ratings, particularly among younger viewers who may label the Oscars as too staid an affair. Rock had mocked the Oscars a bit beforehand, calling awards shows "idiotic," but he was on his best behavior.
He chided some celebrities by name and included one mild three-letter word, but his routine was fairly clean for the comedian known for a foul mouth in his standup act.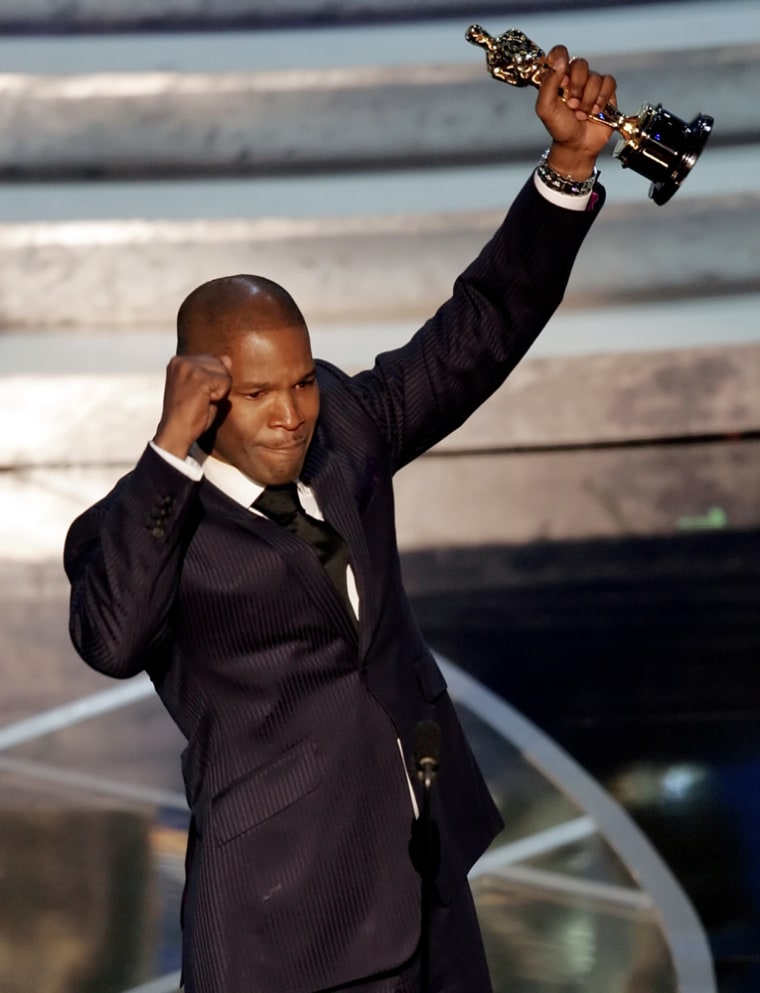 It was the second straight year an Eastwood film won two of the four acting Oscars, Swank as a tenacious fighter who rises to champion status before her life takes a cruel twist, Freeman as a worldly wise ex-boxer.
Last year, Eastwood's dark morality play "Mystic River" earned the lead-actor prize for Sean Penn and the supporting-actor award for Tim Robbins.
Freeman, who costarred in Eastwood's 1992 film "Unforgiven," said he is the sort of director who gives actors the freedom to cut loose and perform their own way. The Western was Eastwood's first Oscar win for best-picture and director.
"If he hires you, he hires you because he feels like you know what to do," Freeman said. "And he's very, very largely out of the way. He directs the picture, you do the acting. I love that, and I think that most of the people that he works with love that."
Swank once again beat out main rival Annette Bening, nominated for the theater farce "Being Julia." Bening had been the front-runner for "American Beauty" five years ago but lost to Swank.
With unremarkable career results since her first win, Swank had been in danger of becoming one of those actresses who fades from view after an Oscar success.
"The truth is, after 'Boys Don't Cry,' I realized how few and far between the great roles are," Swank said. "I am beyond thankful for finding 'Million Dollar Baby."'
Eastwood, whose first credited screen role came in the 1955 Francis the Talking Mule flick "Francis in the Navy," has climbed in the ensuing half-century to the ranks of Billy Wilder, David Lean, Robert Wise and Steven Spielberg, other filmmakers who have won two or more directing Oscars.
Critics say Scorsese's best work is decades behind him, noting that recent epics such as "The Aviator" and "Gangs of New York" do not measure up to earlier masterpieces such as "Mean Streets" and "Raging Bull."
On the other hand, Eastwood has entered a late-career zenith, delivering complex character studies two years in a row that rank toward the top of his long resume as actor and director.
A last-minute addition to the Oscar race, "Million Dollar Baby" did not even begin shooting until June and had been scheduled for release in 2005 until distributor Warner Bros. took a look at an early cut and scrambled to release it in December.
At 74, Eastwood became the oldest directing winner ever. Eastwood joked that it was a sign "we're taking over. The (American Association of Retired Persons) and me."
He said he had great respect for many young directors such as Alexander Payne, who shared the adapted-screenplay Oscar for the wine-country ramble "Sideways," which also had a best-picture nomination.
"There's a lot of young guys coming along, but I'd like to say to the various financiers, don't forget the senior guys. The senior guys and gals are there, willing to do their best work for you."