Well, you can't say she didn't warn us. Before Sunday night's Video Music Awards, Miley Cyrus told MTV she planned to deliver a performance that would top the infamous Madonna-Britney Spears kiss from 10 years ago. Considering the outrage she's generated, she might have done a better job than she imagined.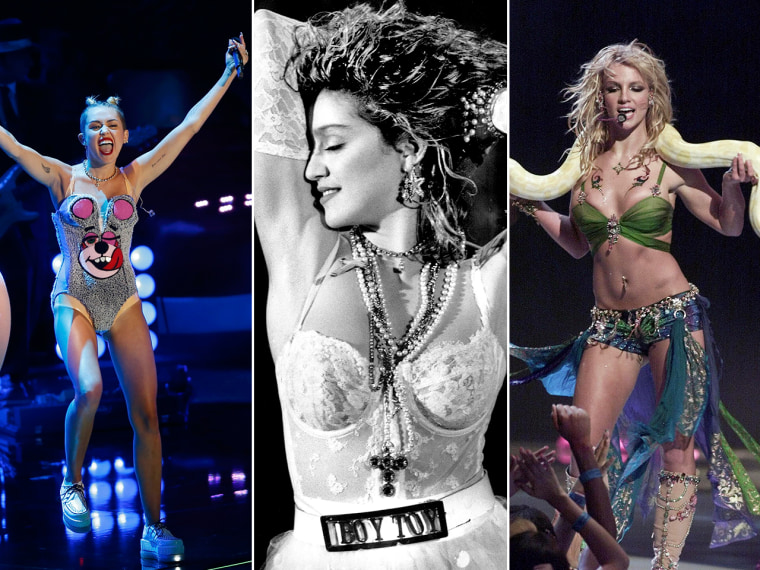 The 20-year-old pop star upstaged both the reunited *NSYNC and the new-model Lady Gaga thanks to her twerking, crotch-grabbing, and grinding on Robin Thicke as she romped through a medley of her hit single "We Can't Stop" and Thicke's "Blurred Lines" and "Give It 2 U."
Just in case anyone missed the point, she stripped down to flesh-colored, barely-there bra and panties halfway through the performance. Her antics weren't limited to just visuals, either: MTV had to bleep out one of her lyrics, which was about "dancing with Molly," said to be a reference to the drug ecstasy. Commenters on MTV's Web site called the performance "disgusting" and a "disaster." Celebrities across Twitter expressed dismay, and Monday on TODAY, Miley's former TV mom, Brooke Shields, called the act "a bit desperate."
But was it all really so outrageous? Perhaps only outside the world of the Video Music Awards.
In the land of VMAs, Miley was downright traditional. You could even say she was being respectful to the example Madonna set in 1984, when she sang "Like a Virgin" and rolled around in a wedding gown while showing a bit of granny pantie.

That performance, more than any, set the tone for the VMAs, which developed a reputation as something of the anti-Grammys. If you didn't want to see the elders of pop being paid tribute, the VMAs became the place to go.
In 1992, Nirvana's performance of "Lithium" not only looked like it was going to devolve into total chaos, but could have gotten axed had they followed through in playing "Rape Me" — which they started to perform and which the producers had forbidden. In 2001, Britney Spears showed she wasn't so innocent when she danced with a boa constrictor draped over her shoulders. And Britney and Madonna combined to set the bar again, in 2003, when they shared that infamous kiss on stage.
So Cyrus was, in essence, the embodiment of what the VMAs are about. If her image has gotten more "street" in the past year, that's probably because in March she signed on with former Spears manager Larry Rudolph, a career change that seemed designed to distance her from her roots as the tween star of Nickelodeon's "Hannah Montana." But that move only served to amplify what Cyrus was already doing. After all, she was shocking her tween audience back in 2009 when she danced around a stripper's pole at the Teen Choice Awards.

Will Cyrus' copping of Madonna's playbook extend to her influence on others? It probably already has. It's too early to say, but worth noting that her pal Selena Gomez made the uncharacteristic move of going topless in her video for "Come and Get It" a few months ago. Demi Lovato, don't get any ideas.