Miley Cyrus spends a lot of the time making us laugh; she has an effervescent personality that just spills out all over the place. But during her visit to TODAY Friday, "The Voice" coach revealed something surprising: She tears up pretty easily!
At least on "The Voice," she does. The singer joined the show as a coach for the first time this season, and has taken a lot of her job to heart. "I'm the one that cries all the time," she says of watching talented singers try to grab their dreams. "Even on days that we're not filming, I go there and check in on the team."
Cyrus was a mentor on a previous season of "The Voice," but now having this extended one-on-one with fellow singers is clearly a new sensation. Though she's only 23, she has a lifetime of music business experience, having grown up in a musical family.
RELATED: Alicia Keys shares hilarious backstage video of 'Voice' coaches playing Pictionary
Still, that doesn't mean she's a spotlight hog. In fact, as she told Hoda Kotb later in the broadcast, "I don't love being on camera," she said. "I really, actually don't. ... I stick my tongue out because it's a nervous habit; don't look at me, look at my tongue. And it worked! It worked for like five years."
We also learned that she and godmother Dolly Party (yep, that Dolly Parton) have a close relationship and that they even use a fax machine to communicate! "She only faxes," revealed Cyrus. "Her and I can only fax together. She doesn't text!"
But back to "The Voice." As Cyrus noted, she's become quite a champion for those on her team, which she calls the "most diverse" of all the coaches' groups. "This show, I don't think people at home realize how real this is," she said. "I wouldn't be doing this if this wasn't what — what it looks like is what it is. There are no producers and directors coming up and telling you what to say or who to pick."
For her, appearing on "The Voice" is "part of my philanthropic life; it's being there for people and encouraging to be who they are."
Cyrus has never been afraid to express her opinion, though: We fondly remember her 2013 visit, where she learned that TODAY's Matt Lauer was 55 years old, and told him he was "definitely not sexual" at that age, which stirred a little controversy.
Though we're seeing a perhaps more grown-up side of Cyrus on "The Voice" these days, she still knows how to be goofy: Just check out this picture of her hanging out at TODAY Friday!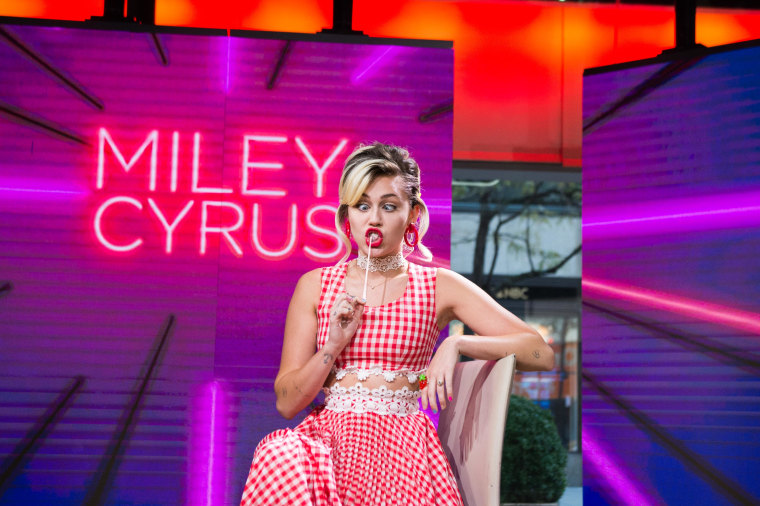 And deep down she's still the same old Miley, we think. Later on while chatting with Savannah Guthrie and Carson Daly about not participating in future red carpets, she rolled her eyes at how people are always talking about what she's wearing.
"I don't really want people to really talk about what I'm wearing. That's usually why I don't wear too much," she grinned. "But they make me wear clothes on 'The Voice' and on 'The TODAY Show' and ... people are going to talk about it!"
Follow Randee Dawn on Twitter.